Our stock is full of temptation! A wide range of kids' barefoot shoes, many colours available, pairs in delicate shades, elegant, sporty, with time-tested styles as well as in new ambitious designs, are waiting for you to make your choice.
Without any compromise, our shoes will fit wide feet, narrow feet, higher instep as well as a dominant toe. As more and more brands have taken a truly barefoot path, the number of shoes with a counter has decreased.
We have compared and described the 13 most wanted year-round designs (all with a lower cut and made of leather) so you can easily choose the best pair for you! Canvas shoes and breathable lightweight shoes are next on the list.
Affenzahn
Baby Bare
Beda
Bobux
Camper
D.D.Step 063
Fare
Froddo
Jonap
Koel4kids
Lurchi
Paperkrane
Protetika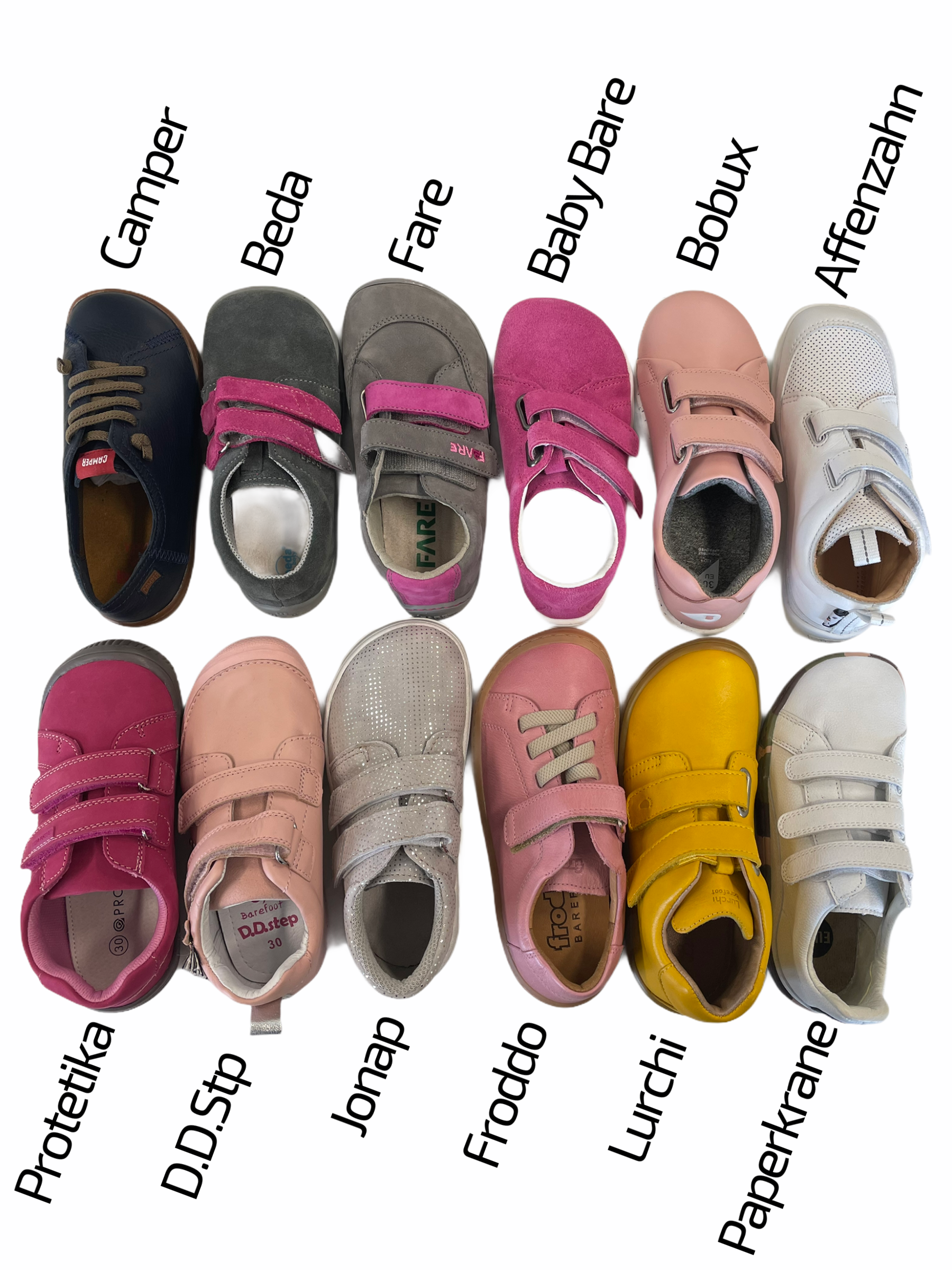 sizes
Start with figuring out the right size. You might be surprised…. Regarding the length, the shoes for the first steps should offer a size excess of 6-8 mm, experienced walkers might need a size excess of 10-12 mm. This extra space gives your foot the necessary room for natural foot roll and foot growth. Even with this extra space, your child should always walk naturally, not changing the position of their legs and feet. Feet, in order to function well and provide your body with a firm and stable base of support, need the toes to splay out. Only a shoe wide enough can enable your toes to extend naturally without your toes being cramped inside. Therefore, pay attention to both the length of your foot as well as its width.
If you are hoping to get by with your child's autumn shoes, check if there is at least 3-4 mm of extra space in the shoe. The perfect shoe should never be tight around the foot because with every step the body weight makes the foot expand and move slightly forward towards the front of the shoe.
We have tried to describe which design is the most suitable for a certain foot shape, although when it comes to the high instep or narrow ankles, it is more a question of personal preference.
For an easier orientation see the summary sizing table of the 13 best-selling brands (with other brands, check the detailed information of each particular product as there are dozens of brands and it is not possible to sum them all up in one easy-to-read table). The measurements of the inner length and width of the shoe given in the table below are the result of our own measuring. Keep in mind the necessary size excess.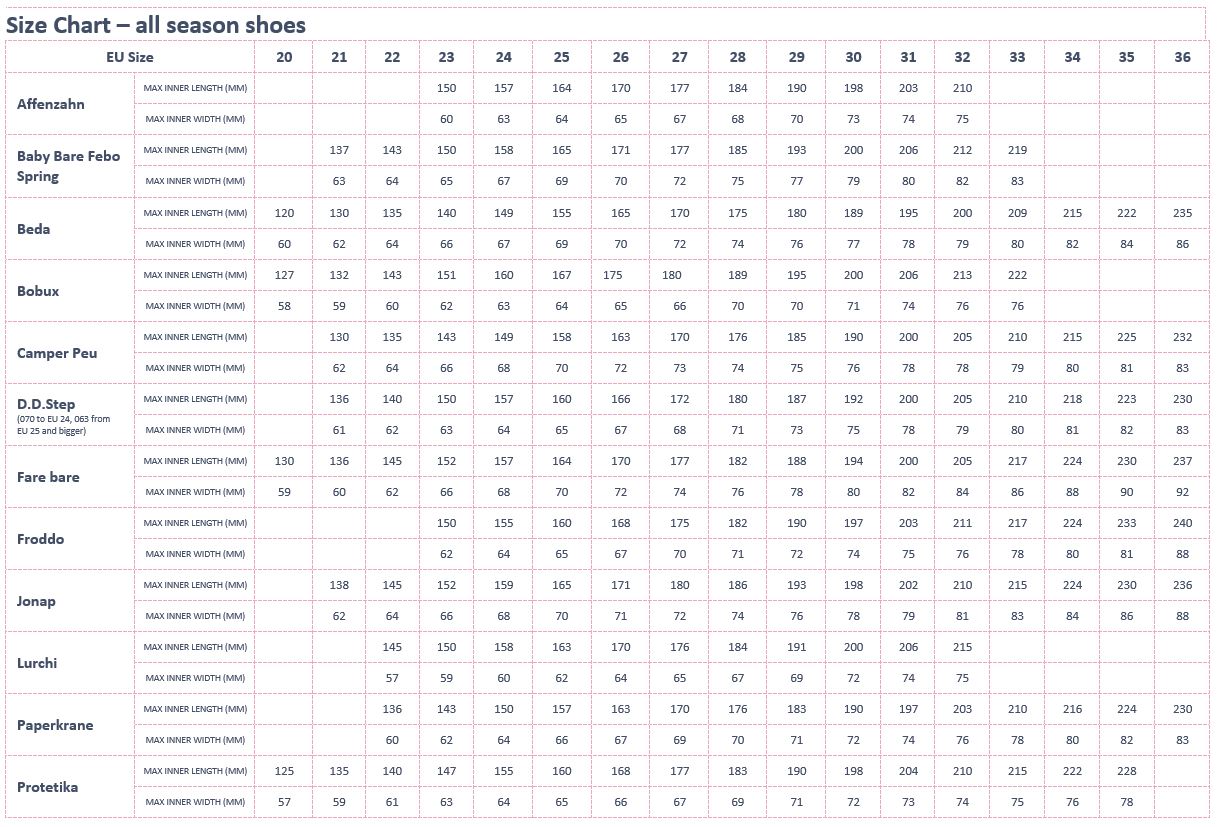 The information on each product on our e-shop includes a sizing table. Always make sure to compare the measurements with the table here above as the measurements of the older designs may be different, even if made by the same designer, and the sizing table listed at each particular product might not be accurate anymore.
Comparing the shoes
The photos below show the shoes lined next to each other as well as being worn on a foot – this foot being rather narrow, with an average instep and heel, 184 mm in length and 70 mm in width, all shoes are in size 30. No need to be dogmatic about the information, these are all my personal observations which I believe to be true to the best of my knowledge.
BEDA X JONAP
Shoes for wider feet as well as a higher instep…
Beda shoes feature a flat toe box, they are ideal if you have a dominant first toe or equally long toes, the tow box is not slanted, they have quite a lot of space for the instep and around the ankles. They are one of the most spacious shoes on the market and therefore are a good fit even for chubby feet. The sole is very flexible in all directions, bending in any direction is possible with little effort.
Jonap work well for kids with wider feet and a slanting toe line. The inner side of the shoe is slightly curved and so we do not recommend them for feet with a dominant first toe. When compared to Beda, the Jonap shoes are a little tighter around the ankle and therefore suitable for fin-shaped feet. A slim version offering more space for the instep and a narrower shape is available for kids with a higher instep. Jonap shoes are higher and stiffer in the heel area, stiffened by a soft counter. The sole itself is very flexible.


FARE BARE X BABY BARE
For fin-shaped feet...
Fare shoes offer the most space in the toe box, but they are rather narrow in the heel area. Therefore, they are the best for fin-shaped feet. The flexibility of the sole is comparable to the one of Beda shoes, Jonap and Baby Bare. They are not too high in the instep area, they are a good fit for narrow feet with wide toes, the heel area is not stiffened, only slightly firmer thanks to additional layers of leather.
Baby Bare are a little narrower in the toe box but offer more space in the instep as well as around the ankle, that's why we recommend them for fin-shaped feet with the ankle not too narrow and the instep not too flat. Both of these shoes have the ideally shaped toe box for feet with a dominant first toe and since their toe line is not too slanting, they will fit feet with a dominant second toe as well. Just like Fare and Beda shoes, Baby bare shoes have no counter.

PAPERKRANE X AFFENZAHN
Narrow feet, watch out…!
Paperkrane are for skinny feet. If even these are too loose for your ankles, then you are a lost case... They are narrow in the toe box, lower in the instep and can be tightened around narrow ankles. The inner side of the toe box is slightly curved so I don't think they would be the right choice for feet with a dominant first toe, especially if the toe is inclined outwards…
Affenzahn are quite similar to Paperkrane in the shape of the toe box but they are slightly more flat in front of the first toe. Their toe line is flat and so they are also a good choice for kids with a straight foot shape. They will fit narrower feet better, too. They are a little higher in the instep and they offer more space in the heel area/around the ankles. Nevertheless, they can be tightened by Velcro straps or laces. They display top quality design and workmanship, safety features and playful details. Paperkrane are significantly firmer in the heel area, it is possible to squeeze them, but you'll need to try a little harder. The sole is a little less flexible and can be bent in all directions with stronger pressure. Affenzahn shoes feature a soft sole and heel area and can be squeezed very easily.


LURCHI X BOBUX
Narrow feet in the spotlight again
Who knows Filii shoes, knows Lurchi. Very similar to Filii in design, features and also in German quality. Lurchi have the toe box shaped perfectly even for feet with a dominant toe, and they feature a narrower heel area suitable for generally narrow feet and ankles. They have a slanting toe line, flexible sole and are just a little firmer in the heel area due to a thicker layer of leather.
Bobux are not 100% barefoot in flexibility nor in the shape of the toe box which is rather round and therefore not suitable for a dominant toe. They have a firmer sole and they will find their fans among those of you who are open to compromise regarding strict barefoot parameters or those who prefer shoes with a firmer heel area for your children. They are a little wider in the heel area, you won't be able to tighten them around bony ankles.


D.D.STEP X PROTETIKA
D.D.Step – you will love them for their flexibility. They are definitely the softest shoes from all these thirteen designs we have compared. Their toe box is not too wide, we might even say it's average, and it is slightly curved, so we don't recommend them for feet with a dominant toe. The heel area is not stiffened. They are quite narrow in the heel but offer more space in the instep both in length and width. The part with the Velcro straps is rather wide so it is not possible to tighten them that well around a narrow ankle.
Protetika shoes have the right toe box shape even for feet with a dominant toe or flat-lined toe, just like Beda shoes. They are a bit narrower in the toe box. They feature a fully flexible sole, soft heel, and they fit feet with a higher instep and chubbier ankles.


FRODDO X CAMPER
The middle way
Froddo shoes often fit well. They are rather spacious in the toe box, anatomically shaped to suit even feet with a dominant toe. They appear to be rather wide in the middle part but in spite of that will fit well even narrower heels. Froddo shoes with laces can be tightened perfectly around narrow ankles, but the same applies to the ones with Velcro straps. They are not too high in the instep, so we don't recommend them for chubby feet. The sole is very flexible. They appear to be firmer due to the functional rubber toe cap over the edge of the shoe, but they bend easily in all directions. The heel is not stiffened.
Camper shoes are trendy, classic but a little bit less practical. The elastic laces cannot be tightened and due to the lack of softening in the heel area, they don't fit so easily. We recommend them for wider feet, they offer more space than Froddo shoes and are more spacious also in the instep and around the ankles and heels.


KOEL4KIDS with bernardo sole
Perfect shoes for average feet
Koel shoes with the new outsole appear to be all-purposed in both design and proportions. They have a perfectly shaped toe box offering enough space even for a dominant toe. Their outsole is very flexible in all directions throughout and has a distinctive tread. The space in the shoe is about average, not ideal for very narrow feet nor for feet too wide, they are the middle way. They can be tightened well around the ankles of fin-shaped feet, we don't recommend them for really narrow ankles. The instep is about average, too, they should not be the first choice for feet with a high instep.

We wish your feet all the best! And now to sum it up:
When figuring out your shoe size don't forget to add the extra 10-12 mm to the measured length of your foot.
The shoe must be at least as wide as your foot
For narrow feet we recommend: Paperkrane, Lurchi, Affenzahn
For wider feet with a higher instep: Jonap and Beda
For wider feet with a narrow heel: Baby Bare (for higher instep), Fare (for lower instep)
Jonap are the most stiffened in the heel area, D.Step have the softest outsole.
If you are still missing some information, check out our articles with brands comparisons from last year.
Enjoy the spring and good luck with choosing the perfect shoes!