Related products
EU size: 23, Inner shoe length: 145, Inner shoe width: 66
In stock
Product detailed description
materials:
the upper part is made of leather

the lining and the insole are made of grain leather

the sole is made of grain leather
---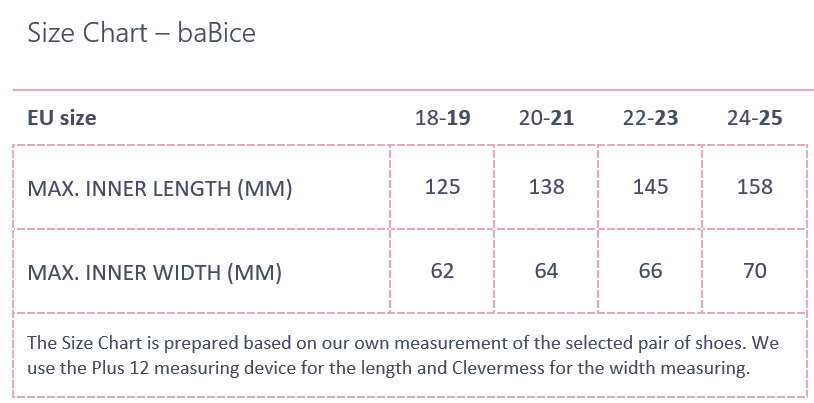 The length and width of all our shoes together in one table here: https://www.footic.com/about-barefoot/size-chart/, have a look, compare and choose.
The optimal excess for soft sole shoes is 1 cm. Recommendation for measuring the foot and choosing a suitable size: https://www.footic.com/about-barefoot/foot-measuring/
---
Made in Poland, the materials meet European standards and are harmless.
Be the first who will post an article to this item!
"every path, even if a thousand miles long, starts with the first step"
On babice
As a part of a dynamic Polish production company, baBice was founded in 2015. This brand focuses on all leather soft soles, designated mainly for the German market, and the barefoot shape of several of their shoes helped them accelerate their production.
our experience with babice shoes
All-purpose soft soles, fit many shapes of kids' feet thanks to their elaborate shape
a little thicker yet delicate leather, very soft, eco-friendly dyes

monochromatic for minimalist design lovers as well as shoes with playful details and characters

no rubbing against the heel, elasticated ankles, not too tight around the ankles, easy on and off
SOFT SOLES WITH A BAREFOOT TOE BOX
BaBice tuned up the toe box shape and it's PERFECT
Suitable even for fan-shaped feet
Fit average and wide feet, we do not recommend them for a high instep or for very narrow feet
Absolutely no stiffening in the heel, only one layer of leather
Suitable for crawling and first steps
Non-slip suede sole, one layer of leather, no insole

The suede sole may become smoother in time and lose its non-slip function

Primarily designed as indoor shoes, if you take them for a walk outside the leather wears off faster

Not water resistant, use impregnation for protection from moisture