Calendars and weather forecasts announce the coming of spring. But this year, it was an overnight change, so we suddenly exchanged winter booties for summer sandals and winter jackets for tank tops.

Although April tried to persuade us that, we need all-leather shoes for spring, ideally waterproof shoes with a membrane or wellies, the May is calling for sandals.
But which ones to choose? Requirements differ but overall revolve around breathability. Sportspeople long for a resistant outdoor shoe with a solid shoe tip, while beauties want only minimalist straps and nothing else. Wide feet crave very roomy shoes, but sometimes even the broadest shoes are too narrow. People with slim and slender feet can have opposite problems because even the narrowest shoes can be too vast. And If we combine valgus feet, the need for raised heels, or preferences for vegan materials and local production, the broad selection narrows down.
Look at the list of this year's sandals comparison. We describe all the parameters in detail.
Sole Shape
Compare the shapes of the shoe soles to know if they are suitable for a straighter foot or fin shape. They differ in the width of toe boxes and heel narrowing. Some sandals are convenient for a dominant big toe and grant comfort to straight feet with equally long toes. Other shoes have bevel by the small toe. Some models don't have anatomical shape, which doesn't make us happy, but the sandals still have advantages that ensure them a place on our list.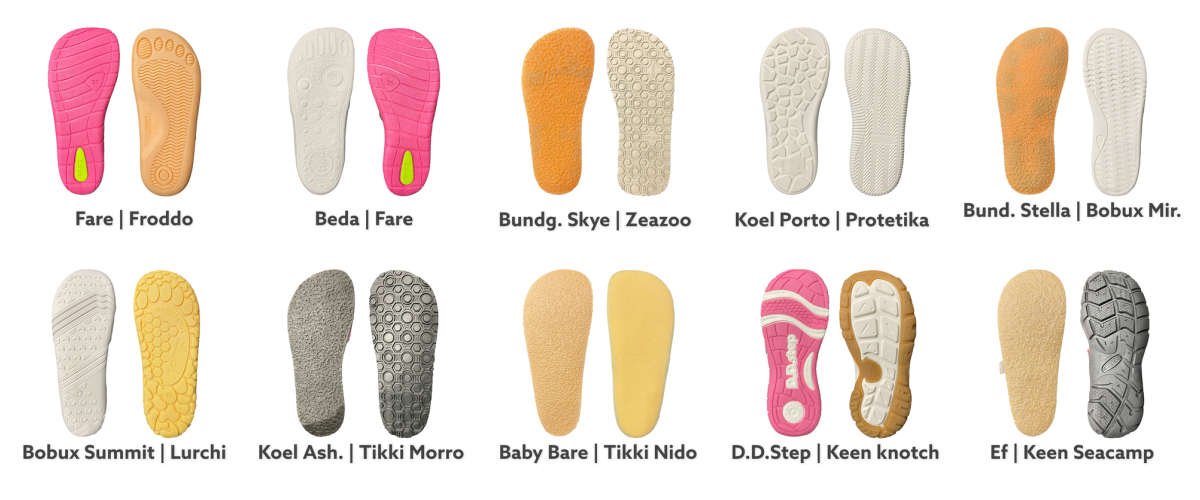 Sandals in size 31 (Attention! In some cases, it would be more suitable to choose size 32, but we wanted to compare the corresponding sizes) worn on a foot of 195 x 73 cm, with lower/average instep and slimmer heel.
Fare & Froddo
Fare (leather shoes) are the broadest ones in our range, and in addition, they have a perfect shape for a fin and a dominant big toe. Unlike year-round models, the sandals are suitable for higher instep because of adjustable straps. You can tighten the shoe to the average and narrower ankle and a lower instep. The shoe sole is flexible in every direction, and the heel is not reinforced. The inner sole is removable.

Froddo shoes are slightly firmer. The shoe sole and the heel area can squeeze the foot. They don't have a classical raised heel but are stiffer behind the heel. They can be tightened around the ankle and fit on a slim heel, and they aren't so high in the instep. The inner sole is removable.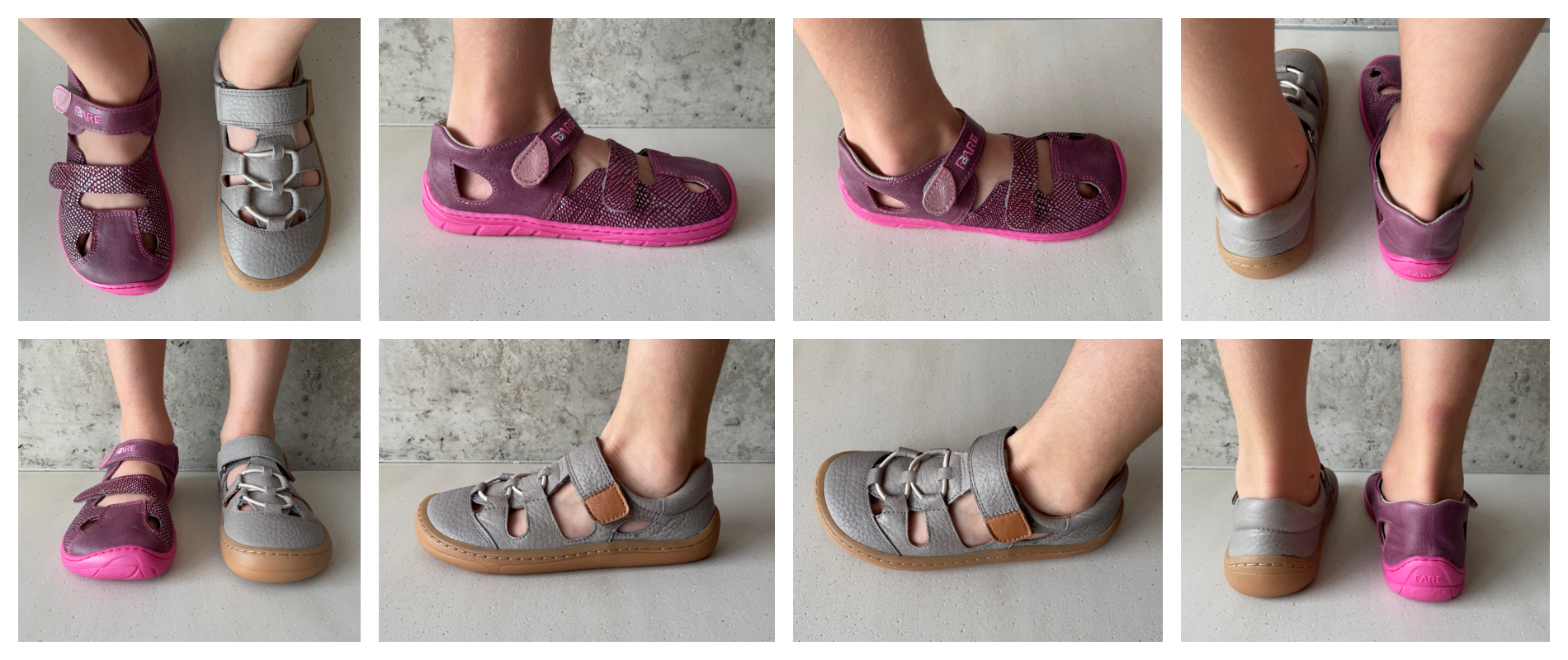 Beda & Fare
Beda shoes are convenient for children with chubbier feet, relatively spacious in toes, above the toes, in the instep, and around the ankle. You can tighten the shoe to an average foot. The inner sole is removable, and the shoe sole is as flexible as Fare. They are soft in the heel, but the brand also offers an option of a raised heel. If you are interested in buying them, they are labeled OP and reinforced behind the heel. In contrast to Fare, they have a linear shape, not a fin shape. The toe box is straighter by the big toe and is not beveled. Sandals are ideal for a dominant big toe (if it doesn't protrude from other toes) and a foot that has equally long toes.
Fare economy sandals are from comfortable microfibre. Compared to the leather option, they don't have a heel hem. They are hardly adjustable to slim ankles, so they stick out. These sandals are extra spacious and well-shaped in the toes, even for a dominant big toe, a protruding first toe, and a fin shape. You can regulate the height of an instep by velcro straps, but we don't recommend them for a very high instep. They are soft in the heel.
Both brands have removable inner soles.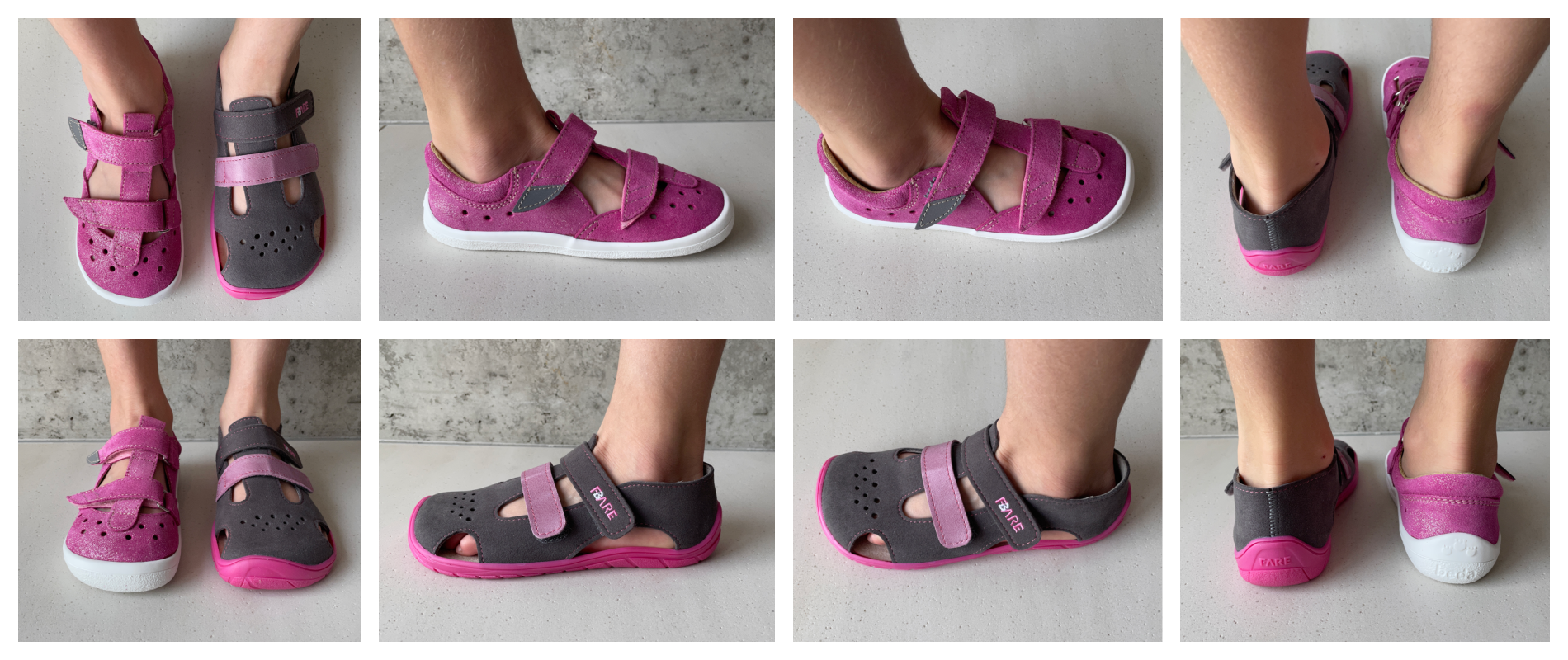 Bundgaard & Zeazoo
Bundgaard Skye sandals are this year's extra breathable news with open toe and heel. They are sportily cut sandals that got an urban style. The toe box is wide and perfectly shaped, the soft inner sole under leather is approximately 1 mm thick, and the shoe sole is stiffer, mainly lengthways. They are nicely crafted and cushioned behind the heel. The adjustable straps will help us to avoid any chafing.

Zeazoo's shoe sole is similarly high but significantly more flexible in both directions. At the same time, many people can appreciate the vibram sole. The instep isn't adjustable, so the sandals are suitable for the average foot, but you can adjust the fit by the strap around the ankle. We recommend them for average wide/in instep average high feet. The heel is from one layer of leather, and the inner sole isn't removable.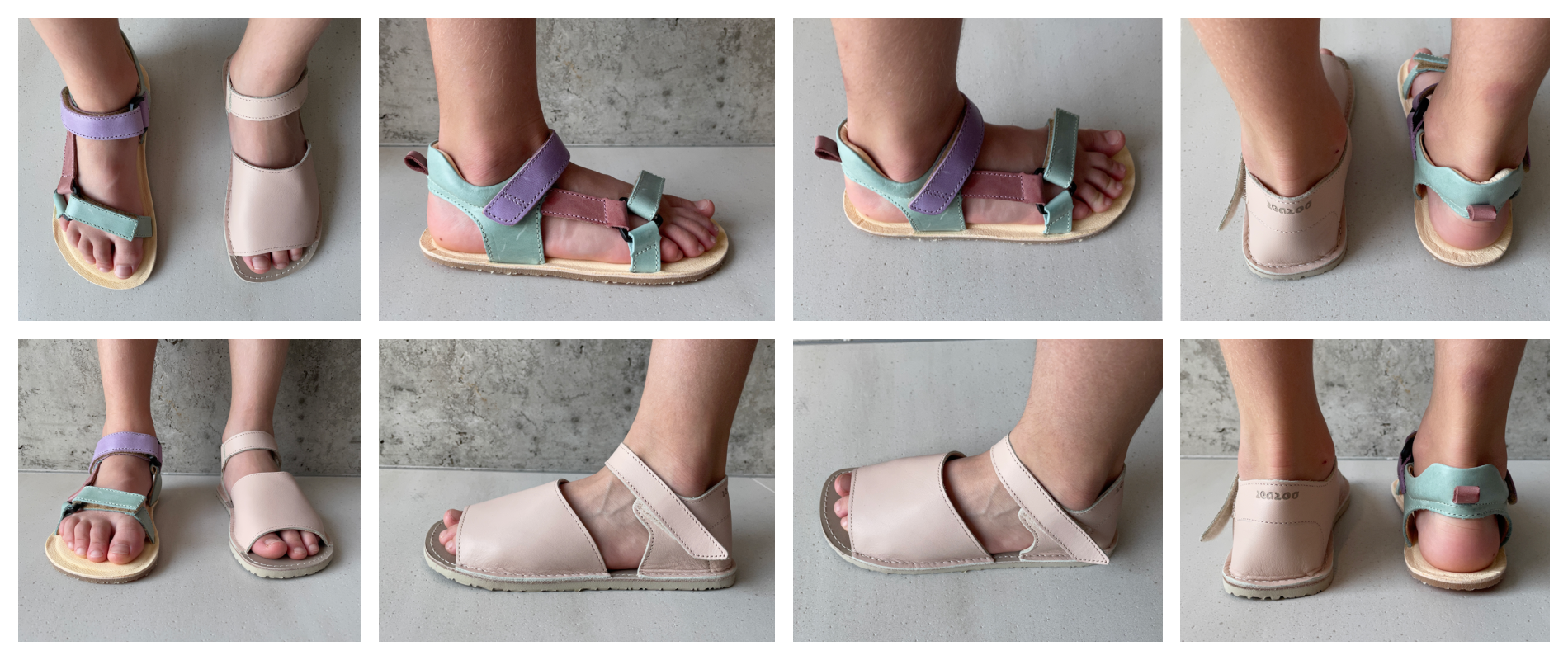 Koel4kids & Protetika
Koel shoes are slightly more spacious in the toes and more suitable for fin-shaped toes than Protetika. You can tighten the sandals to average or a bit narrower ankle and regulate the fit of the instep by straps. The sandals aren't so high above the toes. The inner sole is removable, and the shoe sole is more flexible than Protetika - You can feel all the different surfaces through them.

Protetika's shoe sole shape is straighter, but the shoe can be easily adjusted to an ankle, better than older models of this brand. The heel is a bit firmer closely above the outsole than by Koel4kids, even though they don't have a classical raised heel. The sandals are spacious above the toes, so chubby feet have enough space. The inner sole is removable.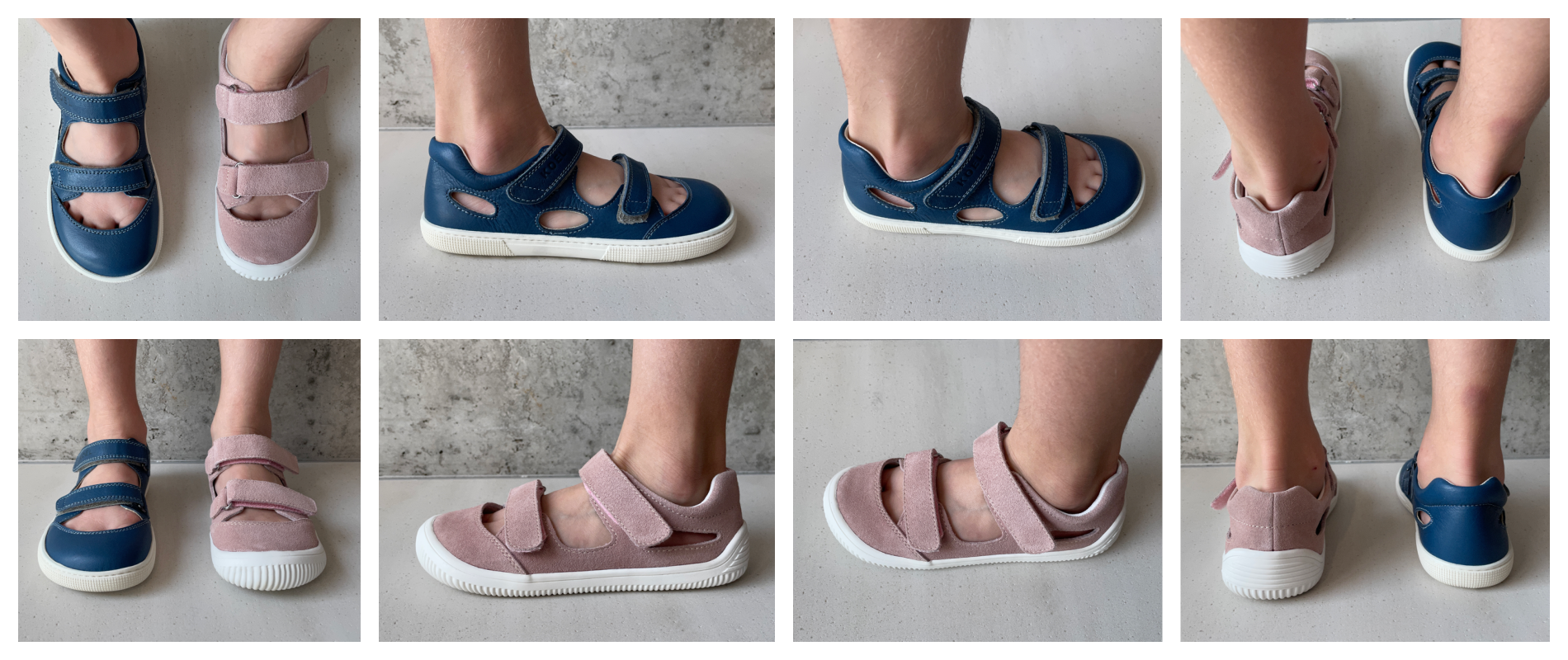 Bundgaard & Bobux
Bundgaard shoes are slightly stiff in the heel and have a classical raised heel, so if you look for firm shoes, they are a good option. The sandals have an ideally shaped toe box, and practical is the adjustability of the last instep velcro strap. The strap around the ankle is also a velcro strap. You can easily adjust the sandals to average or narrower feet. The shoe sole is overall stiffer (but softer than Bobux…).
Bobux leather sandals don't have anything in common with barefoot shoes. The toe box isn't ideally shaped, they are rounder, but they deserve a place on our list because of the style and firmer heel. Until this year, existed only one possibility of sandals with a raised heel, but now are available Bundgaard and Beda shoes, which have more barefoot properties. Bobux has a more massive shoe sole that is not so flexible.
The inner soles aren't removable.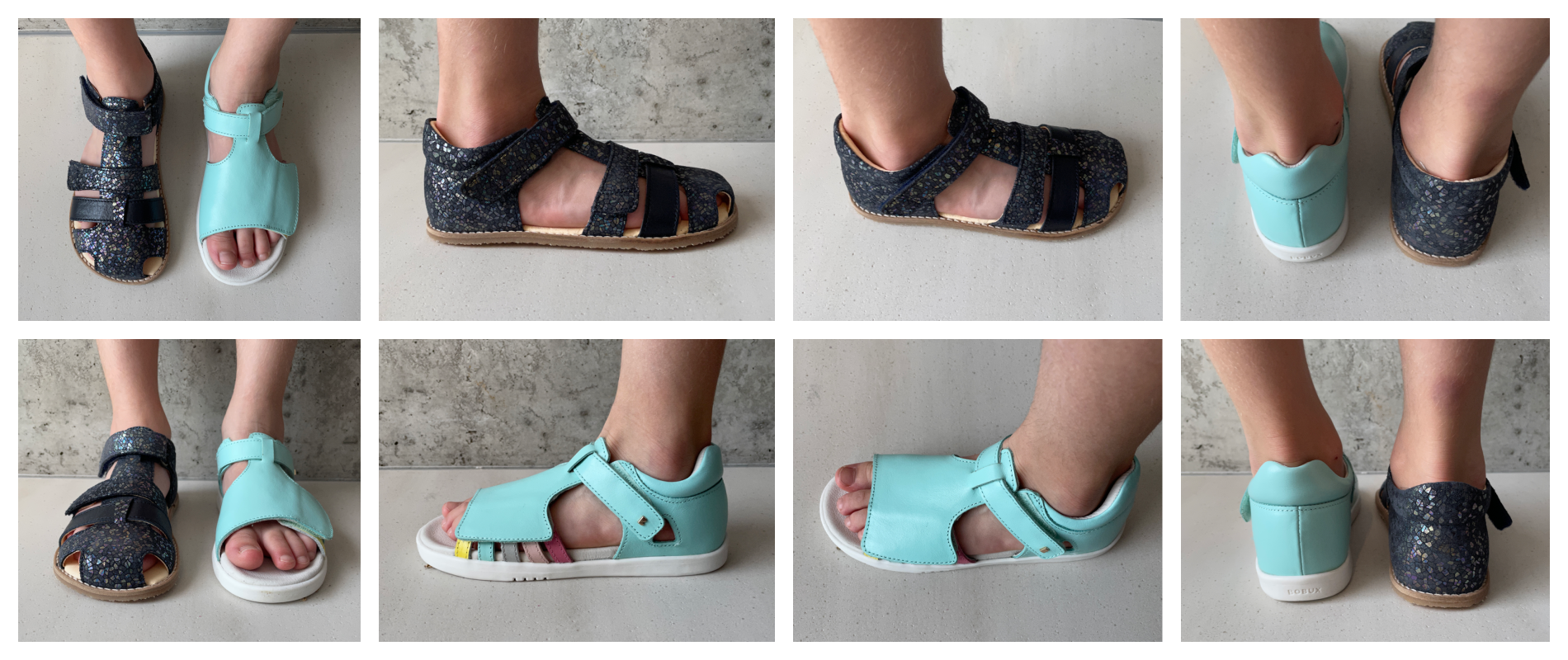 Bobux & Lurchi
Bobux Summit shoes are sportier sandals for narrower feet, can be tightened to slim heels, are padded, and don't chafe against the foot in this area. They are stiffer but without a raised heel. The shoe sole is nicely shaped, straighter, good for slim feet, and flexible in all directions. The inner sole isn't removable.
Lurchi shoes fit on a similar foot type, and they are all-leather sandals with removable inner soles and very soft heels. They are slightly stiffer than Bobux Summit, and you can tighten them to slimmer heel and ankle.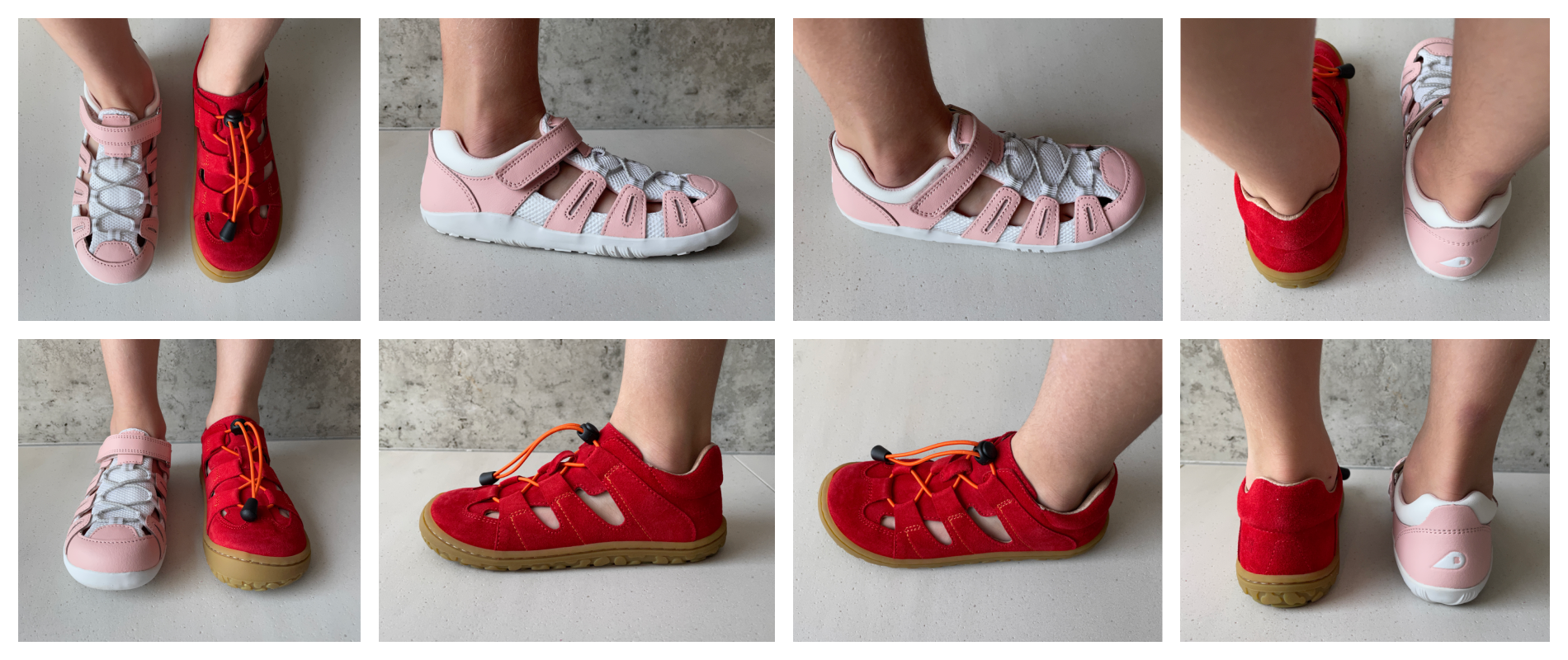 Koel & Tikki
Airy sandals that have an open toe and heel. Both of them can be easily adjusted as required. Tikky is narrower in the heel. The shoe sole is similarly high, but Tikky's vibram sole is significantly more flexible than Koel's.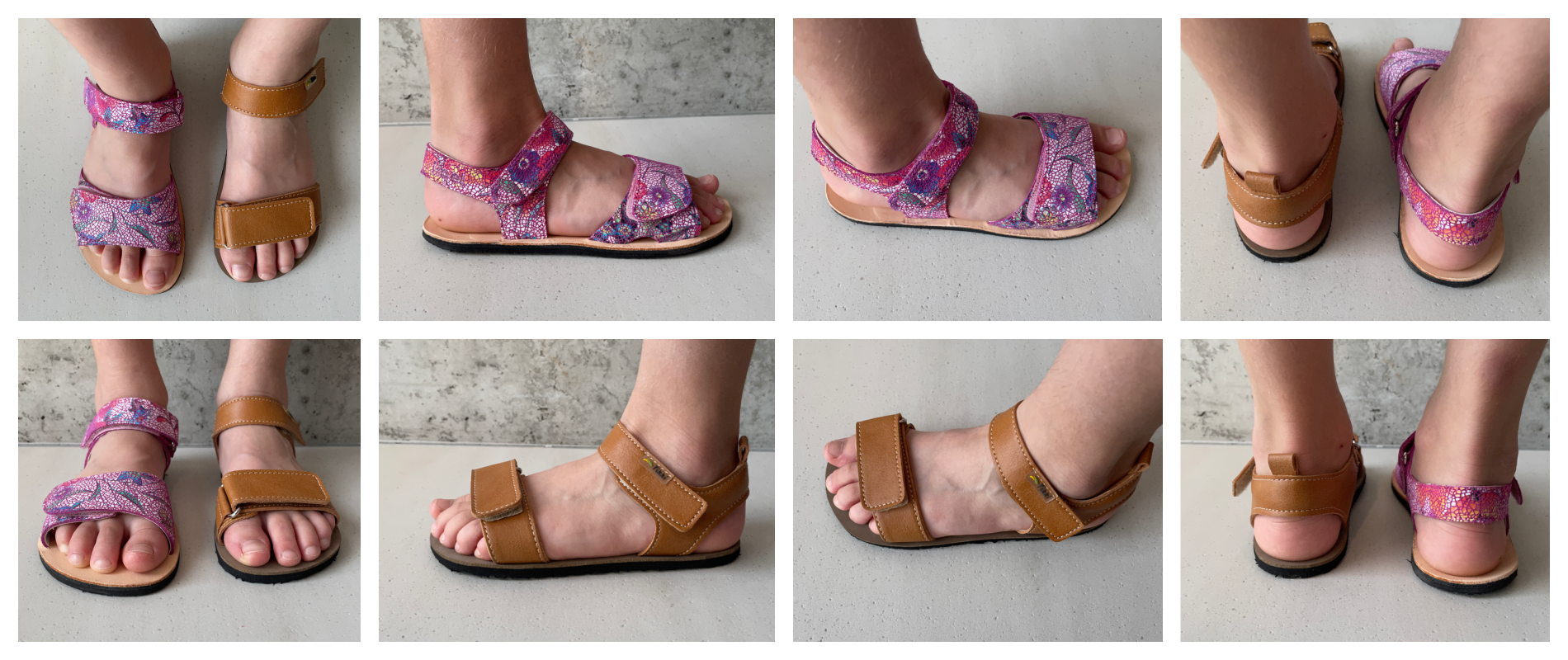 Baby Bare & Tikki
Let me introduce you to all-leather sandals with minimal inner seams and non-removable inner soles.
I recommend Baby bare to slightly broader foot in the toes, instep, and heel. These sandals are a bit more spacious. Tikky shoes have a better shape for a dominant big toe, are beveled, and are suitable for straighter toes. You can tighten them to a narrow ankle. They maintain the form behind the heel because of the doubled leather, but they don't have any other reinforcements. The shoe sole of Baby Bare is approximately 1 mm higher, a little bit less flexible.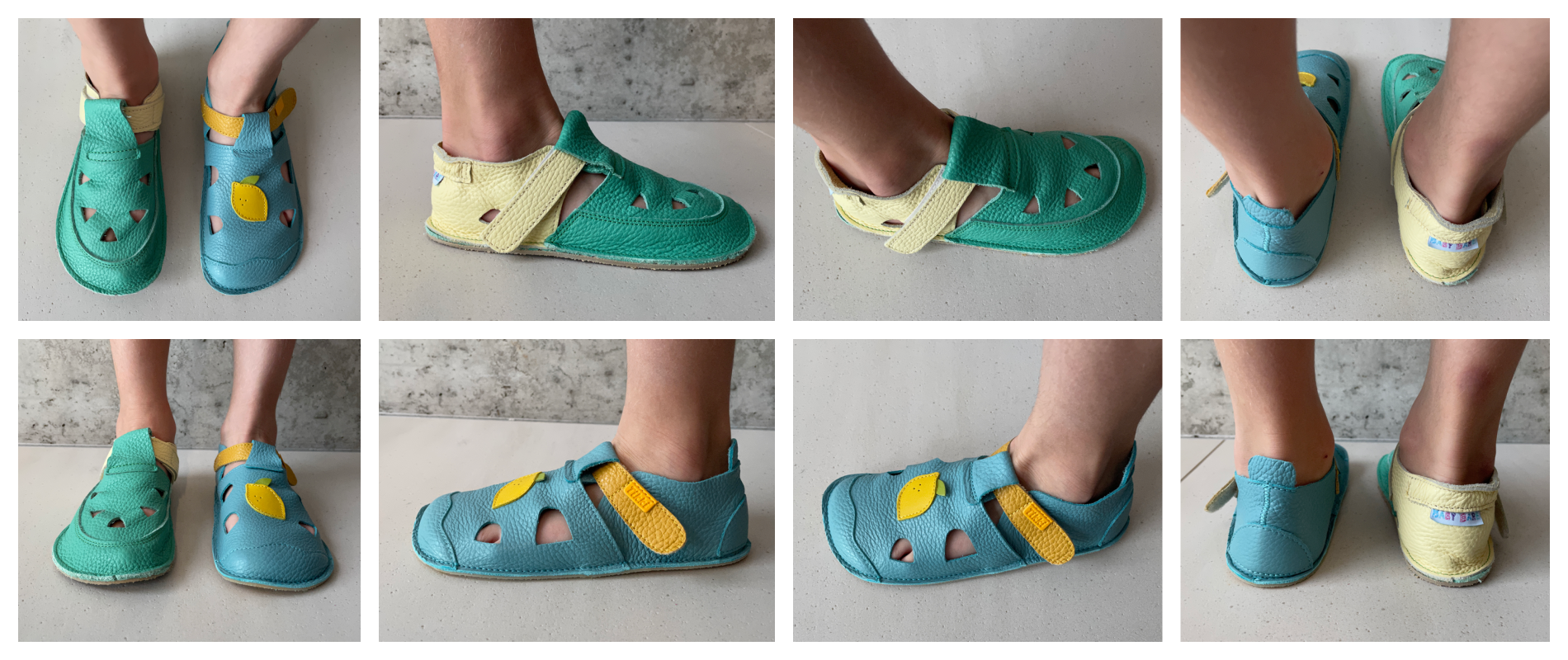 D.D.Step & Keen
D.D.Step new sandals have a similar style to bestsellers Keen. They have a sporty look. The toe part is round and quite broad. The sandals are flexible and lighter than Keen, significantly higher in the instep and roomier in the heel area, so the sandals are suitable for a chubbier foot. The heel isn't reinforced and is a bit stiffer than Keen.
You can nicely tighten Keen knotch sandals around the ankle, but it is even better by model Seacamp. They are similarly shaped, broad in the toes, and feel stiffer than the D.D.Step. The shoe sole is even more outdoor.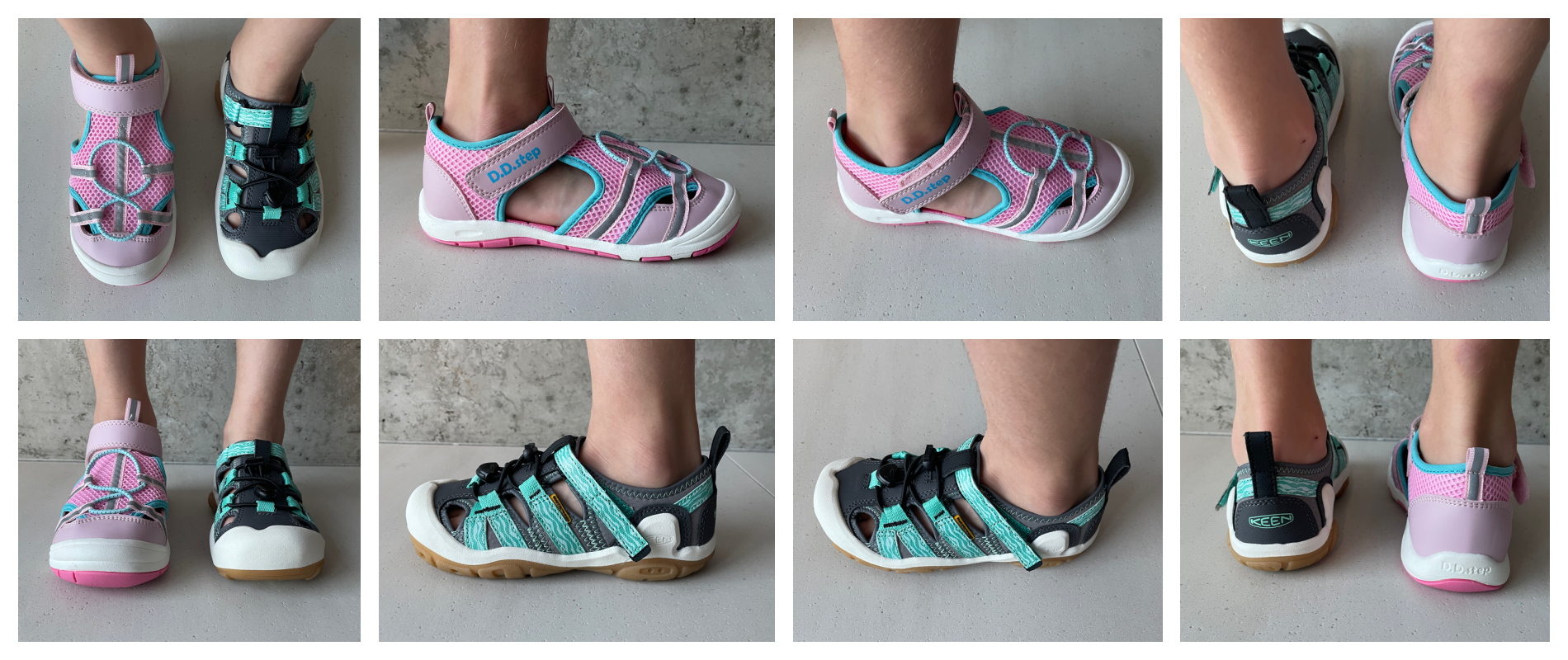 Ef & Keen
These two brands aren't similar, but they are the last two pairs on our list. Ef sandals resemble Baby bare shoes.
They are convenient for an average foot with a not-so-high instep, and you can tighten them to a slim ankle. The sandals have a padded circumference and are flexible.
Keen Seacamp shoes enthuse outdoor lovers and are suitable for water because of their practical quick-drying material. The toe box is spacious but not anatomically shaped. The shoe sole is more massive but flexible in all directions (previous D.D.Step and Keen Knotch are softer). Seacamp can be tightened to slim feet and is suitable for many children. We don't recommend it for chubby feet. Knotch is slightly wider in the toes and the heel.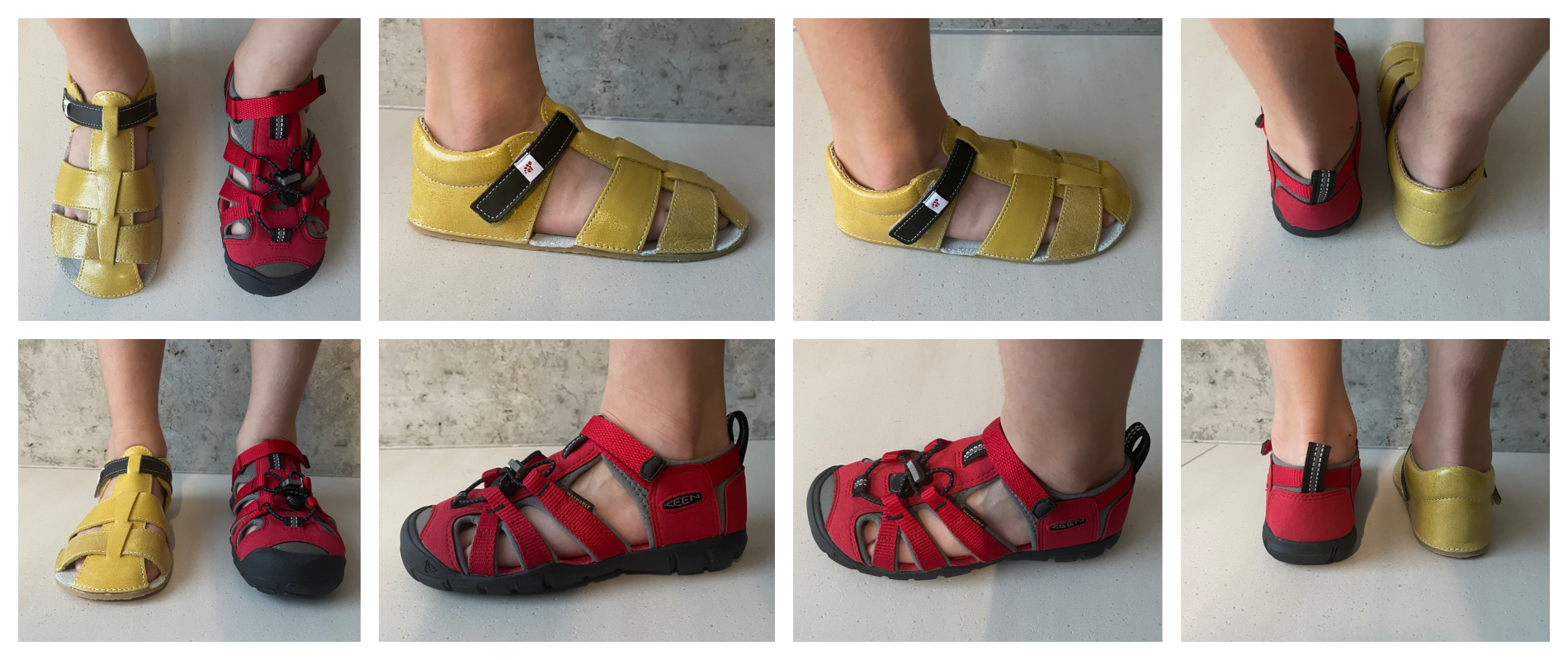 We hope you choose the perfect pair for this summer, but if you still have any doubts, don't hesitate to contact us via our chat, email, IG, phone, ...