Barefoot sandals production had quite some delays but luckily so did the long-awaited warm temperatures. Summer weather is running late, just as the production lines due to the lack of materials and manpower.
Now, finally, our stock is full. And since we keep on growing, this includes even our new stock premises. Truly barefoot shoes as well as "compromise" classic designs and new arrivals, all waiting for you. We have compared 16 most desired brands/collections and updated their availability:
Baby Bare – deliveries to arrive in the middle of June

Beda – deliveries arrive continuously, new designs available every week. We are expecting a new design with a counter (look for "OP" in the name of the shoe design), their cut and shape is the same as of the other sandals, the only difference will be the stiffened heel

bLIFESTYLE – all in stock, no more arrivals expected

Bobux – continuous deliveries, for the most part already in stock. Next arrivals expected around June 10th.

Bundgaard – mostly already in stock

D.D.Step – all in stock, no more arrivals expected

Ef – mostly in stock, designs in pink still to arrive

Fare – all in stock, no more arrivals

Froddo – all in stock, no more arrivals

Keen – all in stock, no more arrivals

Jonap – deliveries keep on coming

Lurchi – all in stock, no more arrivals

OK Barefoot – all in stock, no more arrivals

Protetika - all in stock, no more arrivals

Tikki – huge delivery of Nido expected around June 10th
size matters
The sizing of shoes serves only as a starting reference point. Precise measuring is what you need to be the most careful about. Add size excess to the measured length and make sure the shoe is at least as wide as the measured width of the foot so the foot can work naturally as body's base of support and so the toes aren't squashed together. The size excess can be a little smaller regarding summer shoes as opposed to year-round shoes and sneakers.
For open toe sandals I recommend the size excess of 6-8 mm
For full toe shoes I would go for a size excess of about 8-10 mm
Full toe shoes with a size excess of 6-9 mm are a more practical choice for the first shoes due to a higher toe protection
A sum-up sizing table will help you figure out which brand might be the right choice for you; however, our e-shop offers a much broader range of brands and designs. If a particular design catches your eye, always double-check the foot measurements with the sizing table for each particular design because even within one brand the dimensions of different designs may vary.
foot shape
Anatomically shaped toe box provides comfort, it does not squash your toes and allows you to keep a natural foot posture. Especially for a foot with a dominant toe or for fin-shaped feet (wide toe part, big toe inclined outwards, narrow heel) enough space around the big toe is crucial.
Ideally shaped are Fare, Beda, Protetika, Tikki and Lurchi, but even other designs offer sufficient space in the toe box. On the other hand, Bobux (not Summit), Keen and D.D.Step might not be the right choice for your feet if you have a dominant toe.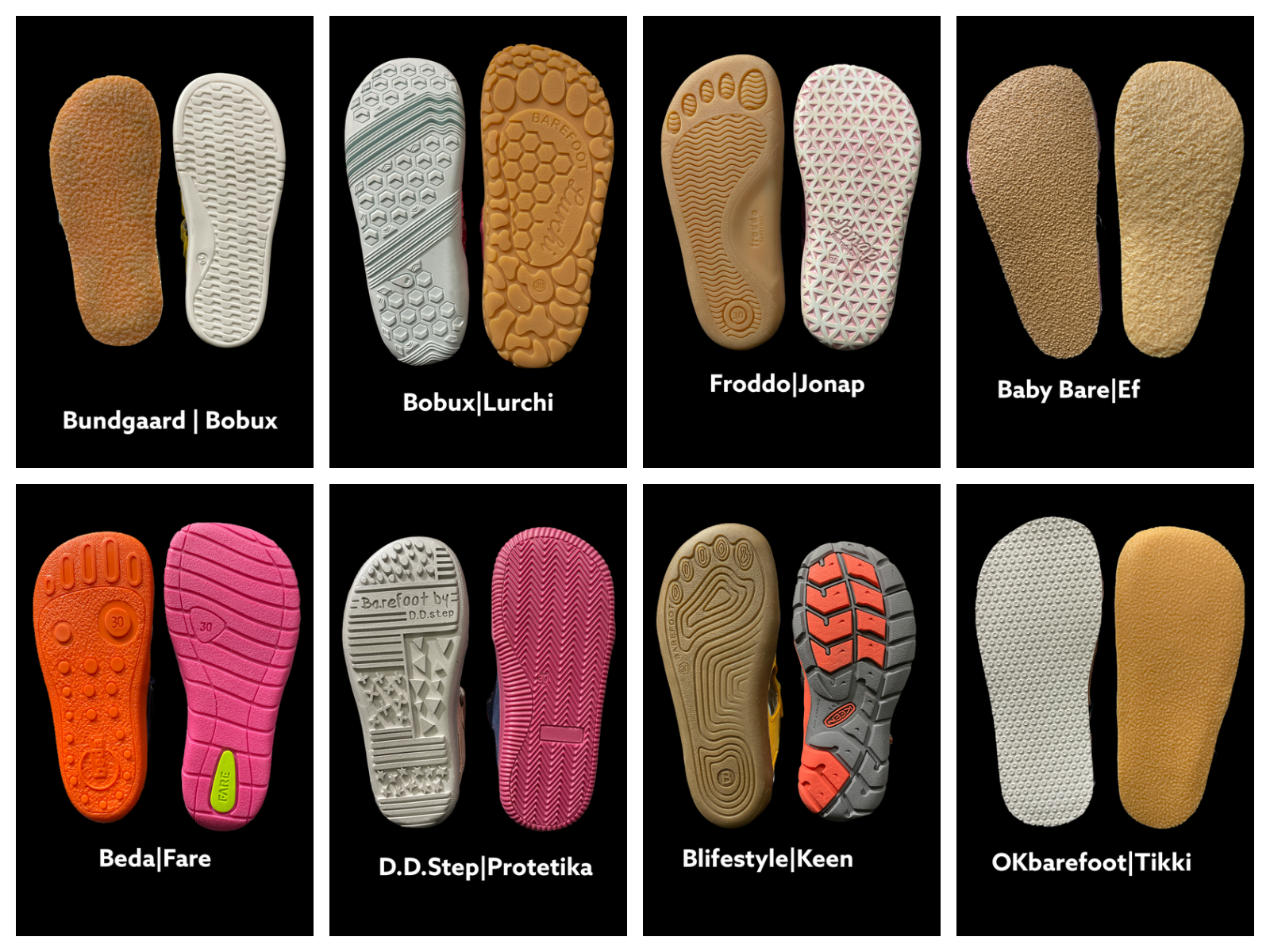 Foot type
Our model's feet are 185 x 70, average/low instep, average ankles, all shoes in EU size 30.
Bobux – suitable for average feet with a little higher instep, not for narrow ankles. They have a firm counter, a bit less barefoot due to a ticker sole and a round toe box.
Bundgaard – suitable for average or narrow feet, secure fit even with low instep thanks to Velcro straps. The strap around the ankles may be cut short, but it is still quite long. Shoes are firm in the heel, a bit more flexible and better shaped around the first toe when compared to Bobux.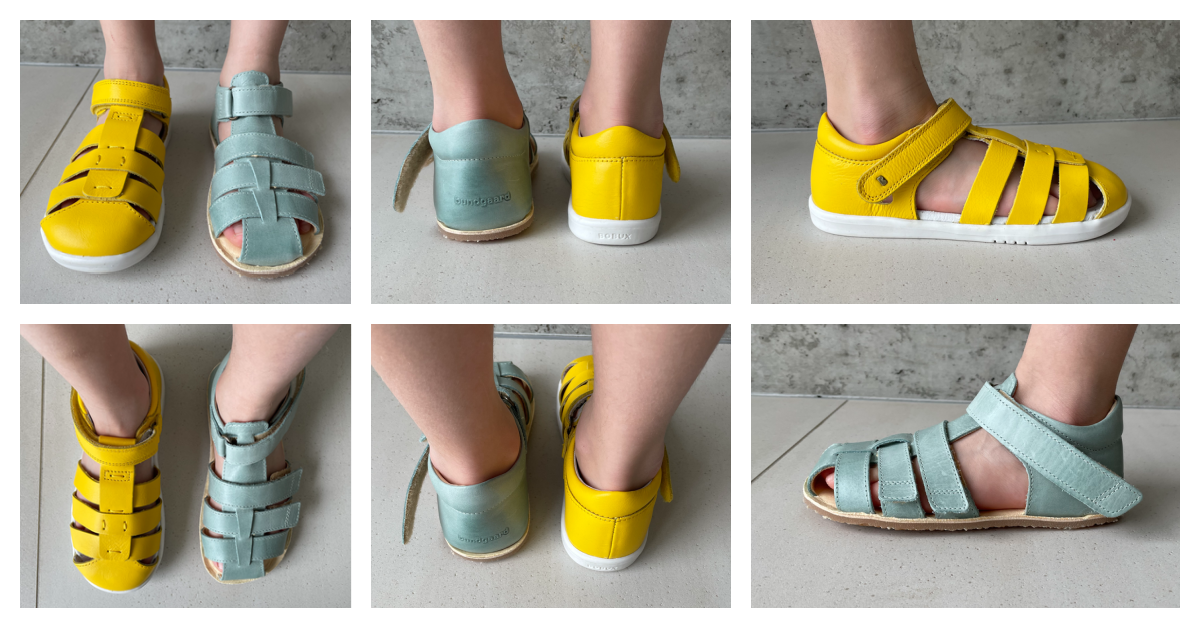 Bobux Summit – sports sandals for narrow feet and narrow ankles, as well as low instep. Good toe box shape and flexibility. Soft in the heel.
Lurchi – leather sandals for narrow feet with a secure fit around the narrow ankle. Very similar to Filii. Ideal toe box shape even for a dominant toe, enough space above the toes. Very good flexibility, no counter.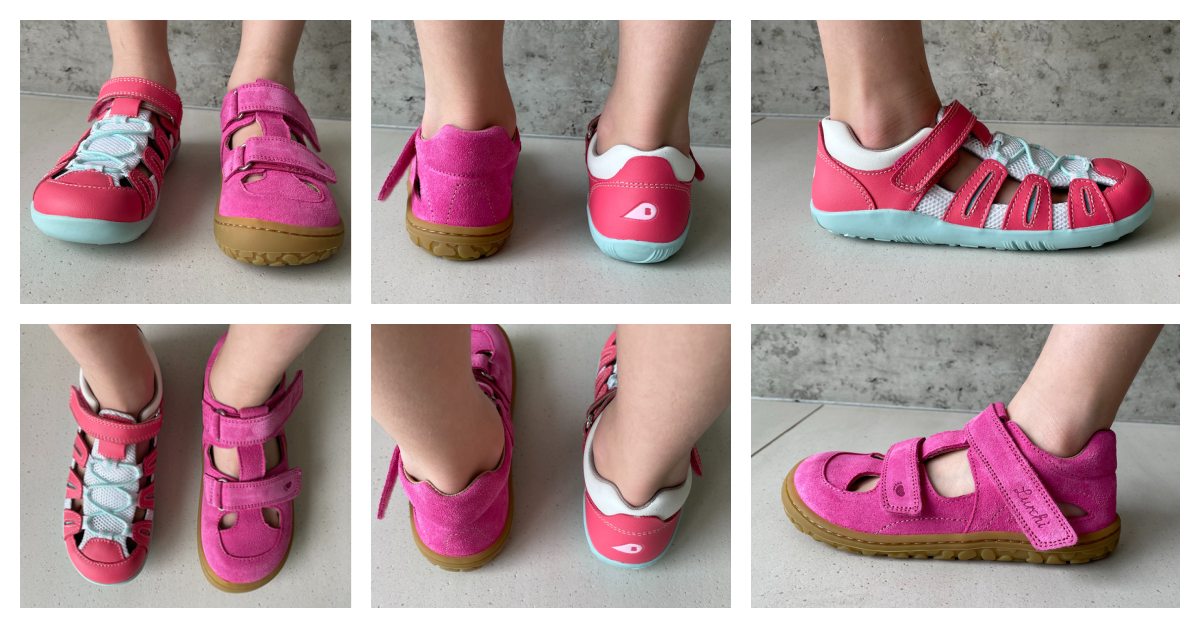 Beda – for average or wide feet and a little higher instep. Perfect toe box shape, great flexibility, heel softness about average, we are awaiting a new design with a counter – same shape and cut, stiffened heel. Nice secure fit around ankles.
Fare – the widest shoes on our offer. They fit wide feet and average instep. They are quite breathable, a little firmer behind the heel due to the rubber heel cap. They tend to be a little loose around narrow ankles because of the lack of cushioning. Perfectly shaped sole, great flexibility.
Froddo – the middle way regarding space, flexibility, and firmness of the heel. Soft, with a slight suspension, not so breathable, due to multiple leather layers a bit firmer in the heel, nicely shaped around the first toe but not ideal for fin-shaped feet.
Jonap – quite spacious, suitable for wide feet as well as fin-shaped feet (they are a little inclined around the first toe so if it's your dominant toe, these shoes won't be the ideal fit for you). They can be tightened well in the heel. Collection slim offers a little more space in the instep. For average to low instep, the other designs will be a better choice. The heel is slightly stiffened. Soles are perfectly flexible.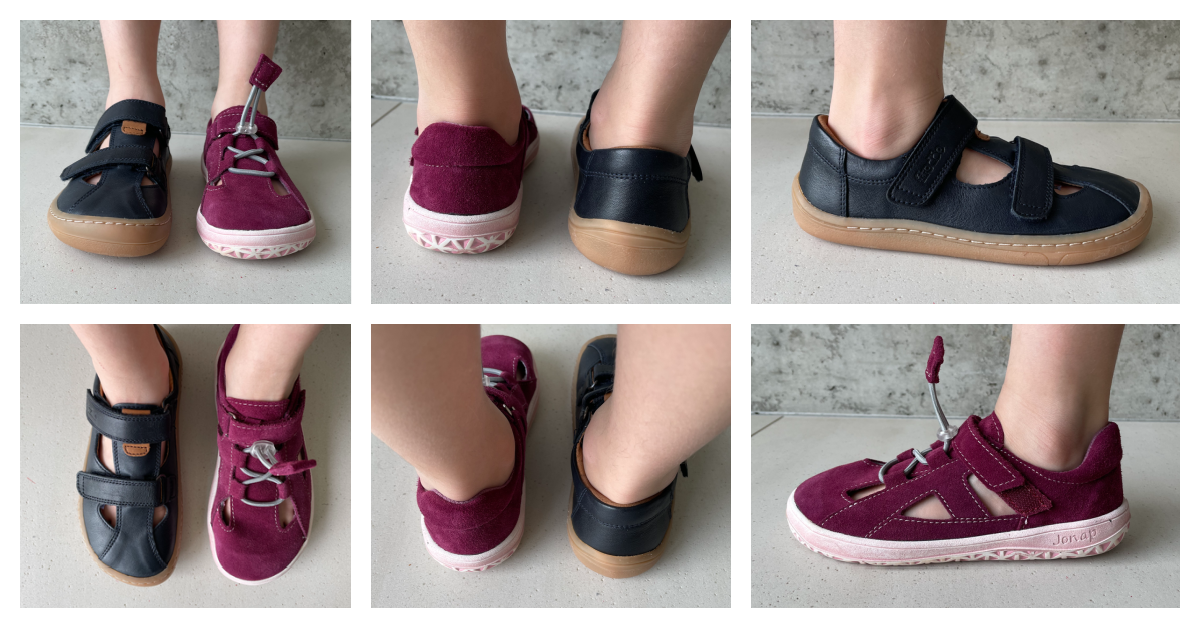 Protetika – for average feet, not for a wide toe part. Narrow shape so they fit well chubbier ankles, wider heel, or high instep. The back part of the shoe is not as tapered as usually. The toe box is nicely shaped, will fit even a dominant toe. Sole is fully flexible. A little firmer in the heel due to a rubber heel cap, no stiffening in the heel.
D.D.Step – their flexibility will take you by surprise, they are probably the softest shoes of all the shoes we compared. No stiffening in the heel, they fit average to chubbier feet, higher instep, not suitable for narrow ankles. I don't recommend them for a significantly dominant toe, the toe box is not 100% anatomically shaped.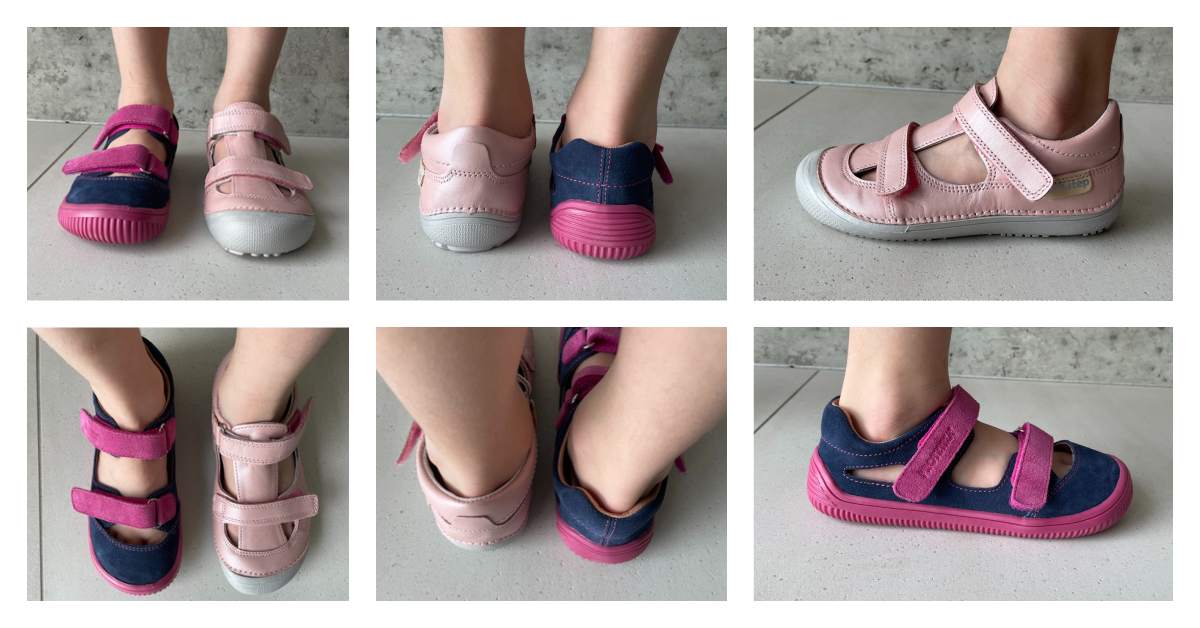 Keen – classic footwear, sports sandals, incredibly durable, great for challenging terrain, water, or sports. Not strictly barefoot in parameters, their outsole is thicker, the toe box is very spacious but round, secure fit around narrow ankles, they fit well average feet with an average instep.
bLIFESTYLE – soft sandals for average feet, not the best for wide toes. They offer comfortable space above the toes and will fit even a bit higher instep. Their sole is among the most flexible ones.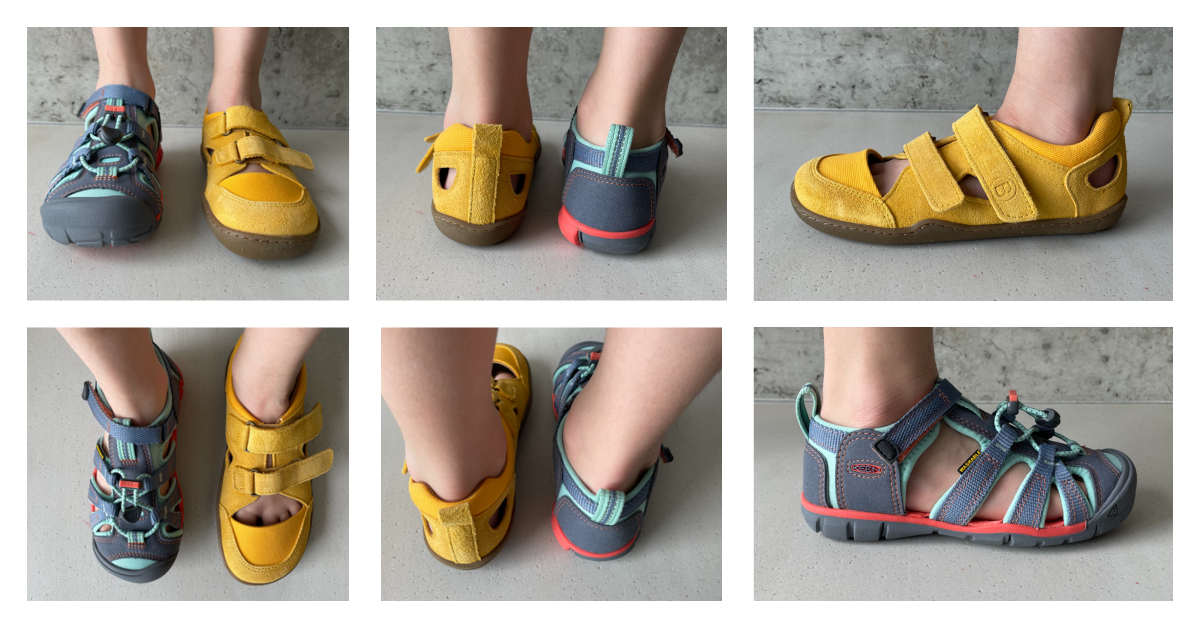 Ef – minimalistic sandals for wide feet. Nice toe box shape, they can be tightened around narrow ankles and thanks to cushioning in the hem they will fit the ankles even of a fin-shaped foot (wide toes, narrow heel). Their super-flat soles are only 2 mm thick, which is as barefoot as it gets, but this doesn't allow them to absorb shocks quite as well. The inside is made of synthetic fabric and the insoles are coated with suede leather which absorbs perspiration and will prevent the feet to slide in the shoe.
Baby bare – similar to the Ef shoes in dimensions, only a little wider in the heel. They aren't stitched around the ankles, so they don't stick to the foot all that well. The inside is lined with nice smooth leather which is ideal for proper foot hygiene. They fit a little higher instep than Ef shoes.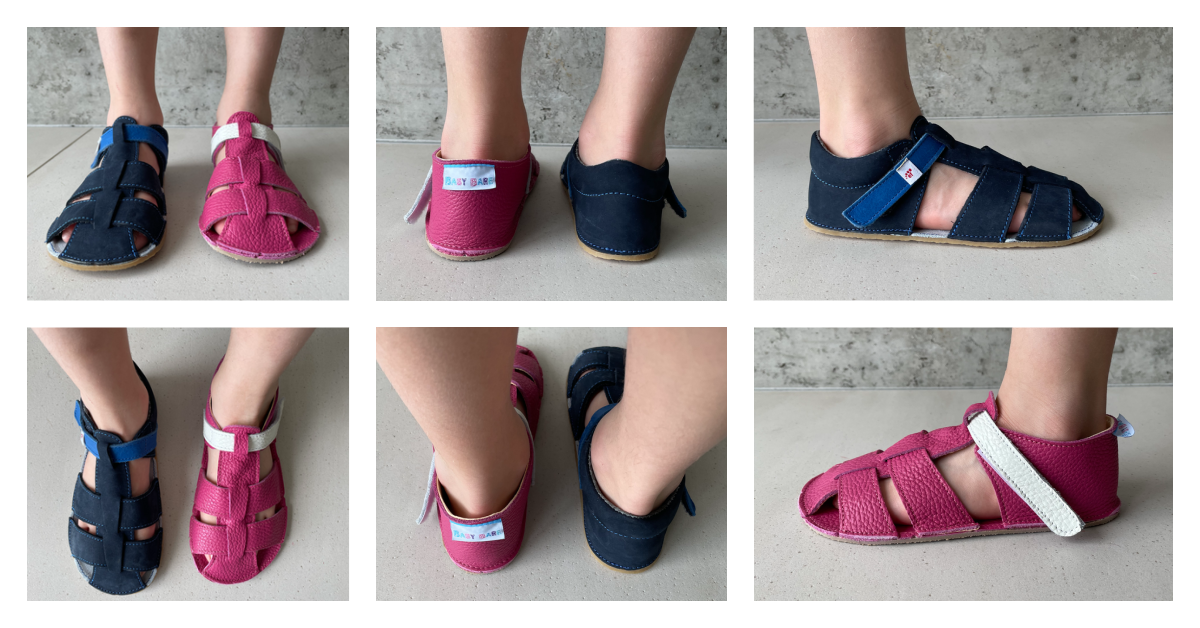 Tikki - are extra soft thanks to the flexibility of the sole and just one layer of leather. They offer a lot of space in the width as well as in the instep, they have the perfect shape for a dominant toe. Straps provide a secure fit around narrow ankles, but the soft leather stands out behind the heel a little.
OK barefoot - have the ideal shape, they fit average to higher instep, they can be tightened well around narrow ankles. They come with two types of soles – 2 mm or 4 mm, ticker sole might be the right choice for kids who tend to stomp as well as for walking on hard surfaces in the city.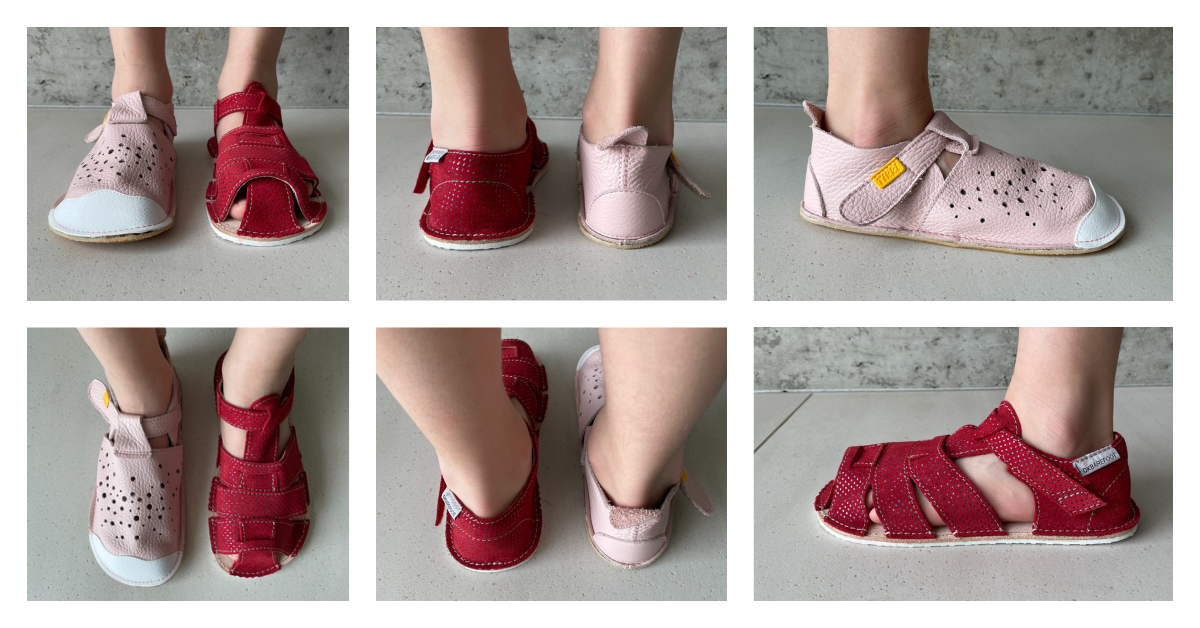 Check out our video with all these shoes put on (turn on the subtitles for English).
flexibility
When walking, a thin sole provides a barefoot-like experience. It enables you to feel the ground, teaches you to tread with respect, stimulates the sole of the foot and therefore strengthens the whole foot. However, shocks and heavy stomping is absorbed better by ticker soles, so some prefer them over thin soles especially for hard surfaces.
Tikki Nido have the softest soles, Ef and Baby Bare are slightly thicker but still fully flexible.
Among the regular shoes (not on a flat sole) D.D.Step are by far the softest, their sole is extremely flexible. Next in line are bLIFESTYLE, Jonap and the other compared brands, all very similar. The only firmer shoes are Bobux (not Summit) and Keen.
Check out our video to see how the shoes bent in both directions (turn on the subtitles for English).
flexibility of the heel
If you are looking for shoes with a counter, making the heel area a little firmer and helping the foot maintain the ideal vertical position, you shouldn't miss Bundgaard, Bobux (not Summit), Jonap or Beda with OP in the name of the product (we cite the "counter" in the product label).
Froddo, Protetika and Bobux Summit are not stiffened but thanks to the extra stitching and multiple fabric layers they maintain the shape well.
Other shoes have no stiffening at all. Ef, Baby Bare, Tikki and OK Barefoot have just a layer of a super thin leather in the heel (turn on the subtitles for English).