The weather cannot stop us!
Rain boots are a must-have for our children because our children choose not to avoid the puddles, to the contrary, we can say jumping into muddy puddles is an exciting activity. For some people, it can be only occasional activity when they go out for a city walk after a rainy day, for others who attend forestry school, live on a farm, or in a village, it can be an everyday occasion.Some children can wear the wellies on a hot summer day when they tirelessly build a water dam in a mountain spring.
Shoes with a membrane are water repellent, but only the rain boots are 100% waterproof.
For barefoot lovers, the company Koel4kids has good news. Personally, I consider these wellies barefoot, and together with Bundaaard, they are popular thanks to the anatomically shaped toe box.Now you can look at a detailed comparison of the six best-selling boots on the market.
Size
Measure the foot. You can follow our video tutorial.
We recommend 10-13 mm of extra shoe space. So add 1-1,3 cm to your foot length and then use a length and width filter on our website. The natural way of walking cannot be the proper rating criteria because, to be honest, nobody walks well and correctly in rain boots.
The boot cannot be tied or adjusted by laces or velcros, so the shoe never fits perfectly. Do not exaggerate the additional toe space because it can lead to a loose fit and excessive foot movement in the shoe during the walk.
Bundgaard and Koel4kids have a great toe box shape, and it does not rotate in the big toe area, therefore they can offer comfort even to children with the dominant big toe and a toe shaped like a fin.These two brands have almost identically shaped insole in the toes and heel area. I don't consider the measured difference of 1 mm insignificant. It can differ by a particular shoe. Budgaard and Viking shoes are not suitable for the dominant big toe, and they are narrower in the heel and toe area. The footwear is not ideally shaped, and it gets narrow by the big toe. Crocs boots are more suitable for dominant toe shape than Demar, Viking, and Bundgaard. The material used (Eva foam) is thick, so even the shoe looks spacious in reality, there is not so much room in them. The Insole of Demar and Crocs is not removable, so it isn't compared in the photo.
Photos of sizes 35 EU on a foot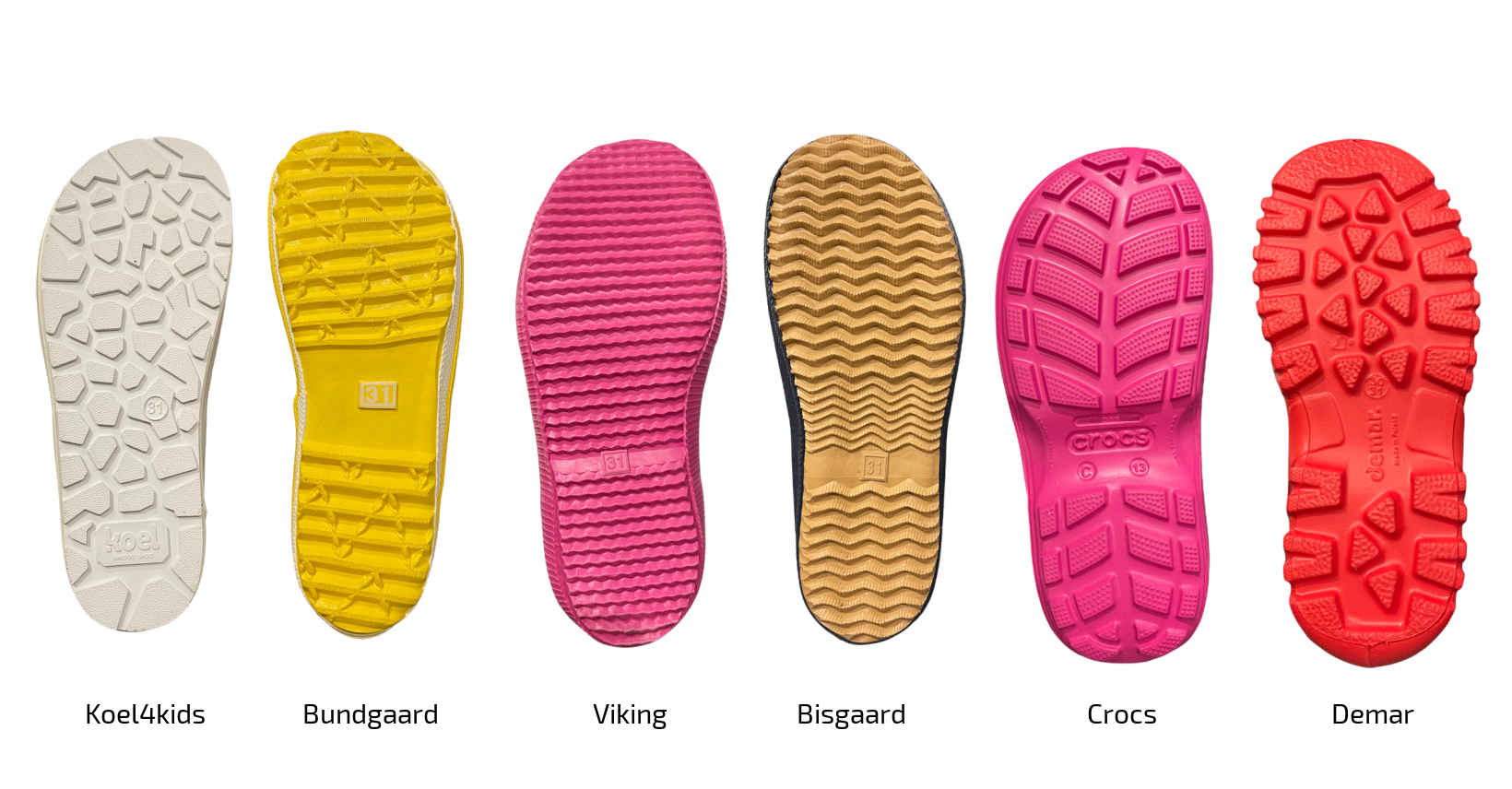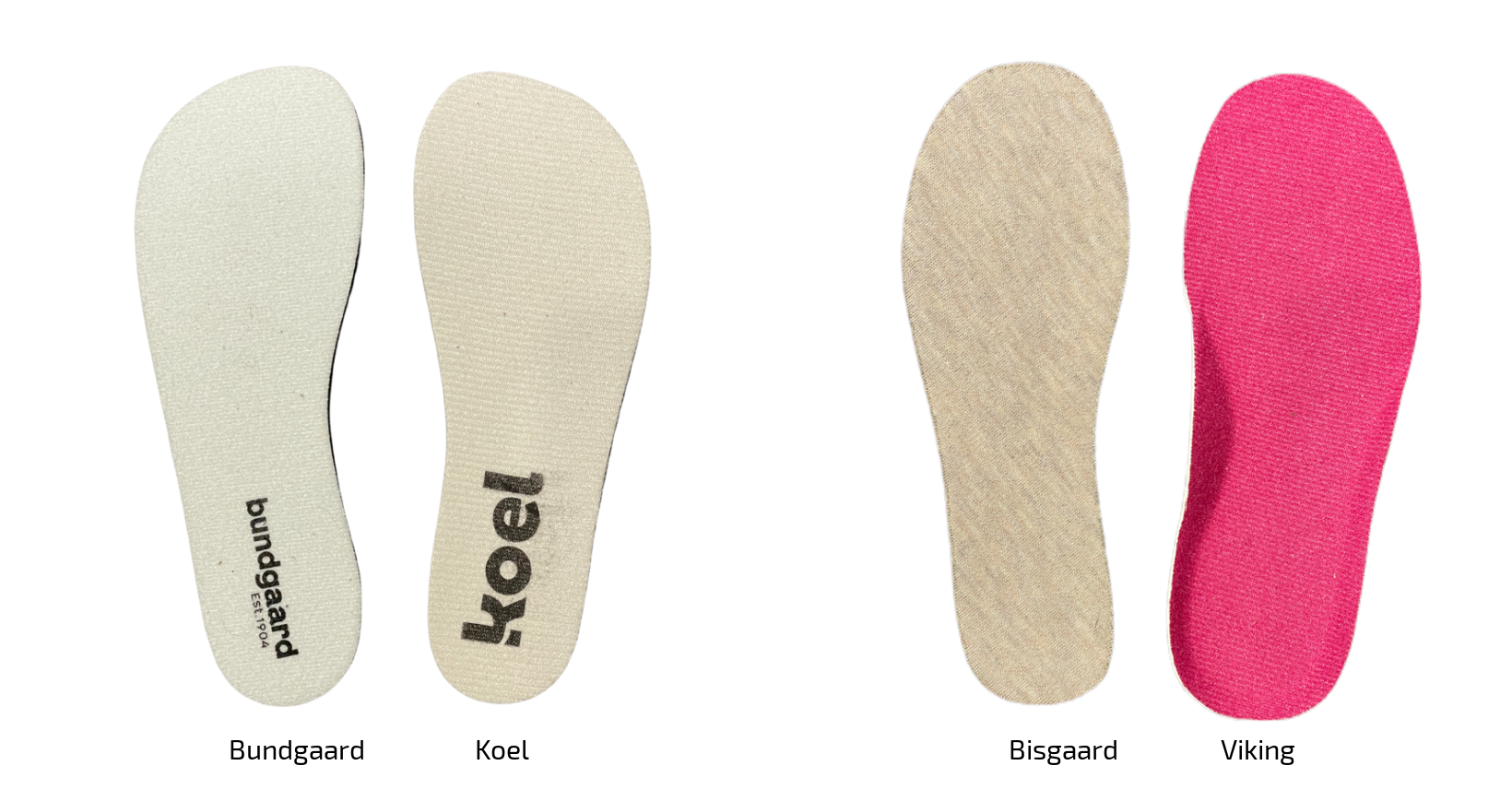 Koel and Bundgaard
The proportions of these two brands are very similar, so they are suitable for much the same foot type.Not one of these mentioned brands is significantly broader in the toe area nor narrower in the heel. There are also no width differences in the calf part. An insignificant difference appears in a high point above the toes. Koel boots are slightly higher, so they can be more suitable for children with chubbier feet, while Bundgaard is more convenient for thinner feet because the shoe instep is lower.
The big difference is visible on the sole. By Koel, the sole is completely flat only with some anti-slip relief, and when put on a flat surface, it stands steadily. Bundgaard is not so steady and can swing to the sides. There is no perfect flat surface in the country, so the ankle does all the work for us. I found Koel designed better.
Bundgaard shoes are slightly higher, and if I start reminiscing of the time when I was a child, who used to spend time wading in streams, I can say I would be glad for every extra centimeter.
Both brands have reflective elements. The Bungaard wellies even have a loop.
We received a lot of Koel pairs of boots with some flaws. They usually have a peeling print, a logo, or crooked reflective elements. The edge finish is wobbly. Defects do not affect the correct walk, so if you want to save some money, you can shop in a lower-quality section.

Viking and Bisgaard
They're perfect for a narrower foot, if you can't fit well in Bundgaard and Koel because they are "too loose", Viking and Bisgaard are generally a little narrower in the instep and in the toes. Although the shape of the toe box is not ideal, thanks to the narrower cut, children usually walk better in them, they are not loose. The shoes are similarly flexible. Viking have a lot of lower models with shoelace, children in this style walk more naturally. I consider Bisgaard to be a very successful design, the beautiful tasteful print combined with a leather tag will delight fans of children's fashion.

Demar and Crocs
The boots, which are not made of rubber, but Eva foam, are light and well insulated. Demar do not have an optimal shape at the tip, it is round but quite spacious, so the foot is usually not pinched. Demar provide an ideal price-performance ratio. They are durable shoes, a removable insole is a part of it, a sock that warms up and can thus be worn as snowshoes. The shoes have binding at the edge of the boot and no snow penetrates them. They are on a heavier sole, but it can bend with a stronger grip. After removing the "merino sock", the shoes are more spacious, we state the dimensions with and without the insole. Crocs are a fashion issue, but the design of the attractive boots with a nicely shaped toe box is on a relatively massive and not very flexible sole, it is strong and completely rigid in length, partially flexible in the walking direction. Eva's material is very light, Demar and Crocs weigh a minimum.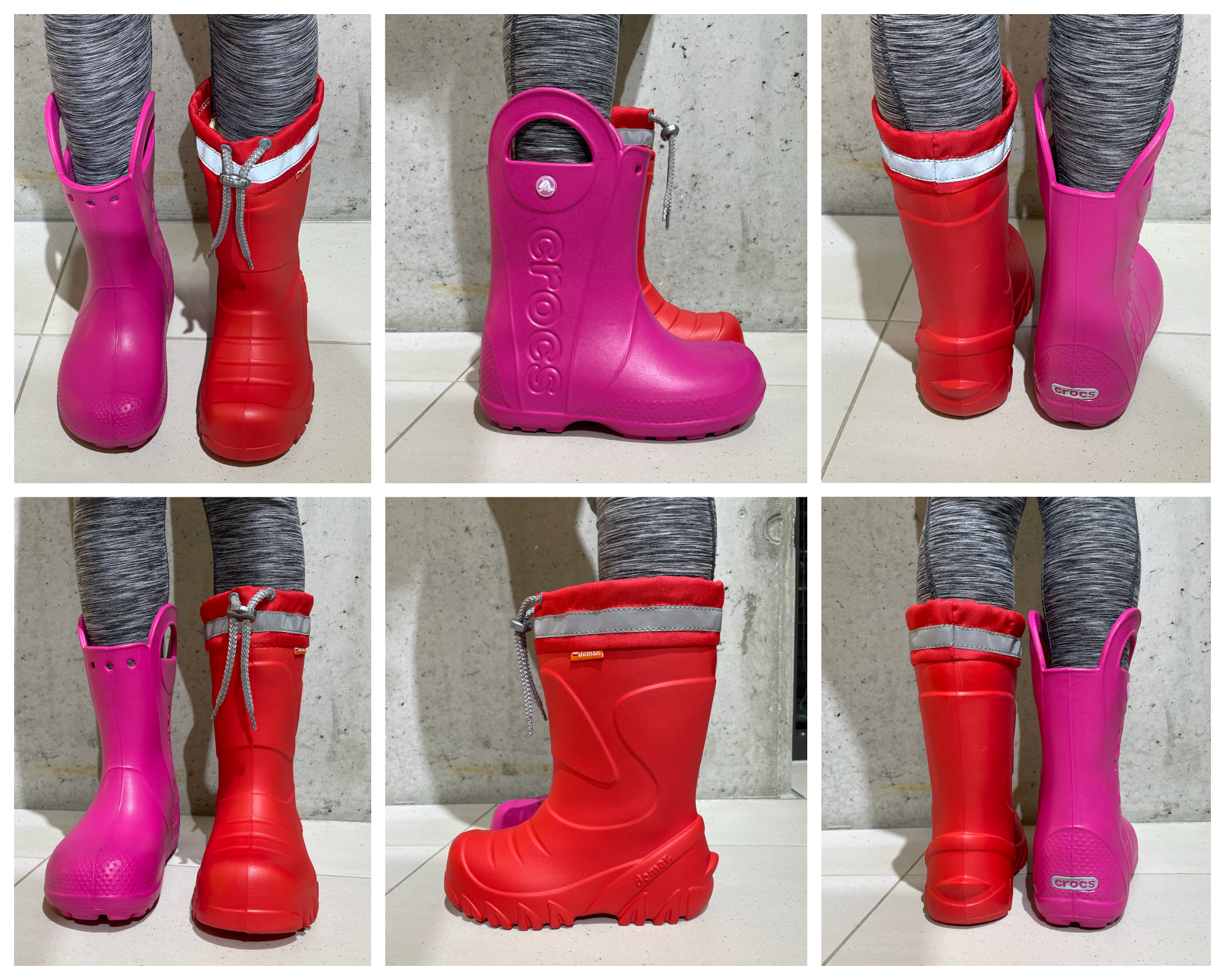 On the foot
Take a look at the video where we wore all the brands - although unfortunately it is difficult to illustrate how the boots fit ...
Weight
The differences are quite striking. Demar are by far the lightest, Crocs are also very light thanks to the same material, they only haeve a thicker layer. The other boots are made of rubber and therefore are heavier.