Barefoot shoes even for winter
Every shoe and foot is different. Let's try to match all the parameters - length, width, instep width, the room around the ankle. We aim to find shoes that could optimally fit and also fulfil all the demands of design, flexibility, and non-slippery of the sole. So the shoes do not serve us only as protection against coldness, wetness but they are also your inseparable partner for spending time outside, on the way to school and even during riding the sleigh. Don't worry about wearing barefoot shoes during winter. Thanks to the wide toe box, constant stimulation of the foot's sole, and good blood circulation that helps perfect thermoregulation, you can comfortably wear barefoot footwear in any kind of harsh weather.
Size
Measure twice and order once. European sizing is orientational, doesn't take into consideration actual inner shoe dimensions. Some sizes don't correspond. Size 25 can be smaller than other shoes of 24. So definitely measure the foot - length and width and spoil your feet with sufficient shoe space. Add to your length some extra space (ca 9-14 mm) for socks, forward toe movement during the walk and also growth. We recommend little less additional extra to first-walkers. Larger shoes can lead to tripping or rotating of feet. Please take into account how your kid walks and moves in their shoes. Higher and robust shoes, more exactly insulated ones, can slightly change the pattern of movement. But the difference shouldn't't be so remarkable in comparison to walking barefoot or to their present footwear.
Small shoes deform the foot and can restrict the right thermoregulation. There should be at least 3-4 mm of extra space. But be careful because too big shoe can complicate the walk and usually can fold or crease. The middle ground is some 9-14 mm of extra space.
For correct arch development, healthy walk, and comfort, the foot needs some extra space to the side as well, 2-4 mm is enough.
Use filter
We re-measure the shoes for you. On our website, you can filter the shoes by length and width. When you measure the foot length of 150 mm, look for shoes with the inner length ca 159-164 mm. Then repeat with the width. You can choose shoes that will meet all your needs.
You can also use other parameters like colour, type of shoe, or gender.
Outsole shape and pattern
The shape of the sole copies the inner shape of the shoe, and it should reflect the shape of the foot - whether the toe box shape, the curve on the big toe side or the narrow of the heel part. Look at the feet soles and choose shoes that are shaped adequately. Not too big or not too small.
For the winter shoes an anti-slip outsole is substantial. Particularly bLifestyle, Affenzahn and Plae added a few millimetres on the pattern, in the case of Fare and D.D.Step 063 there are even more significant outsole elements. If you think about more active movement in the mountains, in nature, instead of walking on the street, more off-road shoe patterns can be an advantage.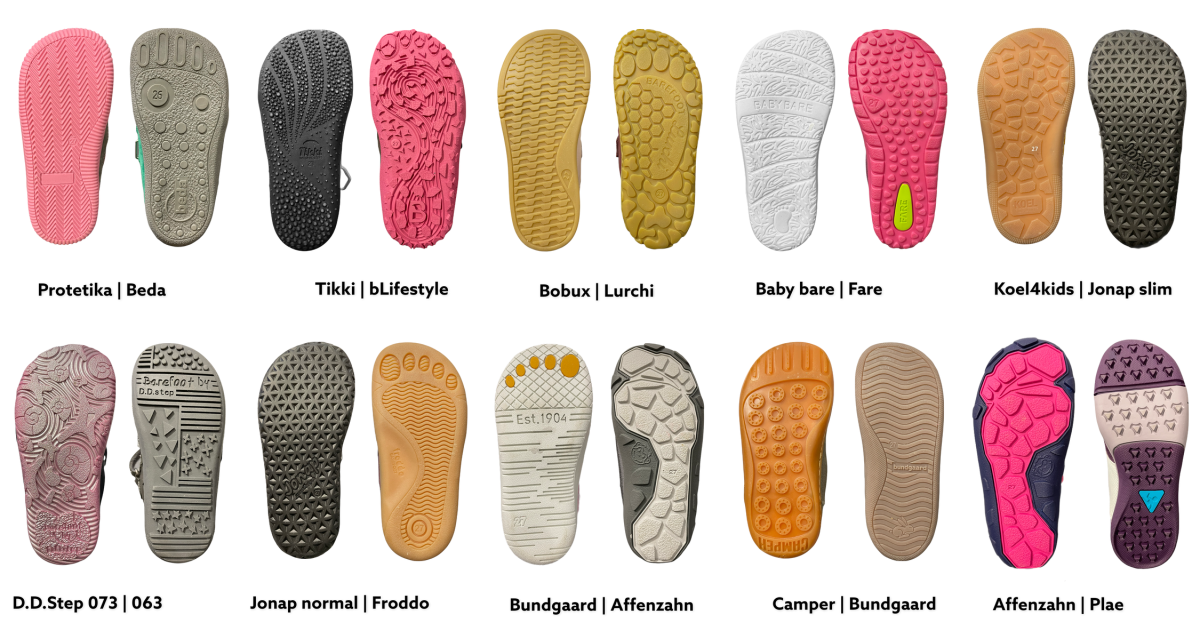 Flexibility
A flexible outsole encourages the function of the foot, its thermoregulation, and also improves the traction. Extra flexible are both lines of D.D.Step. The majority of other compared models are very well flexible both transversely and lengthwise. Stiffer insole of Plae, both Bundgaard Birk and Bilie and Lurchi is not much flexible transversely. But it is well flexible in the walking direction.
On what foot do they fit
We wear each shoe of size 27 (Beda 26) on a narrow foot with 165 mm in length and 64 mm width, with a higher instep.
Bobux and Lurchi
Bobux's flexibility is surprising. The shoes are a little bit softer in the outsole and also in the heel part than we are used to. It fits well on a narrow foot with high instep. There is a possibility of tightening the shoelaces around the thin ankle. The membrane and wool lining will ensure dryness and warmth. The traditional Bobux appearance is very fashionable. The toe box is not anatomically shaped, it's round. So please check if your feet have enough space.
Lurchi is the children's brand by Salamander, and the design follows Filii (which are not produced anymore), there are some similarities to Himalaya's models. In the toe box, the shoes fit the narrow foot well, but they are not suitable for a thin ankle. The ankle and heel area is more spacious and it can crease on very slim feet. They are suitable for lower instep. At the same time, they are less flexible in a longitudinal direction than we are used to by Lurchi. The insole is flexible just in the walking direction. The shoe does not have a real heel counter, it is just slightly reinforced.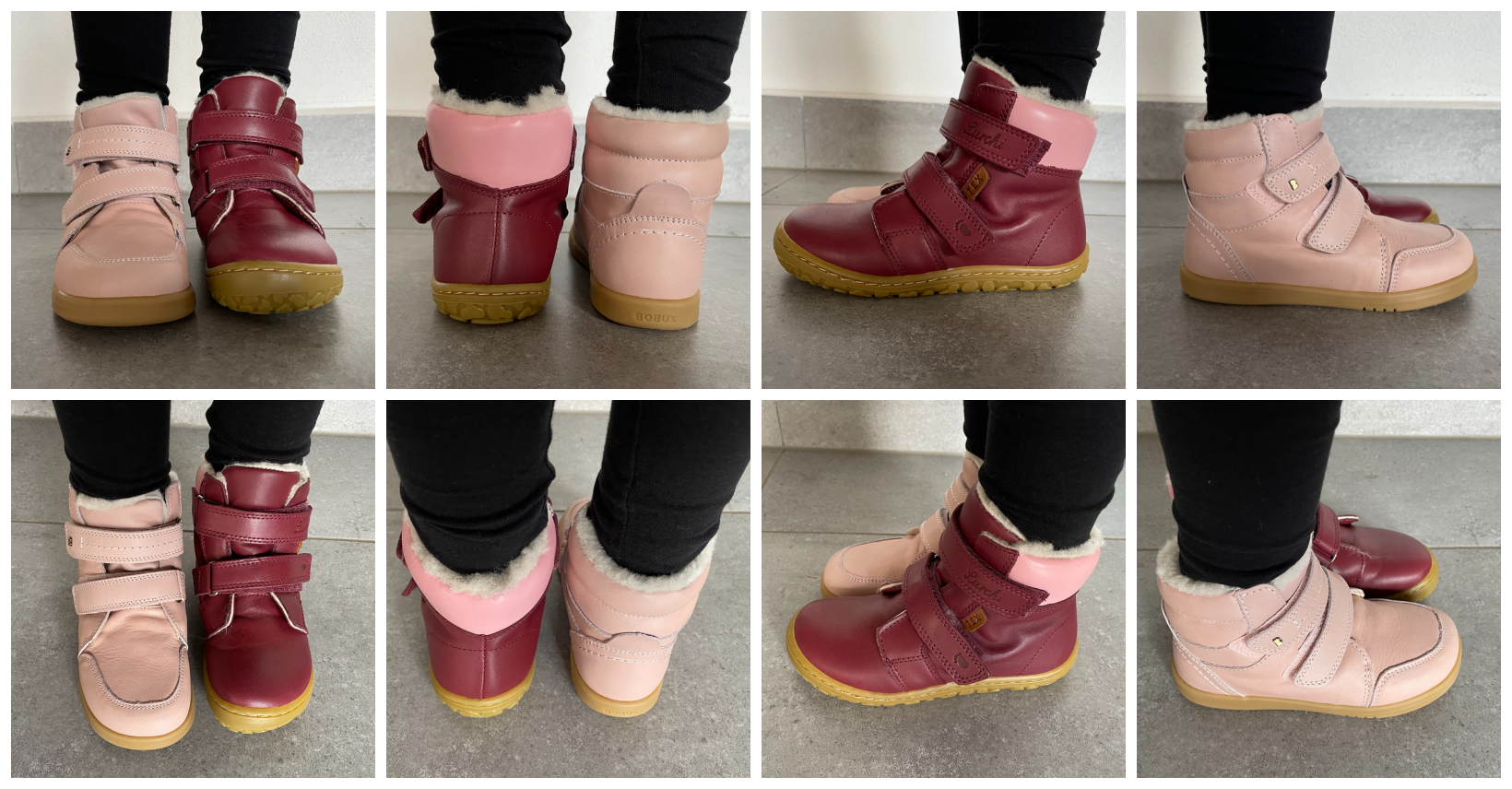 Bundgaard and Affenzahn
Sporty winter footwear with a water-resistant membrane. The Bundgaard shoes are less insulated, and the outsole is less grippy. The inner space is lined with fleece, and that's why they are ideal for winter in the city. They are suitable for an average foot. In the toe box, there is a space for a straighter foot as well. The disadvantage is a slightly raised toe box. We can tighten the shoe to fit a thin ankle and an average or a little bit higher instep. The heel area is firmer than by other compared models.
Affenzahn's outsole is more outdoor. The toe box is narrower but anatomically well shaped, even for a dominant big toe. On the other hand, this model is more spacious around the ankle and instep. There is not a hell counter. These shoes are more suitable for a narrow foot with an average to wider ankle and higher instep. Inside the shoe, there is a thicker warm fur lining. Multi-terrain sole and reflective elements make these shoes the perfect ones for winter.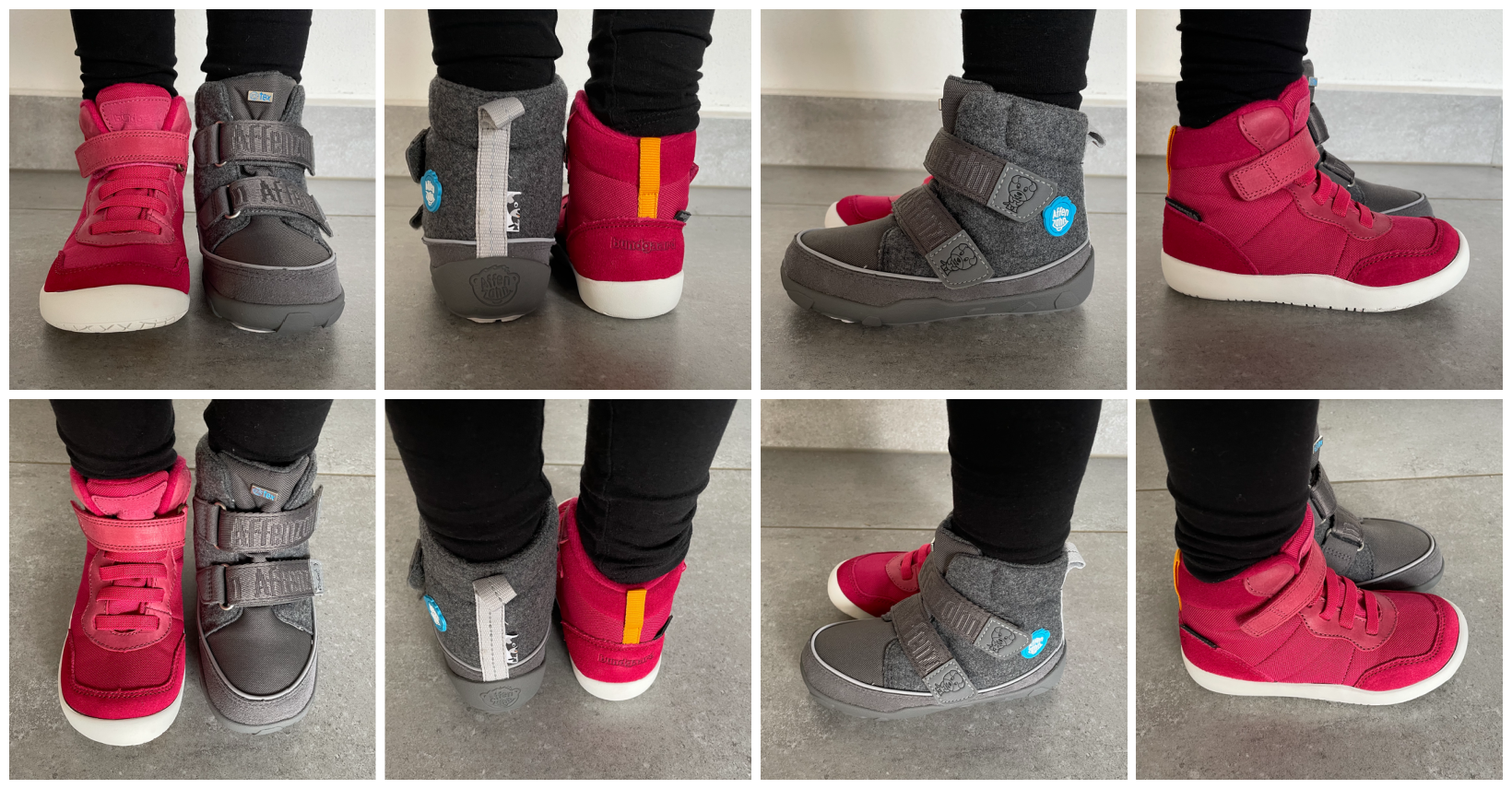 Tikki and bLifestyle
Shoes suitable for average to narrow fin shaped foot. Tikki shoes are available in vegan variant made of smooth leather imitation with synthetic fur lining. Or velour with a wool lining. They are quite narrow in the heel part. We can tighten the shoe to fit on small ankle. They are wider around the calf. They fit the average and narrow foot, and you can tight them up to the low instep. They don't have a membrane, nor a significant outsole pattern, that's why we can consider them as city shoes.
bLifestyle shoes come with a membrane, and they have a multi-terrain anti-slip outsole. We recommend them for outdoor winter activities. Although they seem to be robust, they are relatively lightweight and flexible. They are also warm and durable, suitable for average and narrow feet. They can handle higher instep and are easily tightened to fit thin ankles. Although the shoe tongue is sewn higher, so the snow does not get inside, it is very easy to put them on. The shoe tongue is slightly crumpled because it is fur-lined.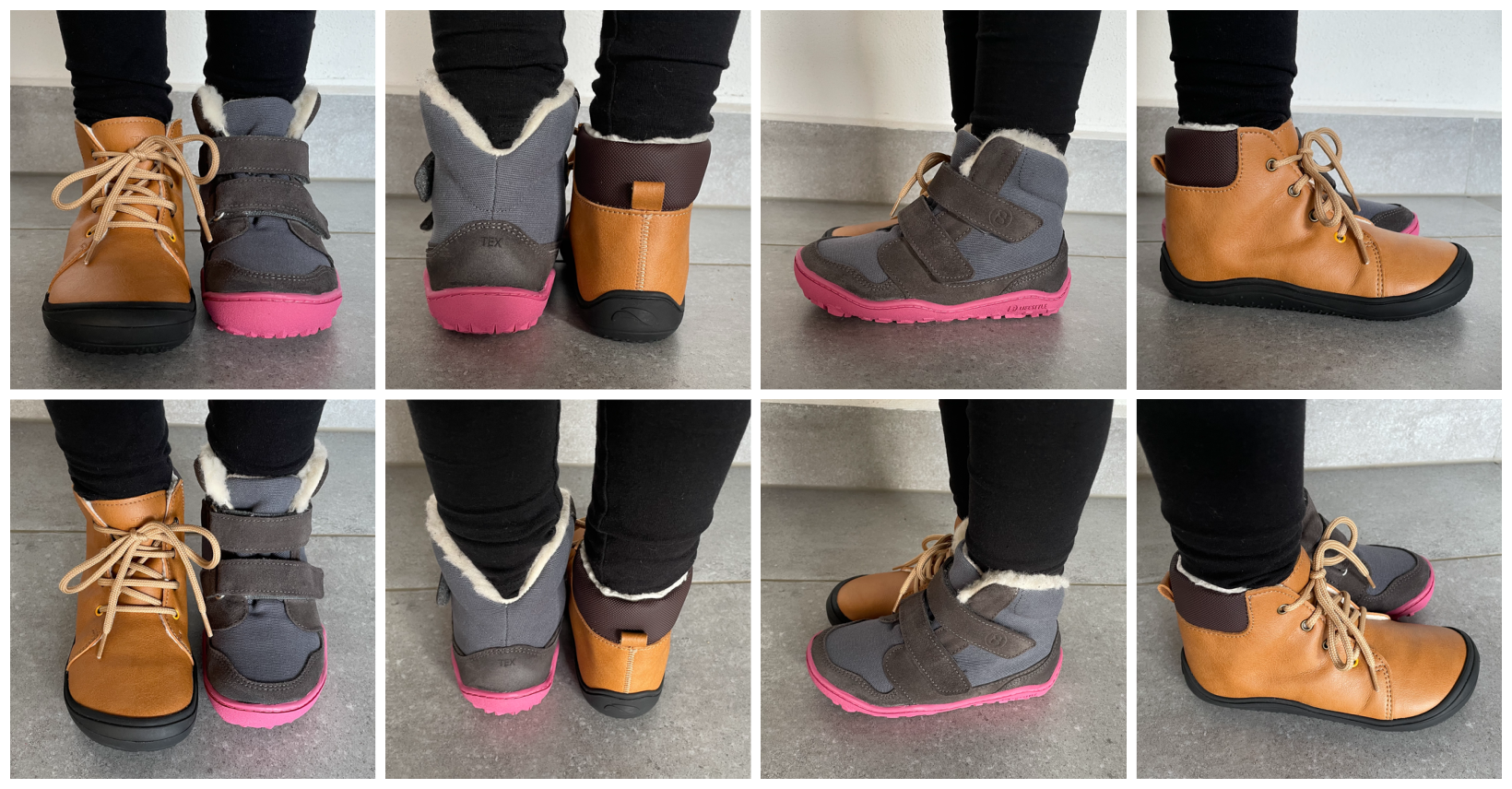 Baby Bare and Fare
Now we can present you the most spacious toe box shoes from our winter offer. It has an ideal shape for fin-shaped foot with a dominant big toe. Convenient for lower instep and thin heel, with membrane for better water resistance. In addition, Baby Bare shoes have a great protective toe cover, which increases the durability of the shoes. The tongue is firmly sewed, so it perfectly fits in the shoe. When we tighten the shoe, the tongue hides inside perfectly. The shoe can be adjusted to narrow foot.
This year, Fare is still very flexible but offers better anti-slip pattern of the outsole. Fare can be also tightened to fit a narrow foot. The insulated tongue creases slightly when tightened.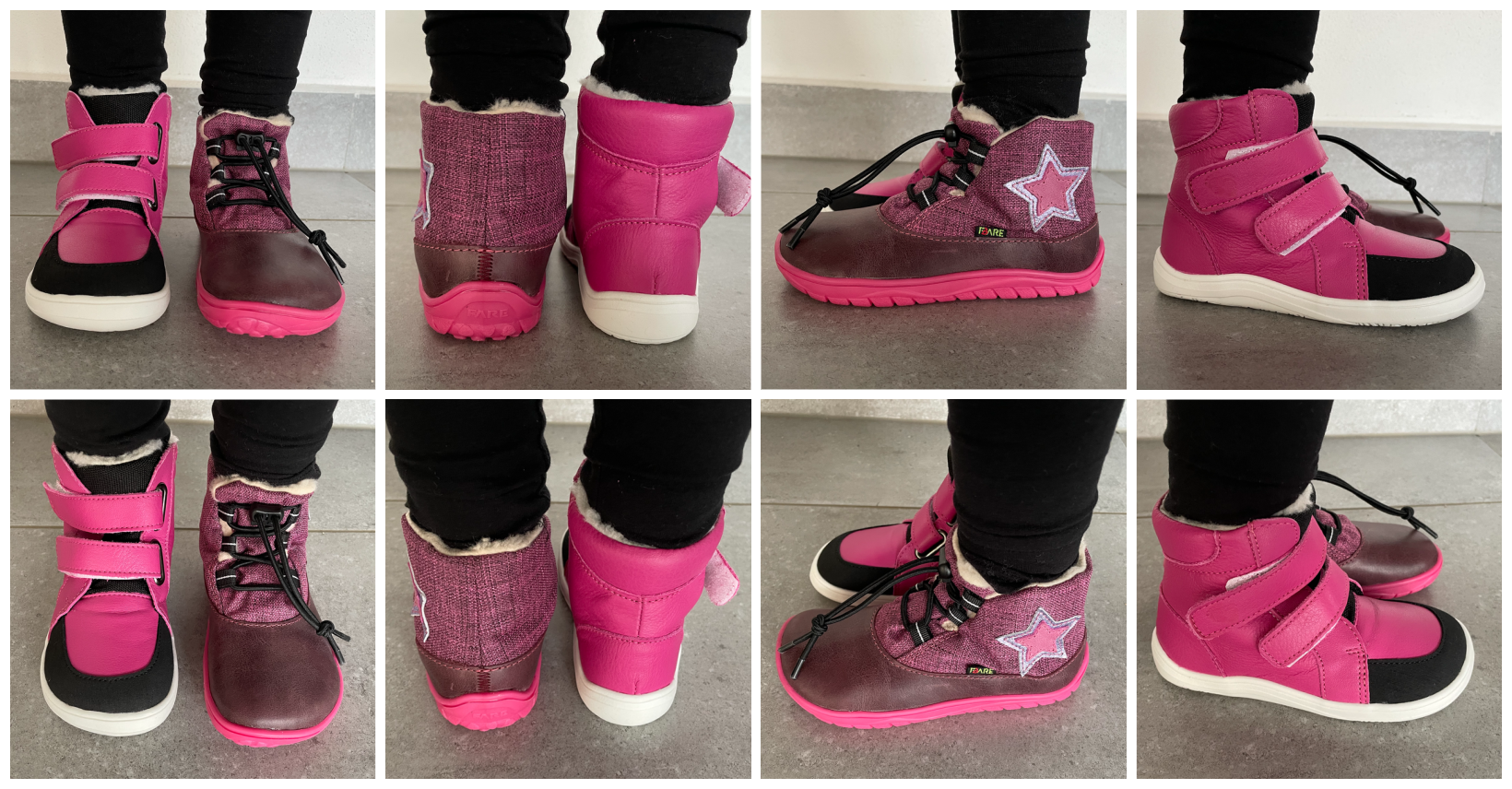 D.D.Step 063 and 073
The softest of the softest. These two models have the TOP flexible outsole, as well as the super-soft upper and in the heel part. The rubber toe overlap is practical. Although D.D.step shoes do not have a membrane, they have a reputation of being well-prized and of good quality. Model 063 is a bit narrower in the toe box and in the middle. It fits narrow heel and higher instep than 073. Both types are spacious around the ankles, and they can be perfect for a kid with chubbier feet.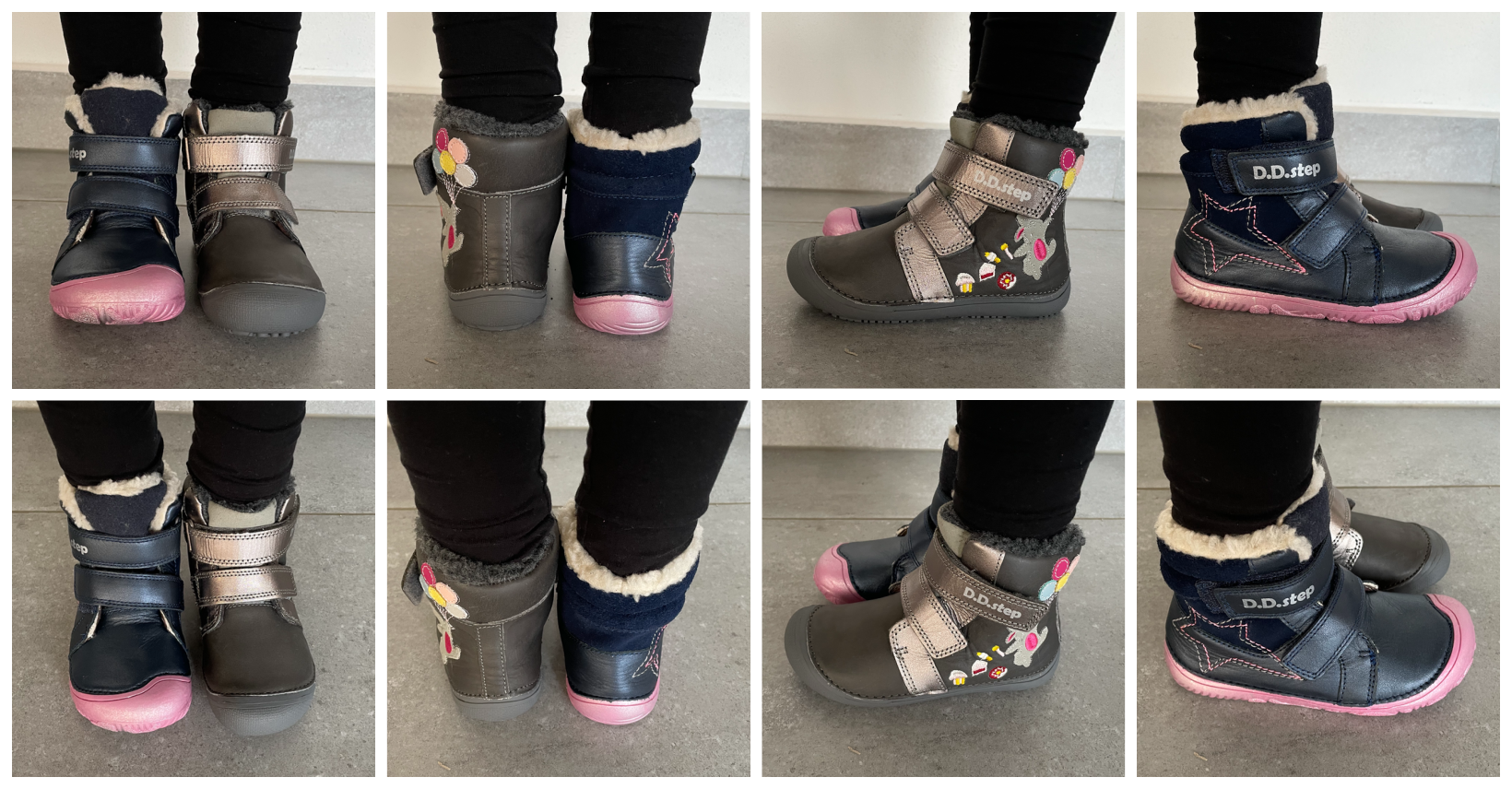 Koel4kids and Jonap Slim
Both shoes delight us with membrane for better water resistance. Koel has a beautifully shaped toe box. It is an incredibly soft shoe insulated using natural wool. The shoe tongue is sewed in a higher position to prevent snow from getting inside the shoe. The shape suits average to narrow feet, it's possible to tighten them on lower instep. The ankle area can be looser on a thin foot. The heel part is reinforced.
Jonap is suitable for a wider foot and higher instep. The tongue is sewn in a higher place to keep the foot in complete dryness. The disadvantage is the creasing of the tongue, so adjusting to the thin ankle can be a bit difficult. They have a reinforced heel together with reflective elements. The outsole of both Jonap and Koel has just small pattern.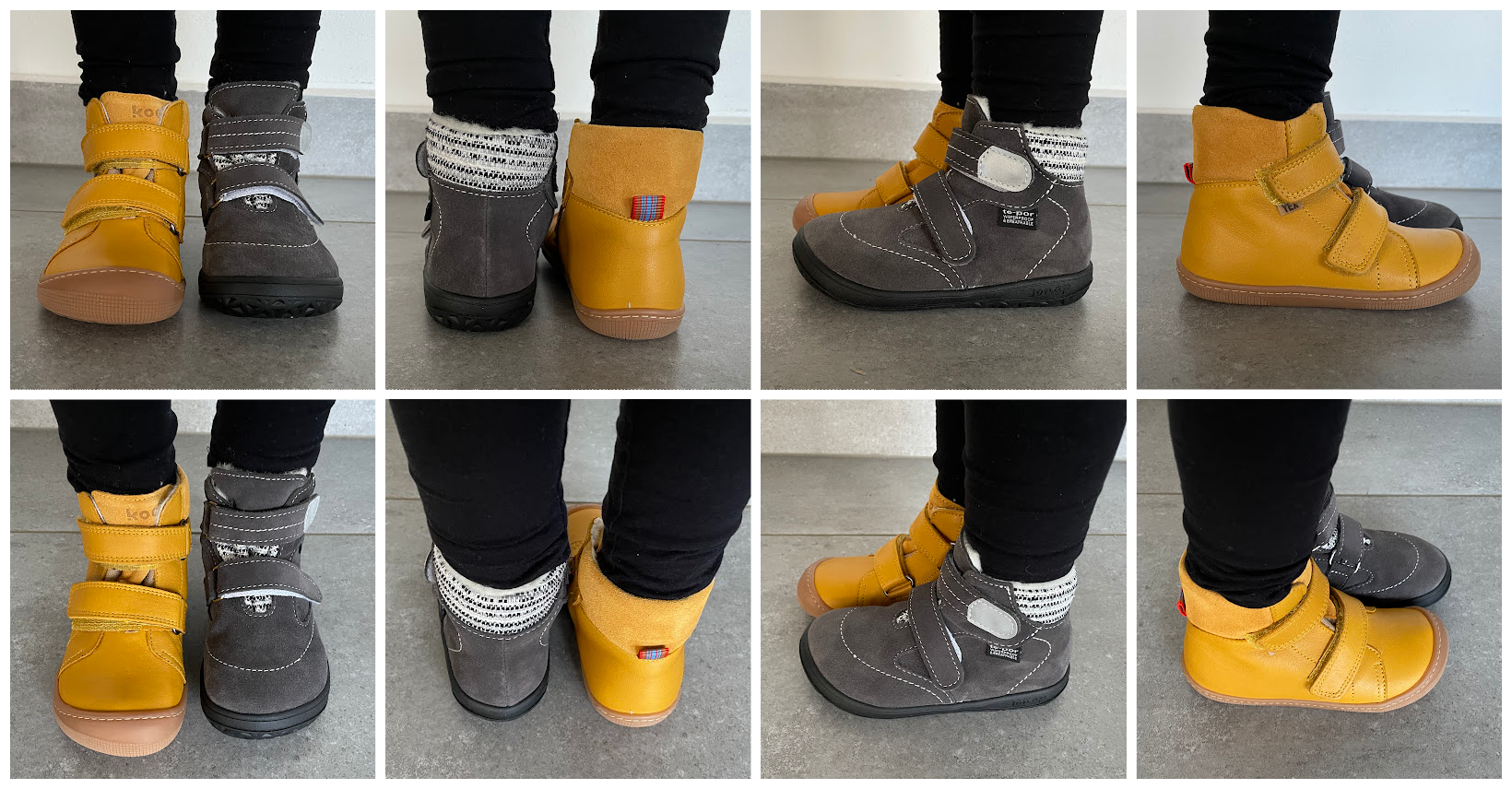 Protetika and Beda (26)
Protetika are affordable shoes, quite soft with a straighter cut. Fit well on narrow foot but not very thin ankles. They will be perfect for a higher instep, although they can crease on a thinner foot. The rubber toe cover protects the shoe from scratching. Protetika product line is quite wide. You can choose various shoe heights and boots as well. The shoe is flexible and the extra layers of fabric reinforce the heel counter. The tongue is not sewn into a high position, so it is easy to put the shoes on. The advantage is that the tongue doesn't crease or roll down.
Beda brand offers more space in the toe box but is lower in the instep (on the picture, you can see size 26). The tongue doesn't crease. For thicker feet, we recommend the 3 Velcro straps style - BF 0001/W/MK - they provide more space in the instep and ankle area. For a narrower fit, we recommend the BF 0004/W/MK style. Beda shoes are available in a version with a reinforced heel (labelled as OP) or in standard non-reinforced heel style.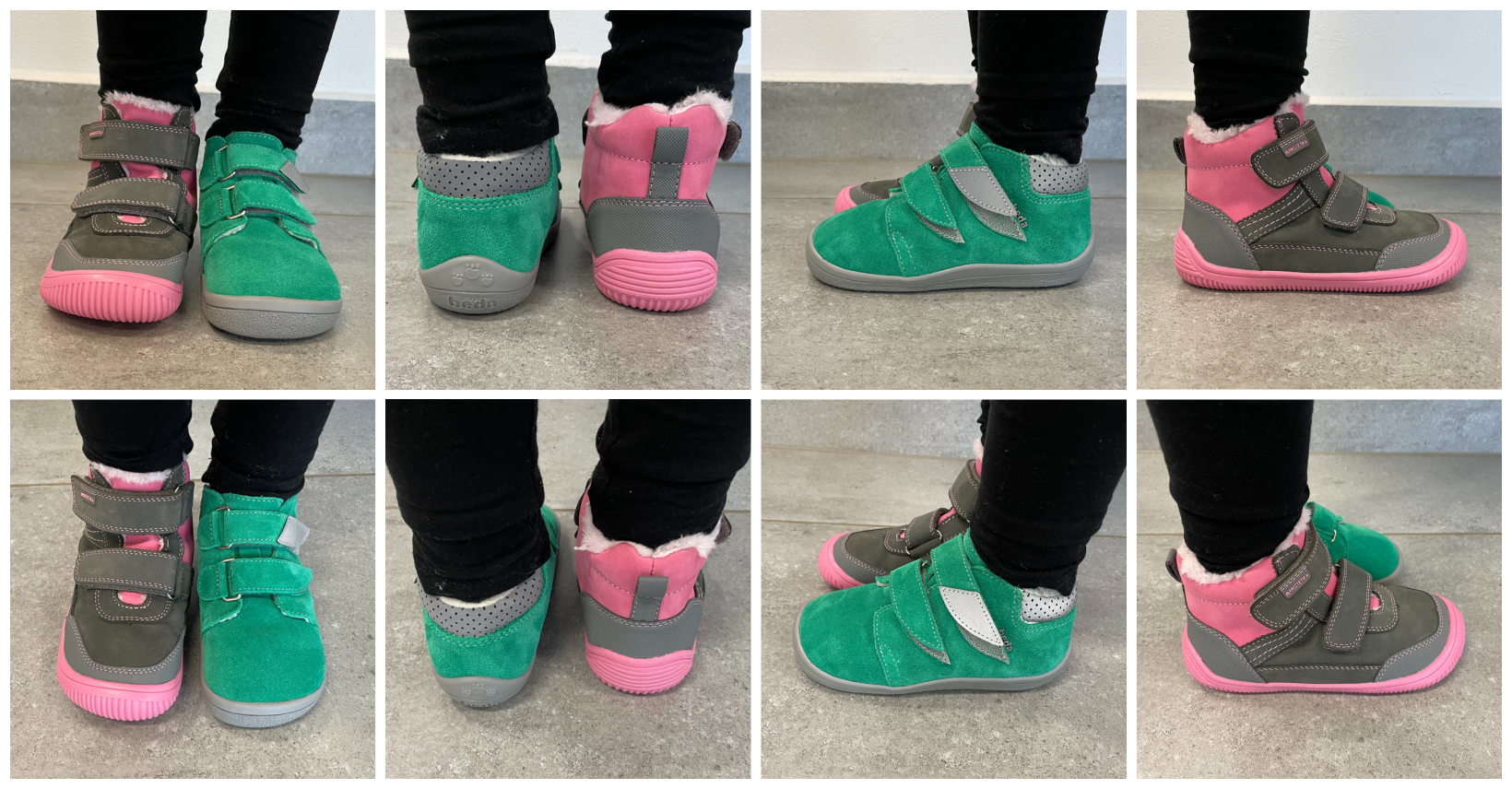 Jonap Normal and Froddo
The difference between Jonap Slim and Normal is insignificant. Slim is a bit narrower and higher in the instep. After lacing up the shoes, the fit is quite similar.
Unfortunately, Froddo shoes are nearly sold out now, particularly the style with a membrane. Froddo provides the best fit for an average foot with not so high instep. They are narrow in the heel part, and they can be well adjusted using the laces. The heel part is not reinforced. Both models have a soft sole pattern.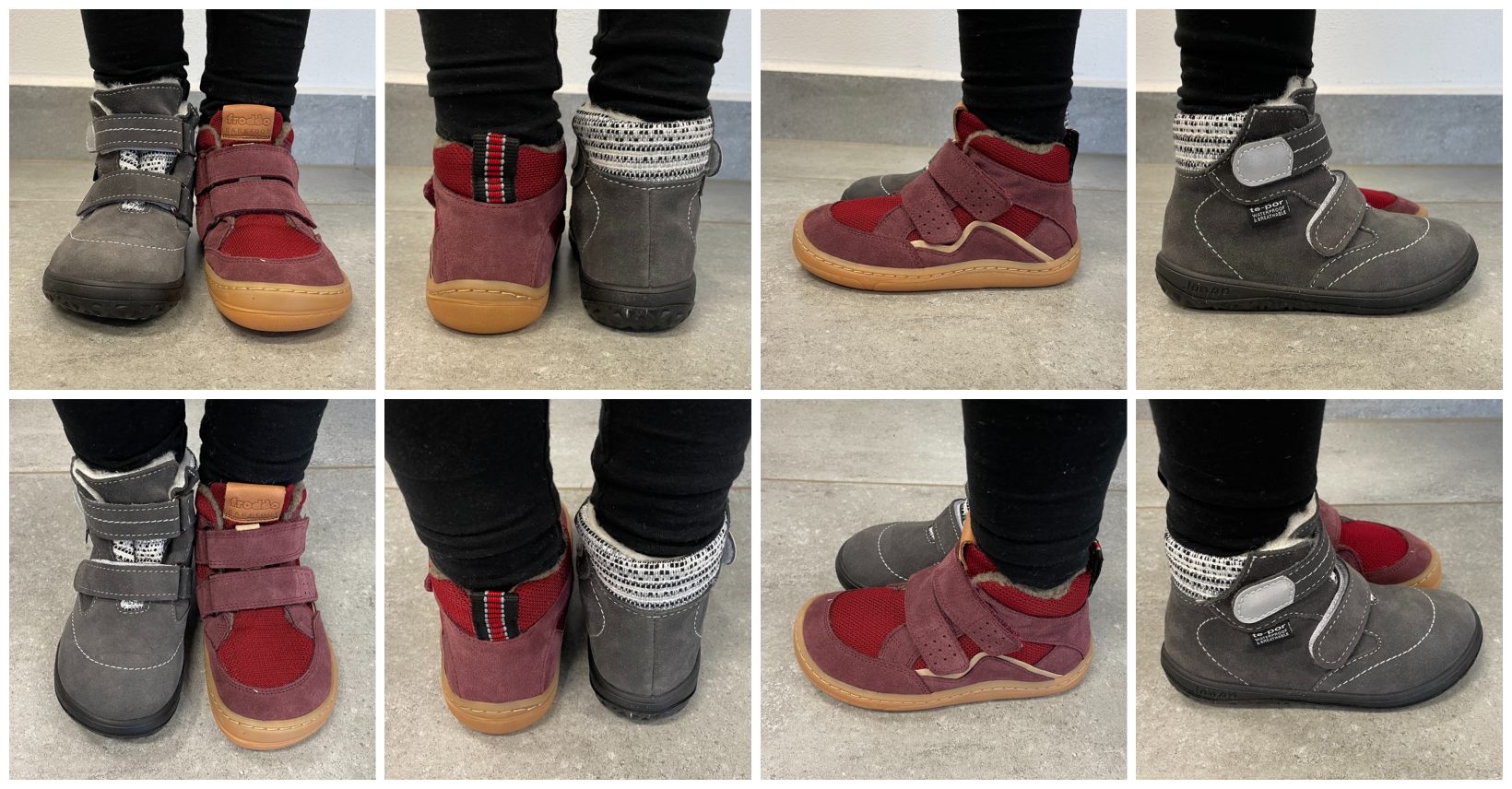 Affenzahn and Plae snowboots
For mountains, sleighing or skiing these anti-slip multi-terrain outsole and membrane shoes are perfect. Affenzahn snowboots are wider with higher instep. The difficulty of tightening the shoe can make the walk harder. Rubber shoelace serves more like a decoration than a practical feature. But you can tie it with a strap, and you can prevent the snow from falling into the shoe. The narrow and average foot can slip in nicely, but it also handles higher instep and chubbier ankles.
On the other hand, Plae shoes are great for narrow feet, and they can be tightened very easily. So you can adjust the shoe to perfect comfort and fit. Only disadvantage is that you need to lace them up, and sometimes it can be hard to put them on. They are a little bit stiff in the heel with a less flexible sole.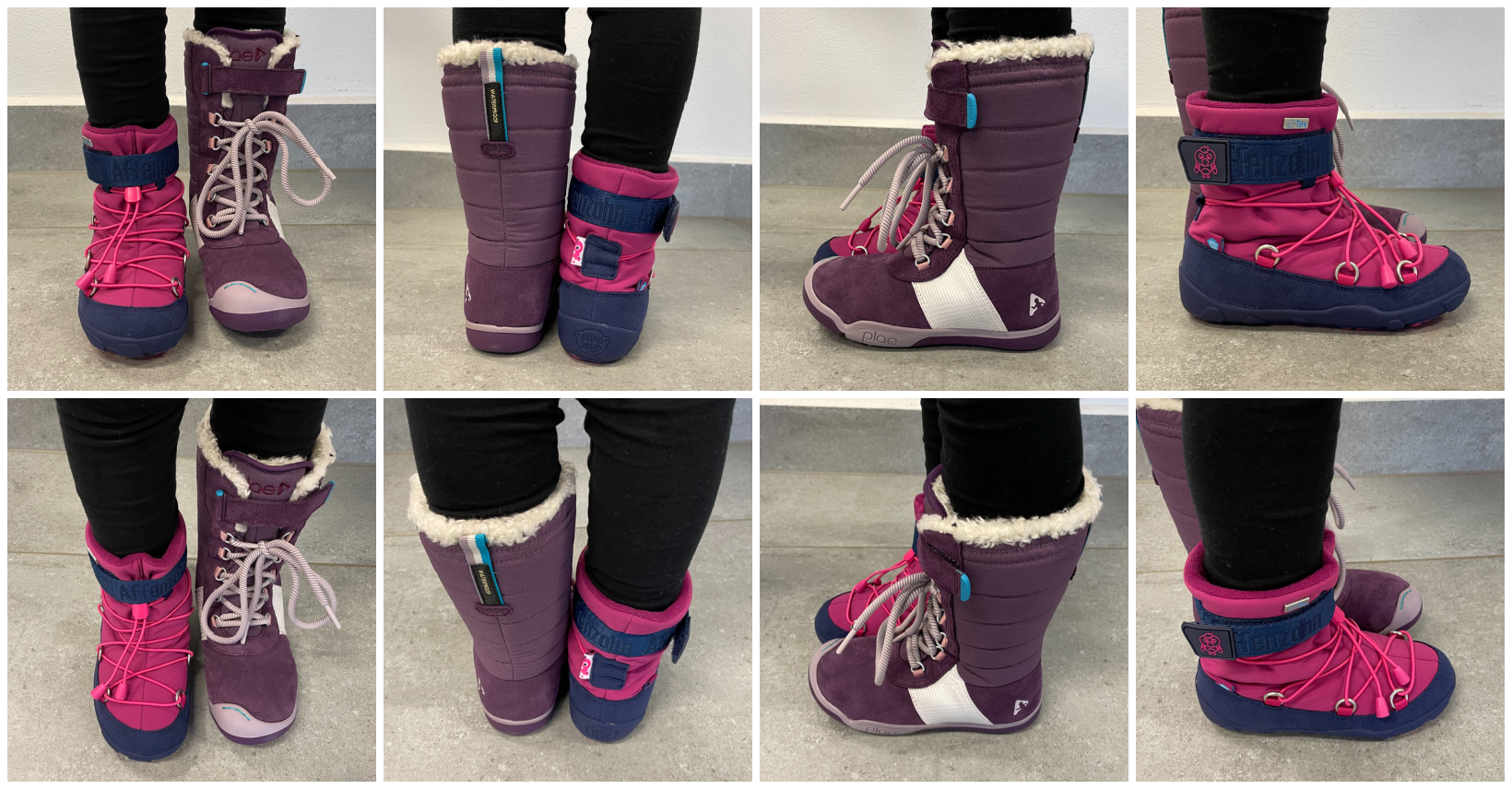 Camper a Bundgaard high boots
Fashionable but warm. Camper boots are suitable for average and a bit wider foot. The shoe offers enough room in the toe box and is easy to put on because of Velcro in the calf area. Go for Camper if you are looking for something that can fit lower and average instep. These shoes are not ideal for chubby feet. The heel part is not reinforced. Perfect for a city, but without a membrane or lace-up model.
Bundgaard shoes also have the boots characteristics, but thanks to the membrane, they are more resistible. The shoes are adjustable to your size with the use of the rubber band located on the calf. They are wearable over jeans or even with thicker insulated trousers. They look well with a skirt too. The toe box is roomy, and it has enough space for a dominant toe. However, they are suitable for narrow foot with not so high instep. The heel part is firm and narrow.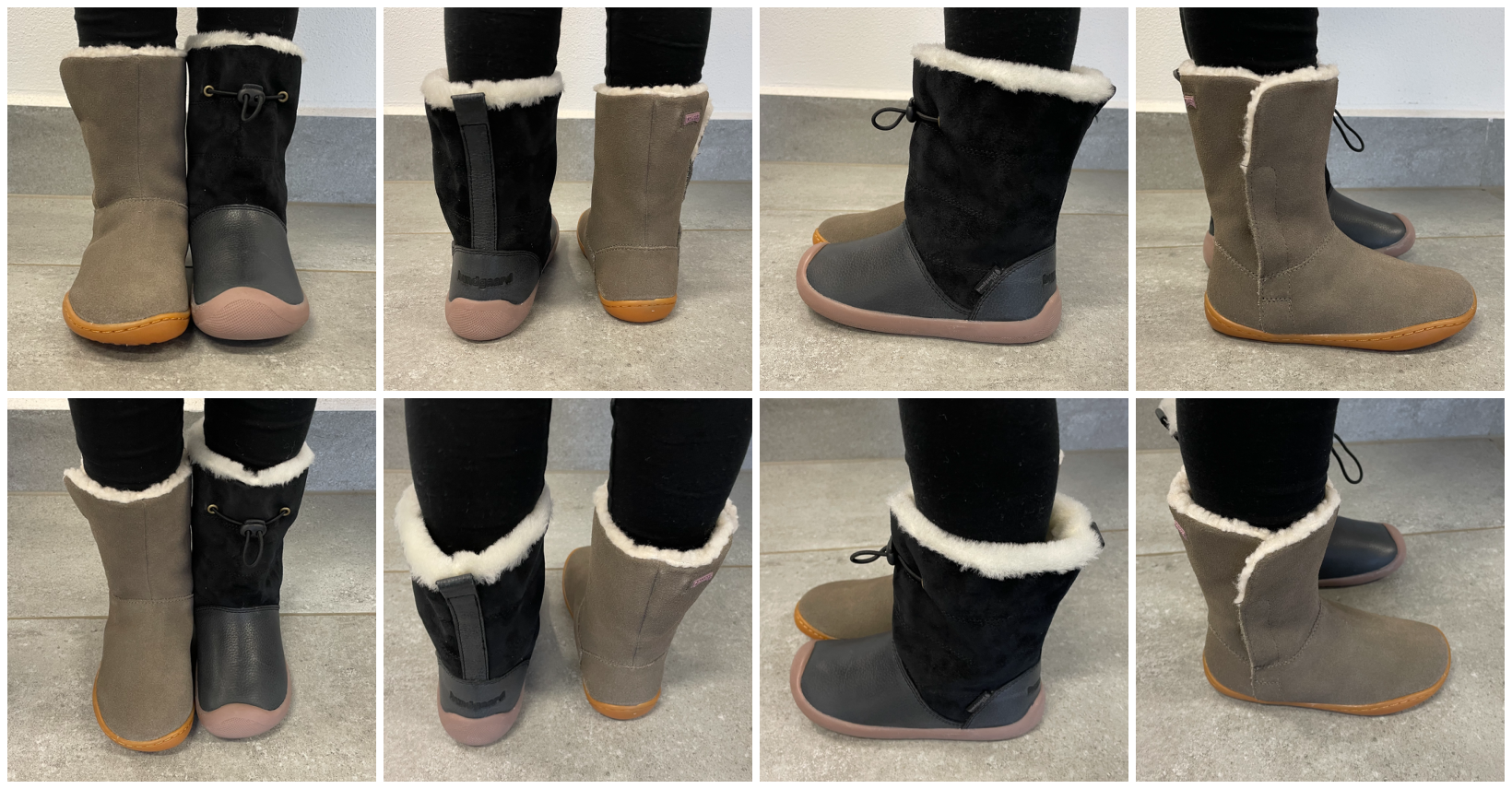 Can't decide? If you need any help, please don't hesitate to call or write to us, and we will find a solution. We won't leave you completely barefoot.