Wear waterproof boots in autumn to avoid unpleasant surprises from rain showers, puddles or other moisture. Which ones to choose? The best option is a shoe with a membrane. Alternatively, you can wear standard high-tops or all-season city shoes. Wear rain boots for jumping in puddles, and as winter approaches, you can opt for insulated winter boots.
Shoes with a membrane differ from ordinary shoes in that they contain a mid-layer between the upper material and the lining, which prevents external moisture from entering the shoe while wicking away internal moisture. The breathable membrane, therefore, effectively wicks away sweat, keeping feet dry and warm.
How does the membrane work?
The membrane is about 0.2 mm thin and contains about 1.4 billion microscopic pores per square centimetre. These can be imagined as tiny funnels pointing outwards from the shoe. The incoming water droplet is about 20,000 times larger and will not pass through these pores due to surface tension. Vapour from the body, on the other hand, is about 700 times smaller relative to the pores, so it can easily escape.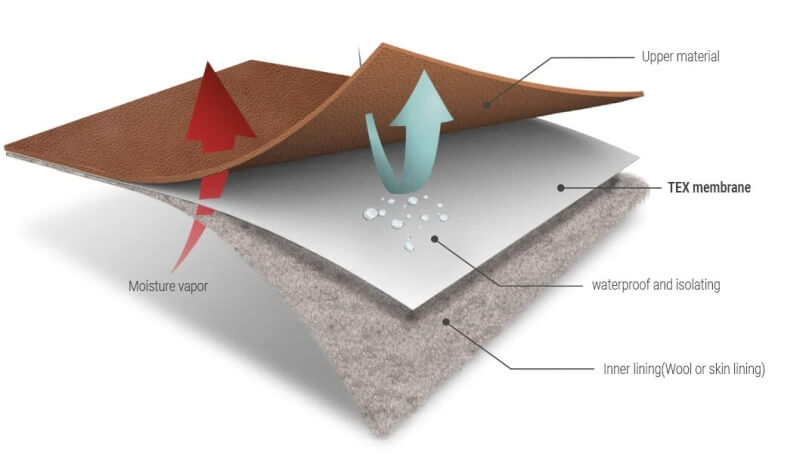 (Image source: Bisgaard)
Advantages and disadvantages of shoes with a membrane
Shoes with a membrane are worthwhile for their waterproofness and breathability. On the other hand, if you wade through water, it probably won't protect you enough, as the membrane is usually not (for design reasons, lacing, ...) built into the entire shoe up to the top edge. For such purposes, it is better to wear rain boots.
Where to buy shoes with a membrane?
You can find hundreds of shoes with a membrane on the Footic e-shop. Whether it's trainers, low-top or high-top shoes, nearly a third of the manufacturers sell membrane technology. Once you have placed your order, you can expect fast delivery and a three-week return policy for shoes that don't fit.
All-season low-top shoes
It is not only the membrane that helps to keep water out, but you will also find a wide range of water-resistant materials. All-season low-tops are often made of leather, which is also a significant barrier to raindrops. While they will keep your foot dry from the outside (unless it rains into your boots from above or through the seams), there is a risk that your foot will get wet on the inside.
High-top shoes
Regardless of the membrane or other materials, it's a good idea to consider the height when choosing waterproof shoes. In autumn, you'll appreciate high-top shoes, which protect a larger foot area from cold and moisture and are much less likely to leak.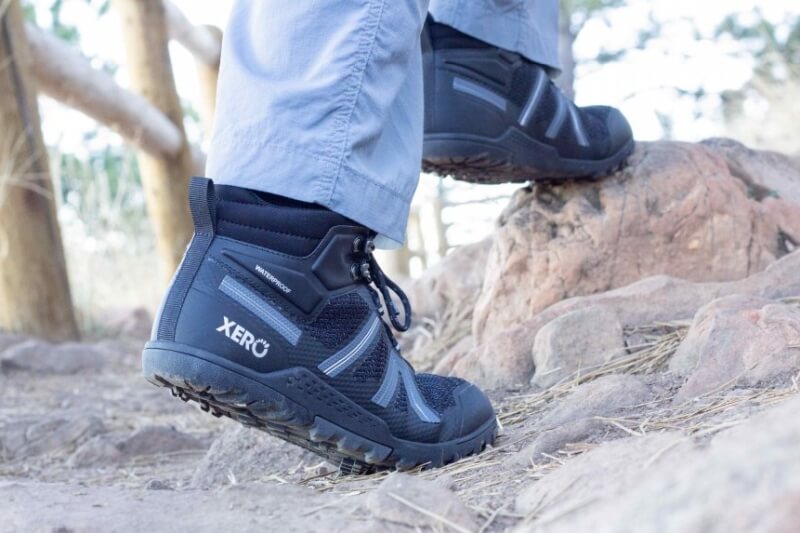 Rain boots
Wellies make great rain and mud boots. Unlike previous shoes, you don't have to worry about getting them dirty because the dirt washes off easily. You can even wade in them in the water. Just be careful not to get water in them. On the other hand, they are less flexible on the foot and harder to step into, so they are definitely not recommended for prolonged use during the day.
Insulated boots are characterised by the presence of fur (or other insulating layers) inside the boot. Whether you get low or high boots, they will keep your feet dry and warm even in the snow. Ideal for winter, but in early autumn, you may find them too warm, and snow boots are better for high drifts.
Shoe care
You can improve the waterproofness of your boots with proper care. Always dry, clean, nourish with cream, and then impregnate your shoes after they get wet. After drying, the impregnation forms a thin layer on the boots that protects them from external influences. Be careful, however, with membrane boots where improper care could lead to clogged pores and loss of membrane functionality. Therefore, always read the enclosed instructions on how to care for the shoes.