Which boots fit the narrow leg? I have a wider calf, so can you please advise which brand of boots I can wear? Can you measure the circumference and height of the boots from the brand ...? These are the most common questions we receive from our customers this winter. To make it easier for you to choose and, if necessary, to avoid returning shoes that don't fit, we have compared the most requested brands of boots.
Look at the sole shapes because they differ in shape and space in the toe box, as well as the degree of heel tapering. Some fit the dominant toe better, others comfortably accommodate a straighter foot type with similarly long toes, and others are more tapered to the little toe. Some sole patterns, therefore slip resistance, are more subtle and the shoes more elegant, while others have more pronounced ones. Consider your proportions and priorities.
And then make your choice - filter the length and width you need, and read the detailed comparisons:

Height and circumference of boots
We measure the height and circumference of the boots in size 38, but only Koel Flora shoes are in size 37. We'll start from the left of the tallest model:
Be Lenka Sierra Dark Brown height 40cm and calf circumference 36cm
Sole Runner Dia Dark Brown 40cm/38cm
Zaqq Qatch winter black 39cm/34cm
Peerko Empire Black 36cm/36cm
Zaqq Atraqt winter black 32cm/36cm
Peerko Noir 34cm/37cm, Koel Flora 33cm/32cm
Jonap Jampi Syndy 32cm/36cm
Most of the boots have a rubber insert, so thanks to it, the circumference can be increased by a few cm on the foot if necessary. The listed dimensions are without stretching.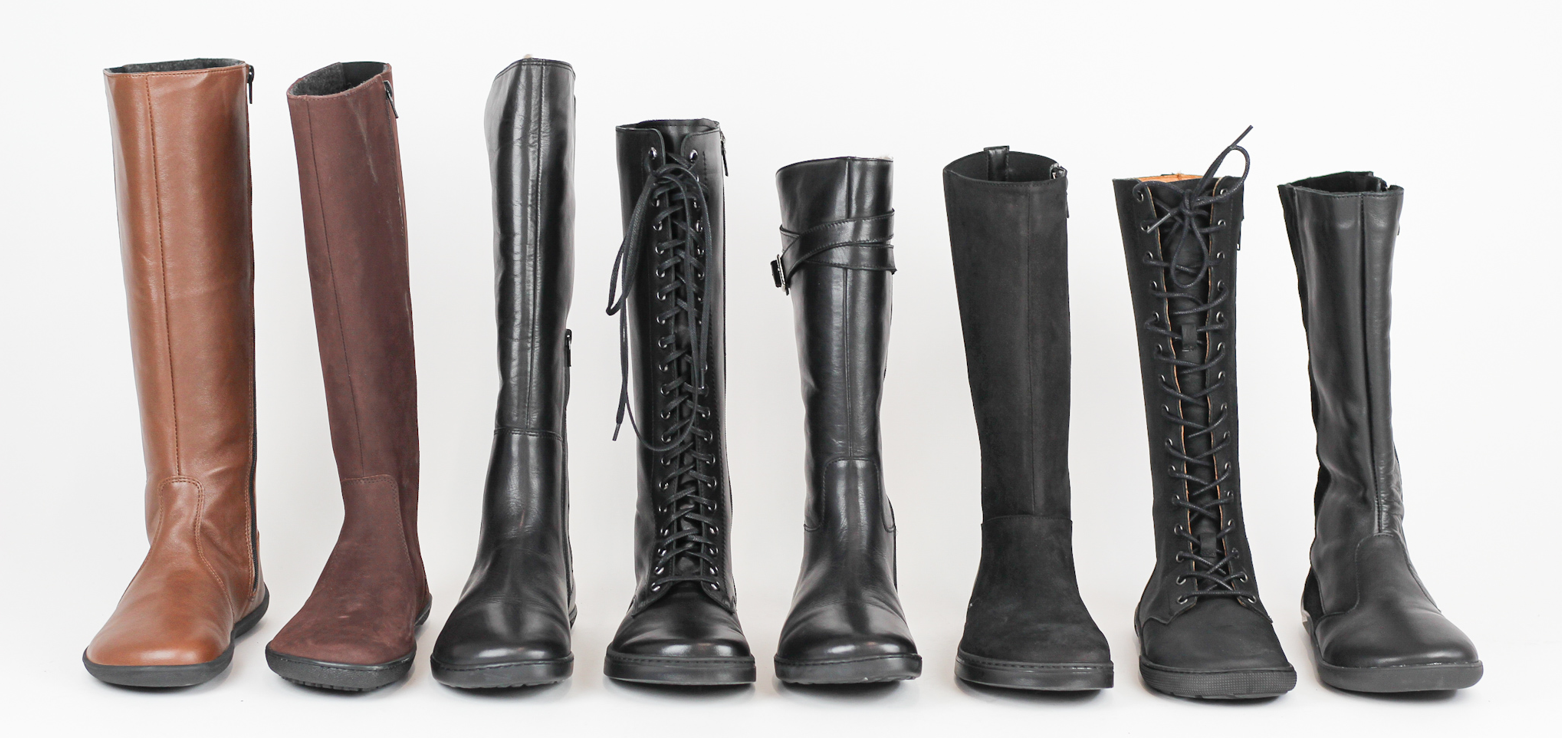 We photographed the shoes in size 38 on a 236 x 91mm foot with a narrower calf (circumferences 35cm). We took photos of the boots with the dress, but for comparison, we also wore them over jeans.


Sole Runner & Be Lenka
The Sole Runner Dia model is a beautiful high boot with a water-repellent treatment, insulated with fleece. Suitable for skirts, dresses, and trousers. They are appropriate for the narrow to average foot with a dominant big toe because they have an anatomically shaped toe box. The sole is non-slip and fully flexible. The boot has a full-length zipper on the side for easier slipping on/off and a rubber insert at the calf, increasing the girth.
Be Lenka Sierra Dark Brown boots are also insulated with fleece and belong among higher models. They have an elegant look and are suitable for skirts and trousers. Compared to the Sole runner model, they are wider in the heel and around the ankle. They fit nicely in the calf and have a rubber insert that makes them even looser in width. We recommend this model for a wider leg. The rubber insert loosens up within a few wears and can accommodate a wider calf.
Peerko & Jonap
Peerko Regina Noir are beautiful, comfortable, and stylish boots. They are slightly insulated, suitable from autumn to spring. Thanks to the rubber insert and two circumference variations, they will fit you beautifully. The side zipper allows for comfortable on and off. The Regina boots go well with skirts or trousers, complementing your outfit. We have compared the model in regular width. They are also available in the N model (narrower circumference).
Jonap Jampi Syndy is a novelty from a Czech manufacturer. Soft fur insulates the boot. They are suitable for narrower feet and fit nicely in the heel and instep. We don't recommend them for higher instep, flexible soles throughout. They are elegant boots, which can also be worn with a skirt and trousers and will also please you at a reasonable price.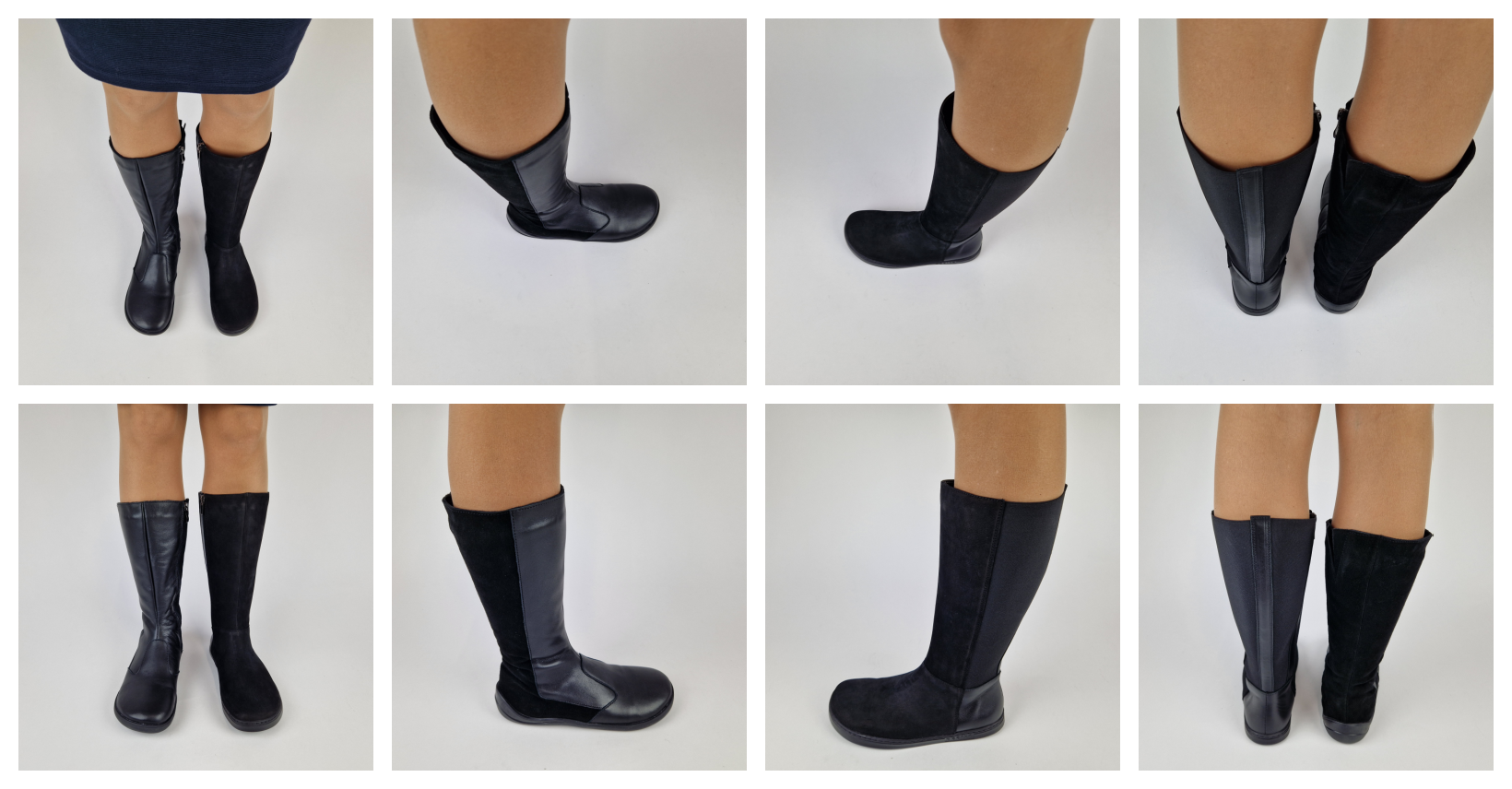 ZAQQ & ZAQQ
ZAQQ Qatch black winter high boots are made of a leather combination and elastic fabric, so they adapt nicely to the foot. They are insulated with thick shearling in the leather part, i.e. on the shin, insole, and instep. Very elegant and stylish, they have a zipper (only at the bottom) for easier slipping on/off. This model fits narrower to average feet, not recommended for wider calves.
ZAQQ Atraqt winter fits wider calves better than the Qatch model. The boots are also insulated with thick shearling throughout the inner part. This model is lower, and the width can be adjusted at the calf. Both models have a fully flexible sole with a 4 mm anti-slip pattern. They have a zipper along the entire inner length for more comfortable slipping on/off. This model is also available without insulation.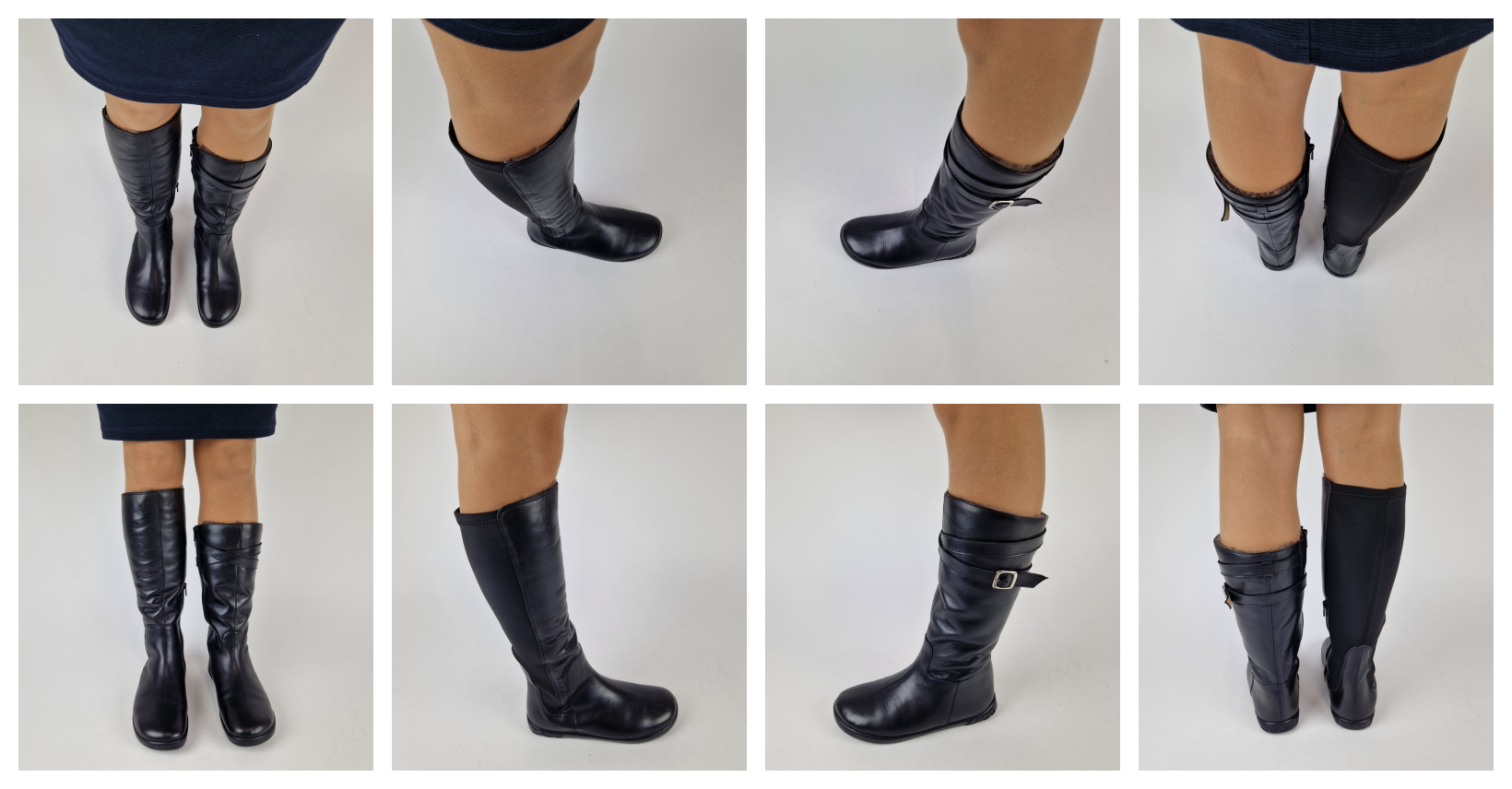 Peerko & Koel
Peerko Empire Black are high lace-up boots in the style of combat boots. Slightly insulated, suitable for wearing from autumn to spring. They have a roomy and anatomically shaped toe box. They fit a wider foot, and thanks to the laces, they adapt to narrower or broader calves. We don't recommend them to narrow heels and ankles. The side zipper ensures easy on and off. The sole is very flexible along its entire length.
Koel Flora Black is a few cm lower than the Empire model, and they don't have insulation, suitable for autumn and warmer winter. The upper part is made of brushed leather and the lining of leather. The shape is wider in the toe and narrower in the heel - not recommended for higher ankles. They also adjust nicely around the calf thanks to the lacing. Soft, flexible 4mm sole meets all barefoot footwear requirements.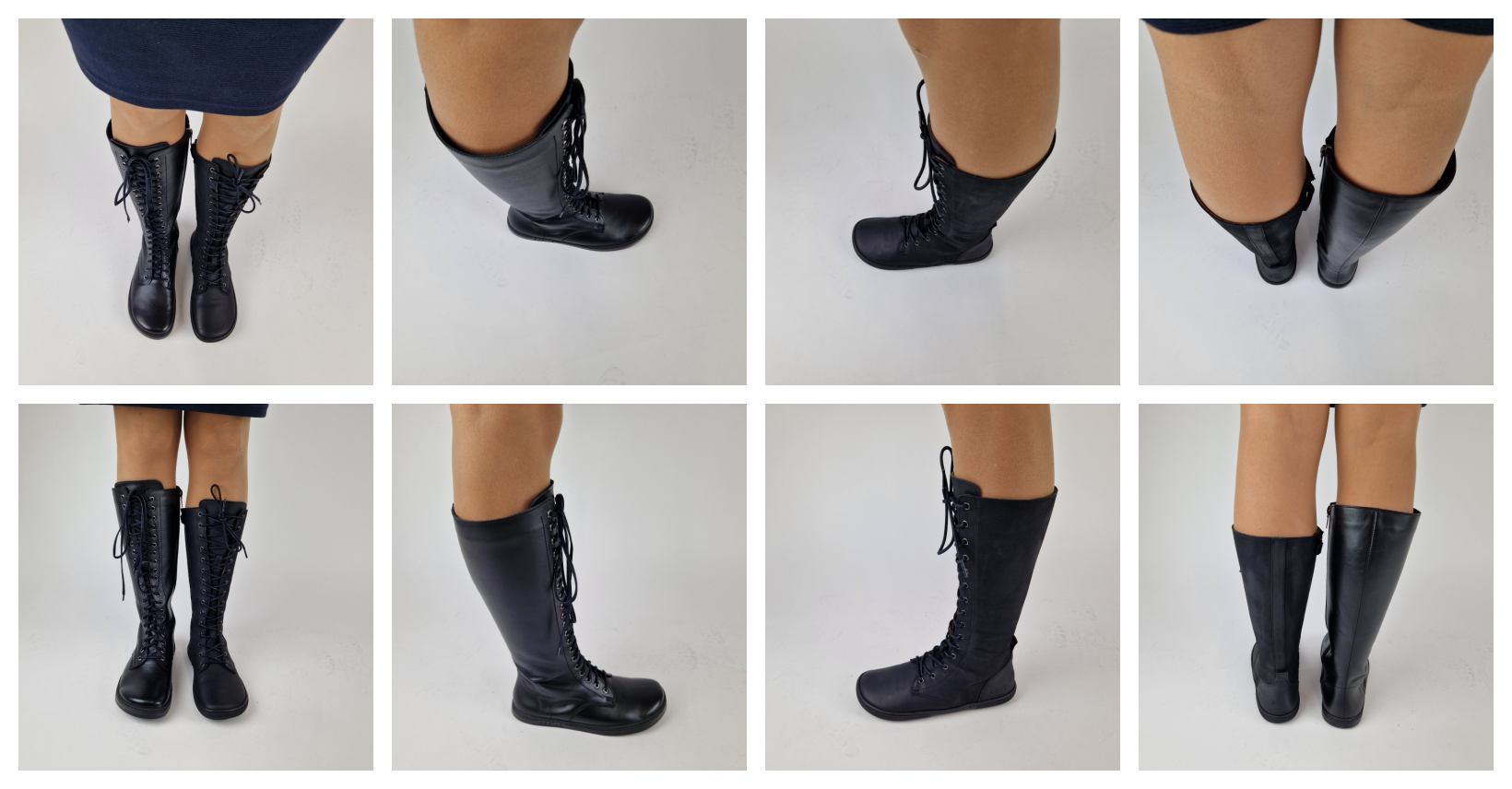 On the foot
Watch the video to see how the boots look.
Bonus:
We have stacked up Vivobarefoot, Shapen, and Rock Spring. We compared their height and took photos of the soles.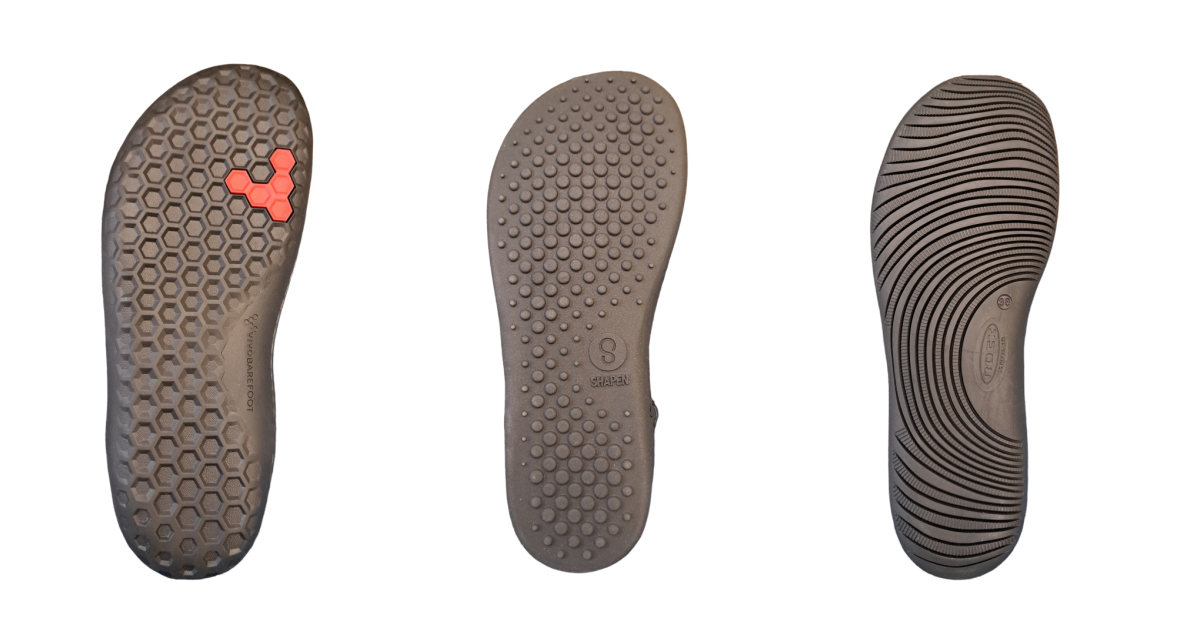 Shapen shoes have a height of 42 cm and calf circumference of 37 cm, Rock Spring 41 cm/37 cm, and Vivobarefoot 36 cm/35 cm.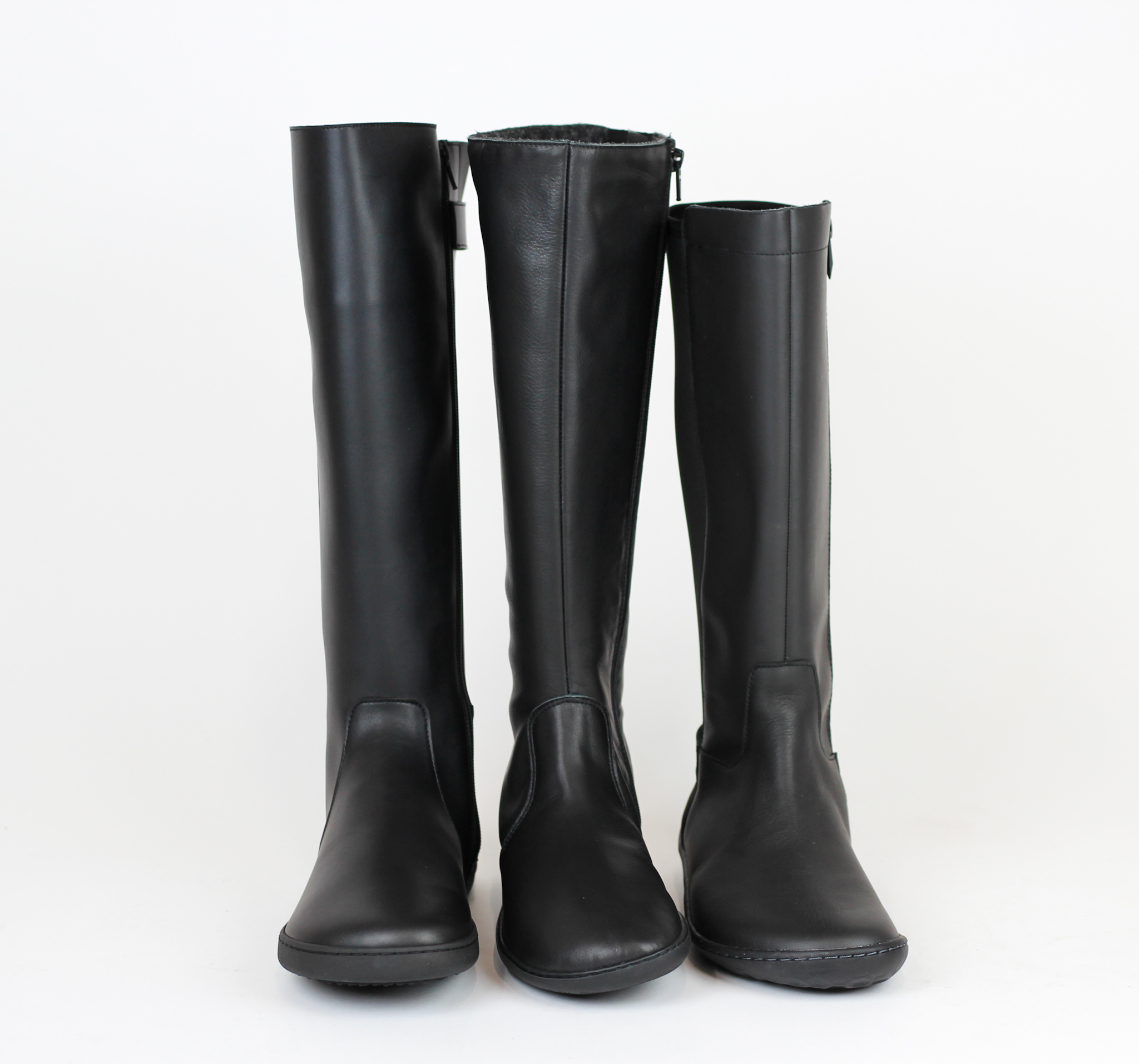 Vivobarefoot
The favourite Vivobarefoot Ryder model is based on the style of classic riding boots but combines luxurious leather with a flexible neoprene back for the perfect fit around your calves. These sophisticated women's barefoot boots, which finish just below the knee, are easy to combine with your wardrobe while retaining all the benefits of walking barefoot, even during the colder months.
Shapen & Rock Spring
Shapen Glam black are tall and elegant boots, suitable for trousers and skirts. They are made of faux leather, insulated with faux fur. They have an anatomically shaped toe box, a zero drop, and a flat sole. Shoes are suitable for average and narrower feet. The sole is flexible in all directions, with a non-slip pattern.
Rock Spring Douglas Softy is a leather riding-style boot with a neatly covered elastic band and a zipper for easy slipping on/off. Compared to the Shapen, they are narrower in the toe area but are wider at the ankle and can accommodate a higher instep. The 5 mm sole is flexible in all directions. The boots are insulated with a felt fleece lining.
We wish you a successful shopping, but if you are still not 100% sure of your choice, you can contact us via the customer support line, chat, IG, or in person in the flagship store in Písek.