Those who try the comfort of barefoot shoes for casual walking never want to squeeze their toes again. Wear comfortable shoes even for running or fitness, so give your feet the freedom to move! We've put together a little comparison of the best-selling athletic/running shoes.
We photographed the shoes on feet that measure 236 x 91mm, with a slightly dominant big toe, average instep, and narrower heel.

Look at the sole because it can differ in shape, space in the toe box, and the angle of heel tapering. Some fit the dominant toe better, others comfortably accommodate a straighter foot type with similarly long toes, and others are more tapered to the little toe. All have an anti-slip pattern to ensure grip and comfort even on more challenging terrain.
Then make your choice - filter the length and width you need. For running, we recommend a larger additional size number, at least 6 mm, but often up to 13 mm, depending on your preferences.
Read the detailed comparisons.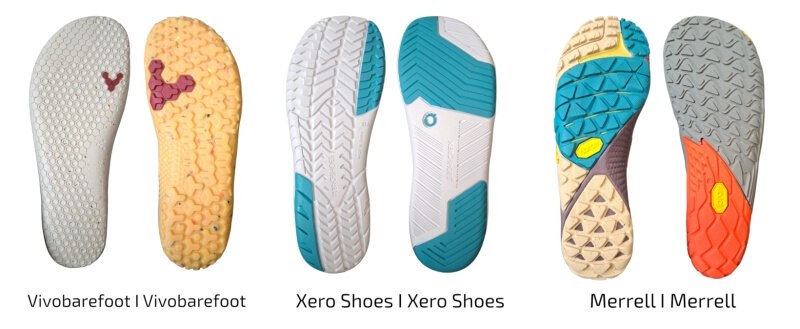 VIVOBAREFOOT PRIMUS TRAIL KNIT & VIVOBAREFOOT PRIMUS LITE III
The VIVOBAREFOOT Primus Trail Mint are lightweight sports/running shoes that adapts to every foot thanks to a specially knitted sock that fits snugly but doesn't rub, thanks to its elasticity. The thin multi-terrain sole provides a natural barefoot feel. They are also suitable for more challenging terrain, giving runners great traction in the countryside, mountains, or wet ground. You'll also appreciate the quick and easy on/off, thanks to the quick-release system. Trail sole is slightly more robust than sole in the Primus Lite model, but more slip resistant. You'll also find an all-weather version of the upper, which is more water-resistant (but not waterproof).
VIVOBAREFOOT Primus Lite III are the lightest sports/running shoes in the VIVOBAREFOOT range. Unlike the Primus Trail model, they do not have a multi-terrain sole and can be used for fitness, gym, etc. They fit narrow to average feet with an average instep, thanks to the laces that allow them to adapt well to the foot.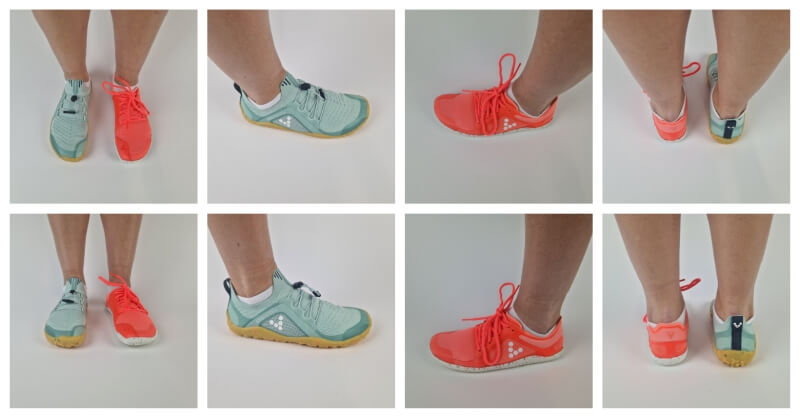 XERO SHOES & XERO SHOES
XERO SHOES Forza Runner Porcelain Blue/Peacoat are lightweight road running shoes. The knitted mesh upper makes the shoes so light and breathable that you won't even know you're wearing them. The shoes have a thin 3.5mm removable insole. The toe box is roomy and anatomically shaped, suitable for average and broader feet. They are also roomier around the ankles and in the heel, so we don't recommend them for narrow ankles. Thanks to the laces, they adjust well to the height of the instep. The FeelTrue® outsole with a tyre-inspired pattern is more slip-resistant than the other model but less off-road than the Vivobarefoot Primus Trail.
XERO SHOES Forza Trainer White/Scuba Blue are sporty, breathable vegan sneakers suitable for sports, fitness, and everyday wear. Highly flexible in all directions, the FeelTrue® outsole and 3mm TrailFoamTM protective layer provide a secure and natural feel for the feet. The anatomically shaped toe box is suitable for average and broader feet, with plenty of room over the top of the toe. The Velcro closure is great, so enjoy the barefoot feel when you train.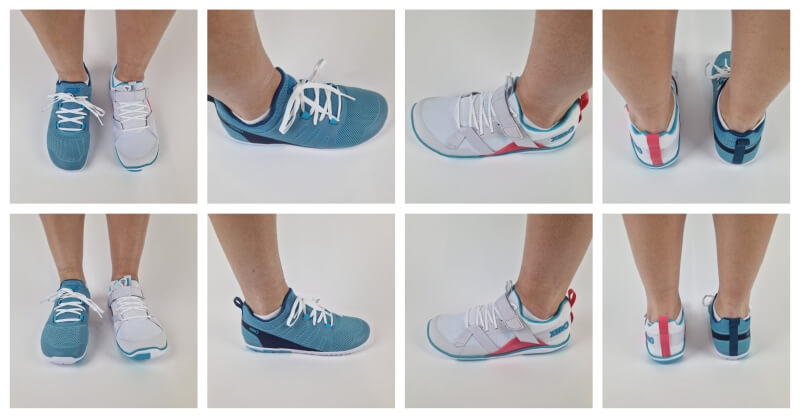 Merrell & Merrell
Merrell is an outdoor specialist. The Merrell Vapor Glove 4 Marine are minimalist running shoes for maximum contact with the ground and freedom of movement. The lightweight, breathable, and antibacterial material prevents unpleasant odours. They are suitable for narrow to average feet with a dominant toe and a slightly fan-shaped foot with a slim heel. The toe cap is practical. The durable material provides excellent traction on dry and wet surfaces.
MERRELL TRAIL GLOVE 6 FUCHSIA are vegan athletic shoes for more demanding outdoor activities. Lightweight, breathable material with antibacterial treatment prevents unpleasant odours. Suitable for narrow feet, dominant toes, and fan-shaped feet. Vibram® EcoStep outsole made of 30% recycled rubber provides excellent grip and traction on varied terrain. Traditional lacing is made from fully recyclable materials. Compared to the Vapor glove, they are slightly wider and higher in the heel.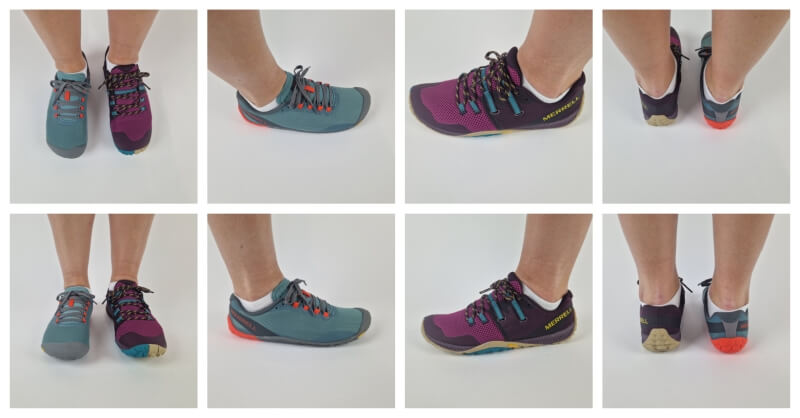 On foot
Watch the video to see how the shoes fit the foot:
Use the filter to find the right shoes for your training and running needs. If you are still not 100% sure about your choice, you can contact us via the customer support line, chat or Instagram.