The first women's shoe comparison is here!
Someone chooses footwear according to appearance, and for others, the price is a criterion, but who considers parameters such as dimensions, shape, proportions, flexibility, anti-slip features… For people interested in these parameters, we have tried to describe the available all-season women's ankle boots in as much detail as possible and take photographs/records of them.
Let's put comfortable, healthy, practical, decent, and first-class shoes on. Do not stress if they are too big or too tight and whether they dig in the heel, squeeze the ankle or the instep, or be too loose in the toe box.
Look at the soles because they differ in shape and space in the toe box as well as in heel narrowing. Some fit the dominant toe better, others comfortably accommodate a straighter foot type with similarly long toes, and others are more tapered to the little toe. The anti-slip sole pattern is subtle on some shoes, but others have trekking soles. Consider your proportions and priorities.
And then make your choice - filter the length and width you need, and read the detailed comparisons.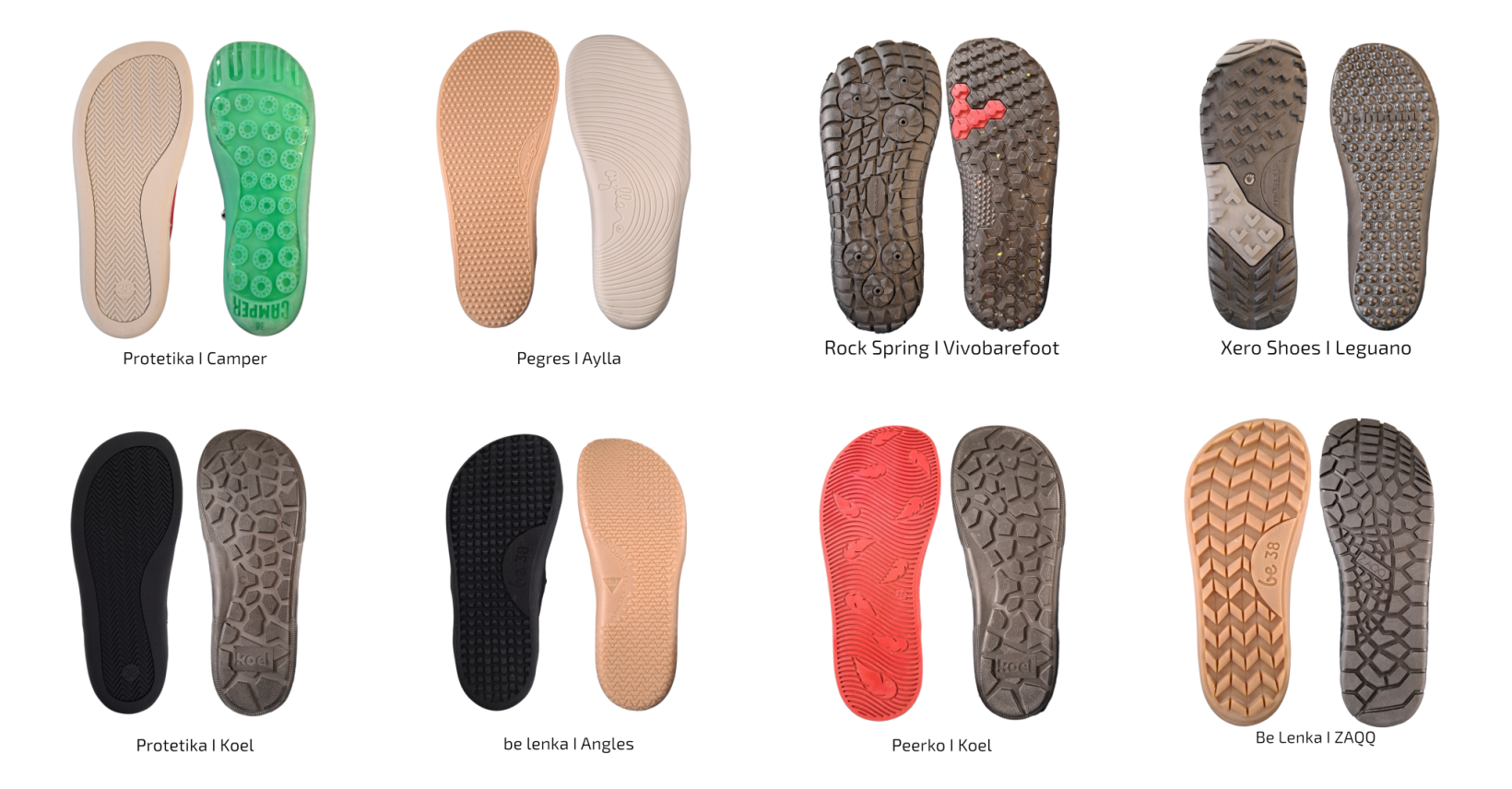 We photographed the shoe in size 38 on a 236 X 91 mm foot with a slightly dominant toe, average instep, and narrower heel.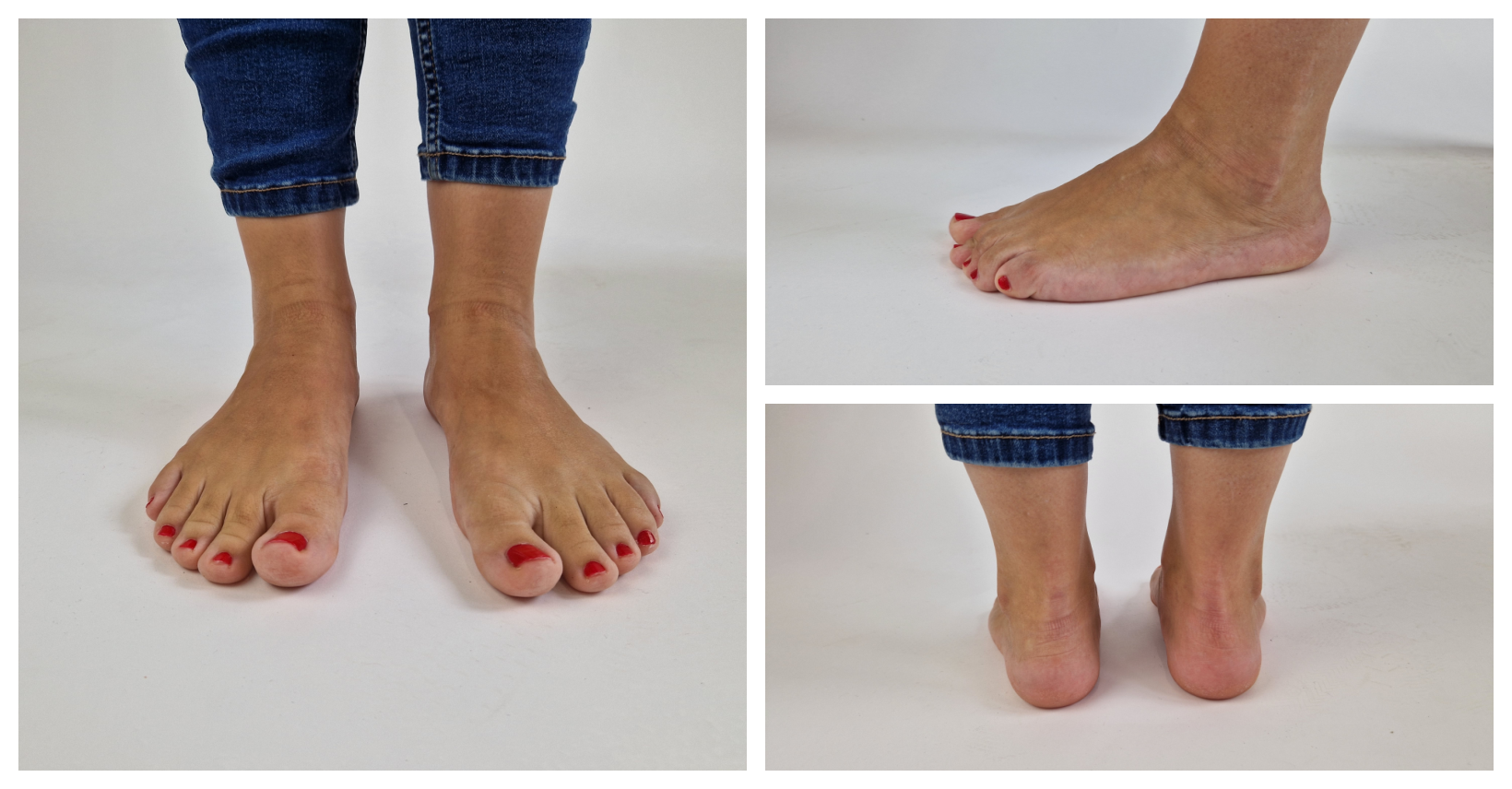 Pegres & Aylla
Pegres ankle boots are soft and flexible throughout, with a 3 mm sole (elastic laterally and longitudinally). They have a roomy toe box, also suitable for a dominant big toe. They tighten well thanks to the laces and are perfect for city walks.
Aylla Tiksi is a popular model for autumn, a higher ankle boot that will keep your ankles warm. Tiksi means Earth in Quechua, so keep your feet on the ground. It has a roomy toe box and is suitable for average/broader feet. Flexible 4 mm sole, bendable in all directions, fits better on a narrower heel than Pegres. Both brands are Czech if you are a fan of local manufacturing.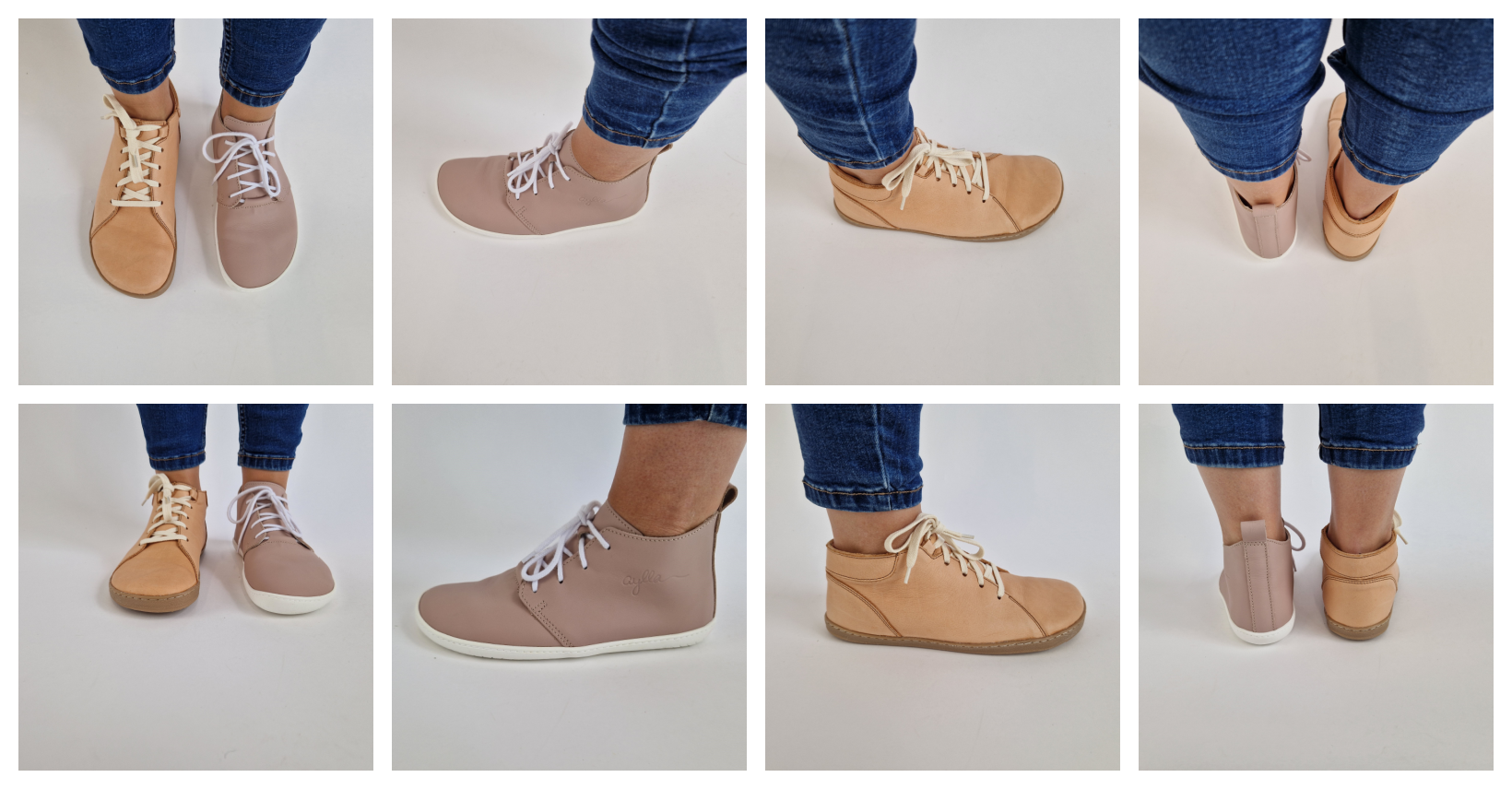 Camper & Protetika
Camper shoes are elegant, timeless, imaginative, and have a unique design. They don't taper much in the heel, so we don't recommend them for narrower heel and ankle. Suitable for average feet more as a city shoe. Model K400509 has a zipper on the inside for easier putting on. Low or high full leather models are also available.
Protetika model Margit is a novelty from the proven manufacturer Protetika. Minimalist, modern shoes made of smooth leather that fit well around the ankle and in the heel. The all-season ankle model is softened around the ankle, with 100% barefoot parameters (flexible sole in all directions). They are also available in a sleeker Chelsea look, which we have also compared for you.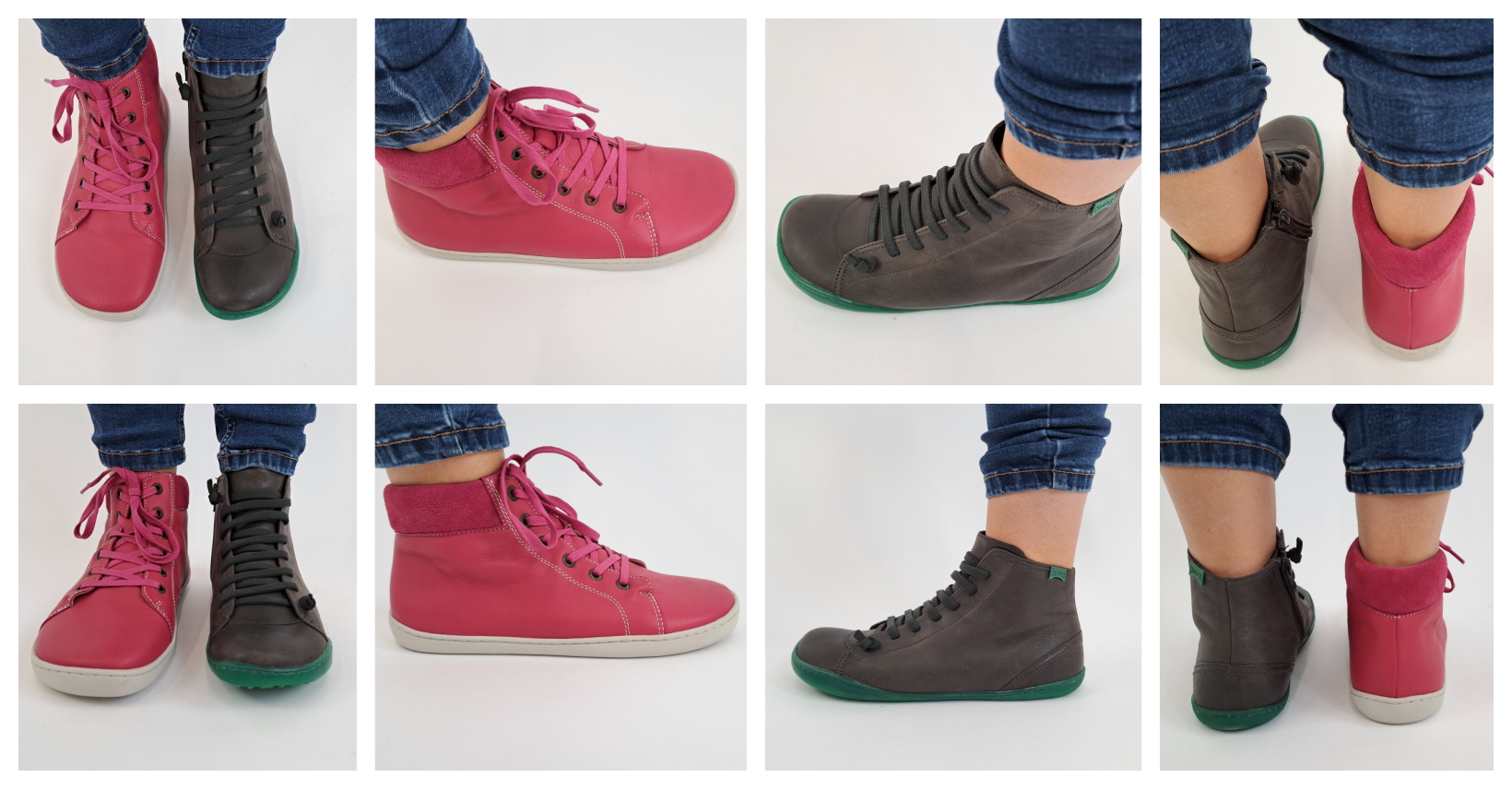 Be Lenka & ZAQQ
The Be Lenka Nevada boot is a great choice for the autumn/winter transition period thanks to its high-quality nubuck leather and a new flexible natural rubber sole. Suitable as city boots but also for the outdoors. The padded ankle hem provides extra warmth and comfort, and they have a loop at the heel for easier putting on. They fit on broad feet and have a roomy toe box. Thanks to the laces, they tighten well around the ankle and instep. They are high above the toes, so they are comfortable for hammer toes, for example.
The ZAQQ Expeq is a popular outdoor model with a membrane and is suitable for the terrain and the city. Compared to the Be Lenka Nevada models, it fits a narrower/average foot. They have a soft flexible sole with a 4 mm anti-slip pattern. Thanks to the laces, they also tighten well around the ankle and the instep, thanks to the laces.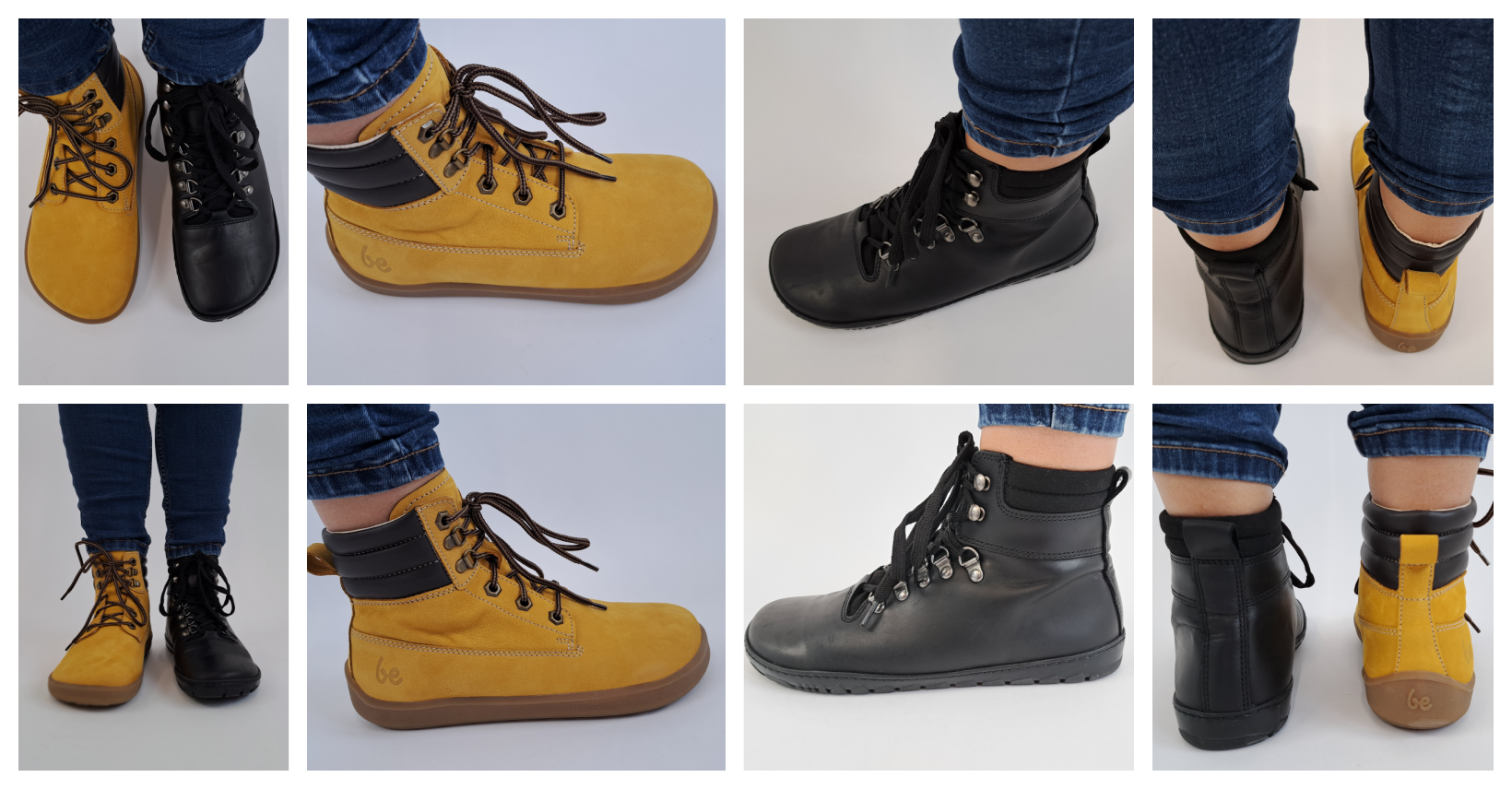 Rock Spring & Vivobarefoot
Rock Spring savoy are sporty outdoor shoes made of vegan nubuck leather. They have an elasticated hem around the ankle for maximum comfort and are easy to tighten, thanks to the laces. They are suitable for average to wider feet and have a roomy toe box, but we don't recommend them for narrower heels and ankles (they stick out). The price of the Rock Spring is also favourable. The rubber toe doesn't look as sleek but adds to the shoe's durability.
The Vivobarefoot Magna trail is a multifunctional off-road shoe suitable for the city and countryside, made from recyclable PET bottles. The wool sock around the ankle allows maximum freedom and flexibility of movement. The shoe fits better around a narrower ankle than the Rock Spring. They have a removable thermal insole, and the sole is flexible in all directions along the entire length. Recommended for narrower/average feet, can handle higher instep.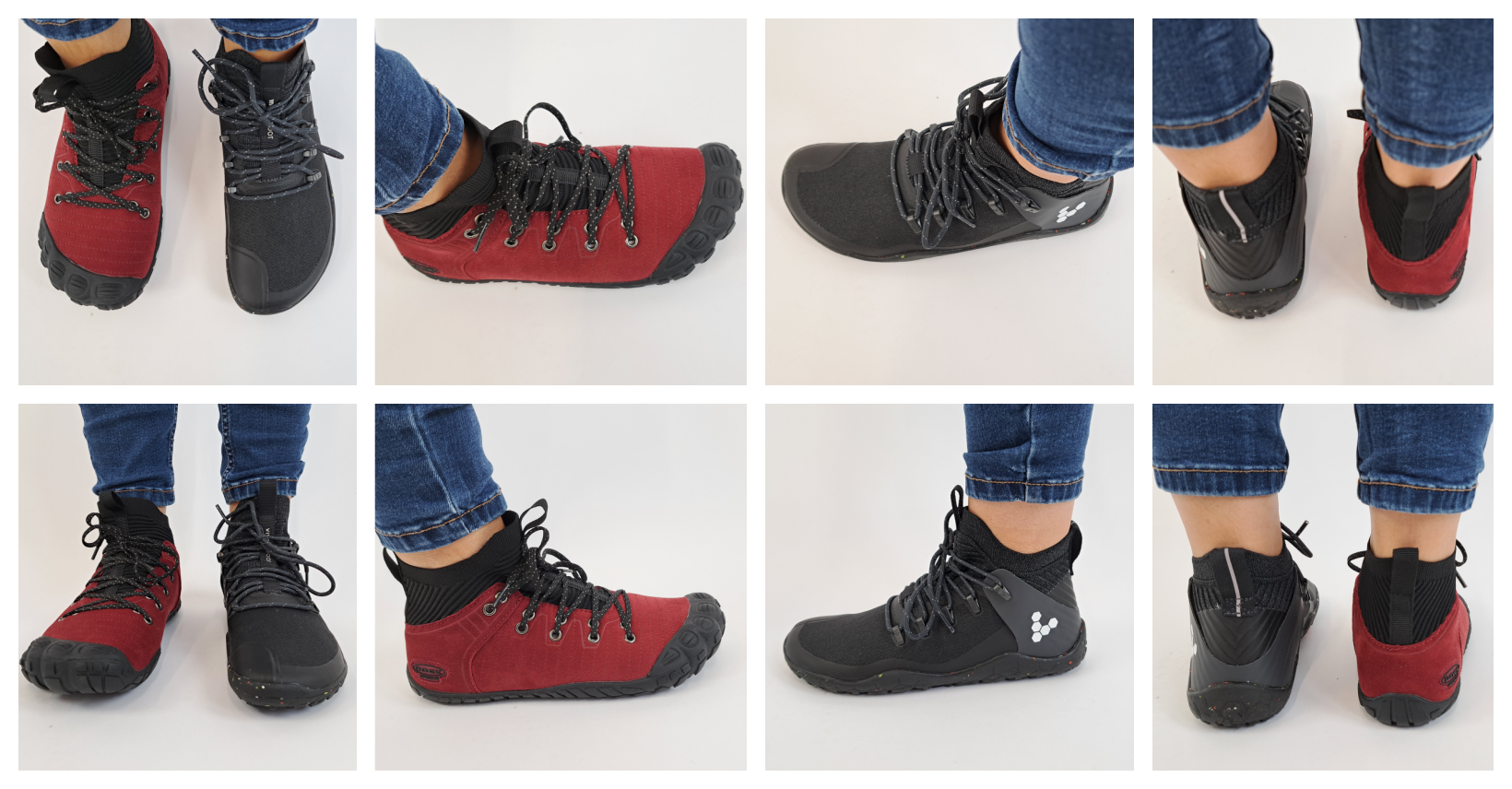 Leguano & Xero Shoes
Leguano chester boots are one of the softest and most comfortable, allowing freedom of movement and maximum sensory feedback. They are versatile and suitable for hiking, as well as for the city or the office. Although the shoes are narrower in cut, the upper material is very soft and doesn't press the foot if the shoe is tighter. They are very comfy around the ankles and at the heel. They are machine washable at 30°C (gentle programme) or hand washable.
Xero Shoes xcursion are hiking shoes suitable for colder weather, with a membrane and reflective elements for increased safety in the dark. This model has a less flexible sole (flexible by harder squeeze) and is very grippy and non-slip. They are also suitable for more challenging terrain. Thanks to the laces, they tighten well around the ankle and the instep, have a roomy toe box, and plenty of room above the toes.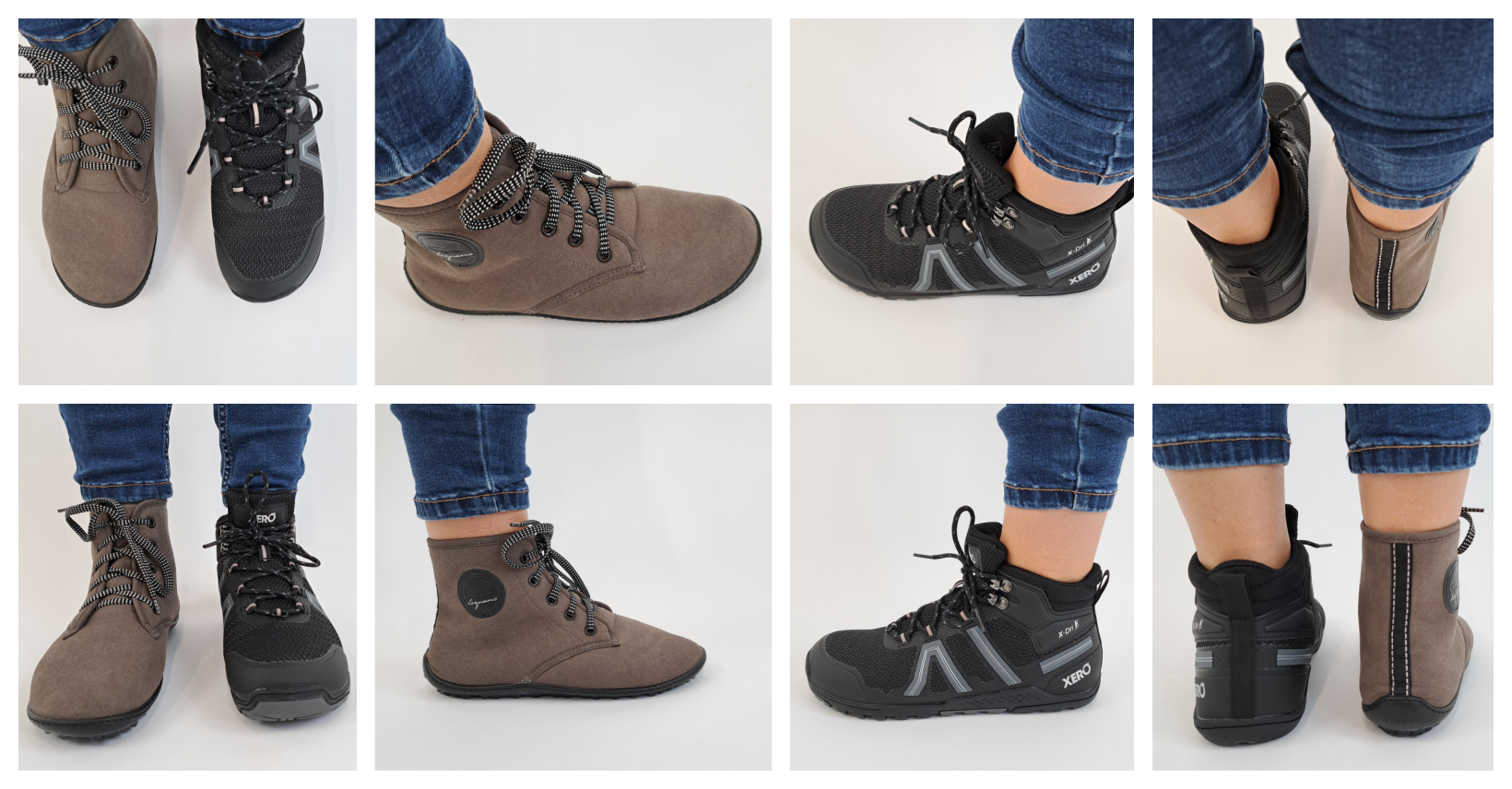 Peerko & Koel
Peerko model Go Rebel is perfect for lovers of biker boot style. They are comfortable and stylish walking shoes. Lightly insulated, suitable for autumn and milder winter. Thanks to the laces, they adapt well to the foot, and the side zipper allows for comfortable putting on and taking off.
Koel Fina is a full leather boot that goes well with a skirt and jeans. The shoe has a flexible sole and non-slip pattern and is also suitable for straighter toes. The toe area is not bevelled. Perfect for colder autumn/warmer winter.
Protetika & Koel
Protetika debora are full leather, slightly insulated Chelsea boots in a subtle design. Thanks to the elastic band and loop, putting on the shoes is easy, and they fit nicely around the ankle. This model fits rather average feet with the lower instep but is not recommended for higher instep. They have a removable insulated insole, suitable for autumn/winter. The sole is flexible throughout.
In comparison to the Protetika full leather shoes, the Koel fila shoes don't have insulation. They have a nice roomy toe box, suitable for a dominant big toe. They have a zipper on the side for easy on/off. The soles are also soft, flexible all the way around, and have a non-slip pattern. They are roomier at the heel and around the ankle than the Protetika shoes.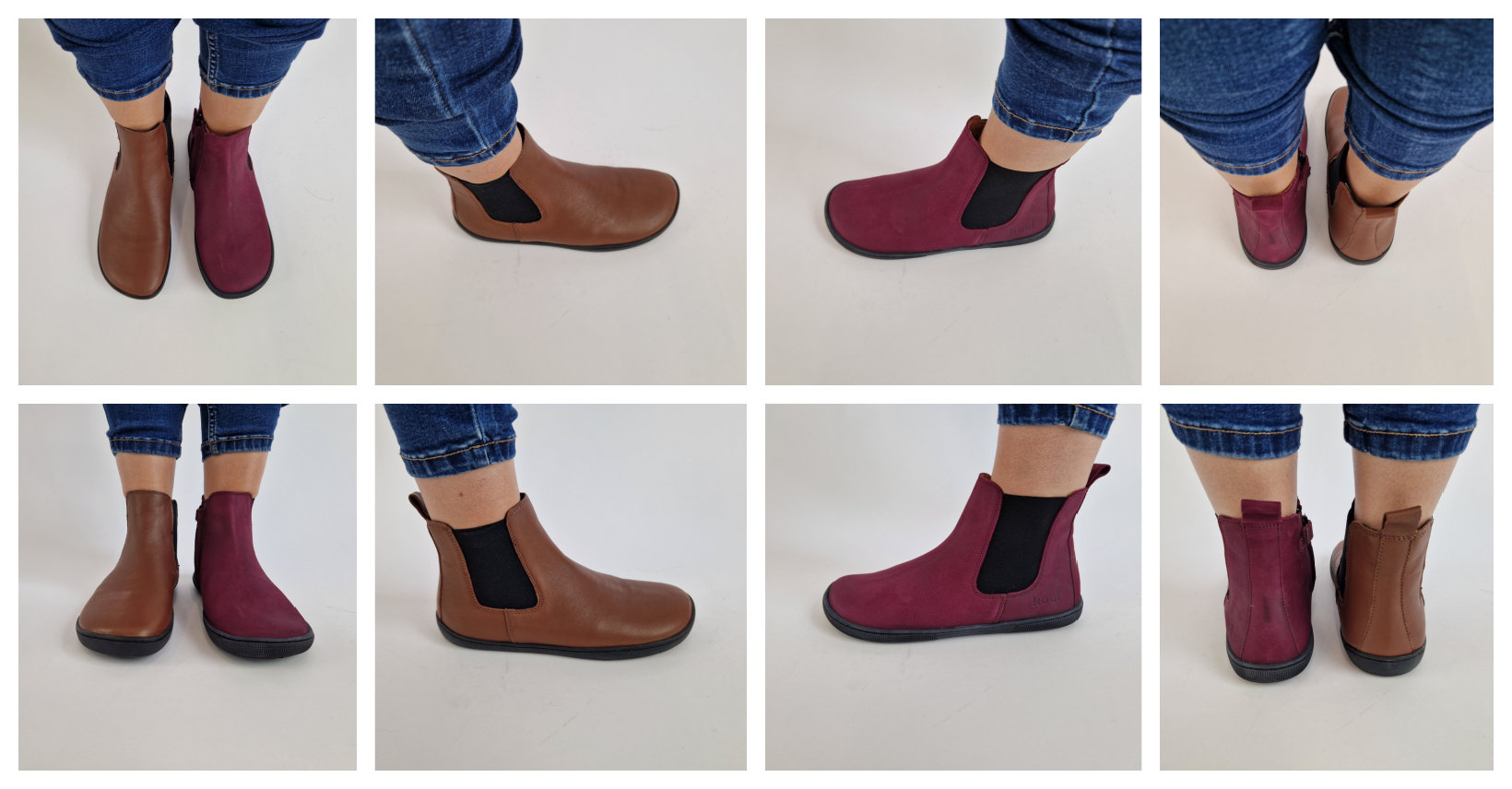 Be Lenka & Angles
Be Lenka Entice 2.0 are city boots on a multi-terrain sole, insulated with fleece, ideal for the transitional period to mild winter. Compared to the previous model, they have a 3mm narrower front, yet they are still boots appropriate for wider feet. Due to the elastic band and loop, putting on the shoes is easy.
Angles Dafné are women's boots with a slight ruffling on the instep. The front of the shoes is slightly higher than the back. They have a rubber insert at the back and a zipper on the side for easier putting on. They also fit nicely on slightly thicker calves. The Daphne model goes well with a skirt or dress and is suitable for an average leg with a not-too-high instep. The sole is flexible in all directions.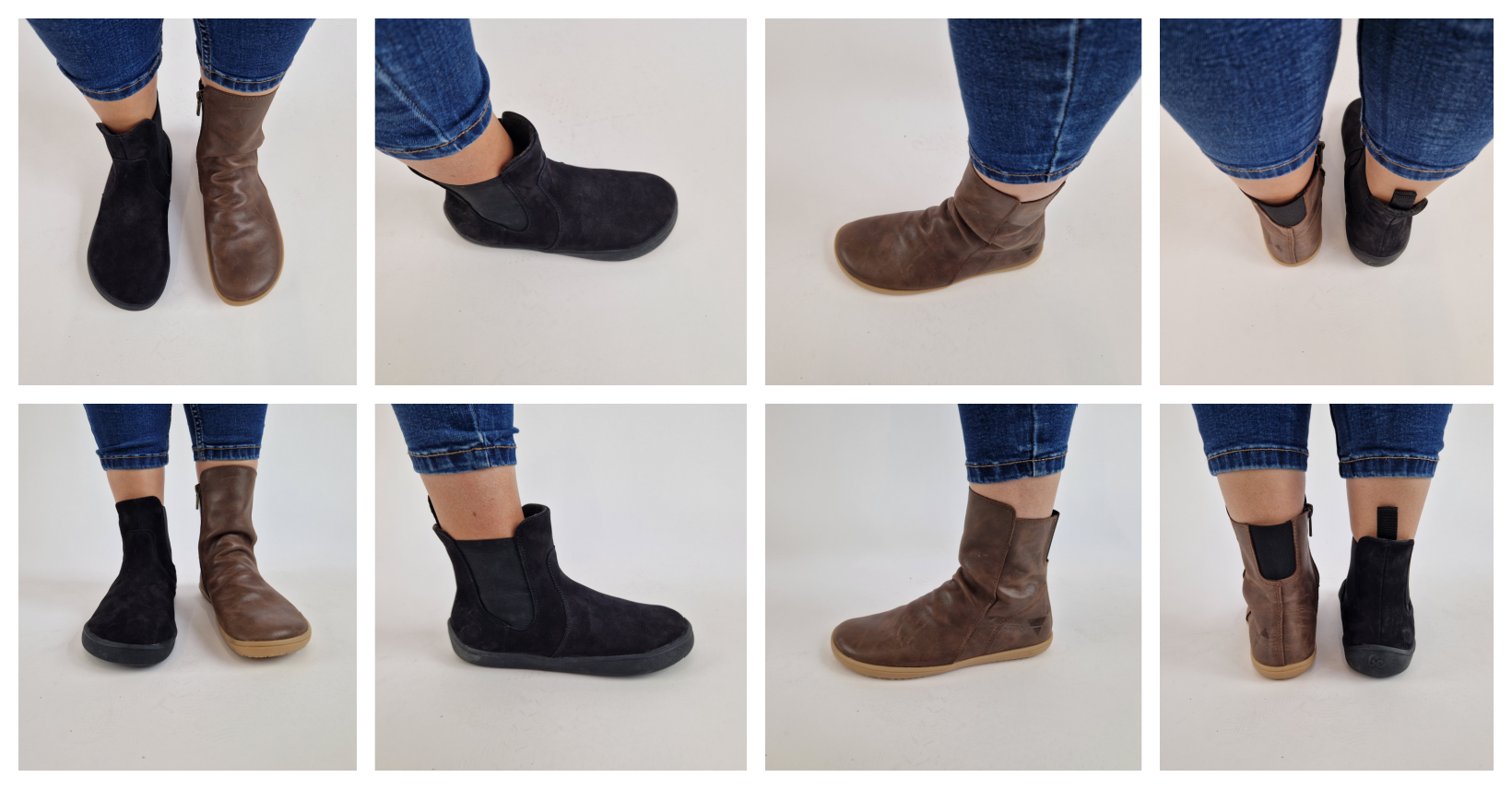 On foot
Watch the video where we wear the compared brands - see by yourself how they fit.
We wish you a successful shopping, and if you need advice, please don't hesitate to contact us via phone, email or IG.